Some updates on new features and old features made new again…
1 - Latest Connections in Your Network
We've added a panel on your Home page stream showing the latest added connections within your network. This provides a snapshot of who the creatives in your network are connecting with outside your network and provides one click access to that person's profile.
To send a network request to any Stage 32 member featured in this panel, simply click "Add".
This is just one more easy way to get your networking on.
2 – Stage 32 Quote of the Day Now Accessible on Your Home Page
Many of you have written wondering where the Stage 32 Quote of the Day disappeared to? Wonder no more. Each morning, the Stage 32 Quote of the Day will appear on your Home page stream.
Additionally, we have added a Like button and a Comment field to the Stage 32 Quote of the Day. Remember, we do not present these quotes as gospel! They're open to discussion and, at times, interpretation. Agree? Disagree? Discuss!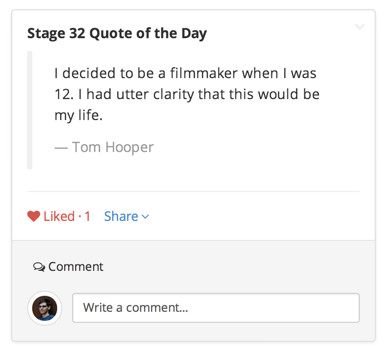 3 – Follow and Unfollow Lounge Discussions
This is another feature we've brought back from the old design. Now it's easier than ever to follow a Lounge discussion. And, if and when you feel the discussion no longer has your interest, simply unfollow.
4 – Stage 32 Lounge Improvements
We have reworked some of the individual topic descriptions over on the Stage 32 Lounge. Not sure which topic is right for your post? Just click the main Lounge page or go to an individual topic and read the description at the top.
We've also added some posting guidelines to clear up some member confusion based on your emails and messages.
Remember, if you have a project that needs cast or crew, you'll be best served posting your needs in the Job Postings section.
5 – Help, Getting Started, and FAQ
We have added a bunch of information to our Help, Getting Started, and FAQ sections. If you have any questions as to how best utilize Stage 32 for your networking, promotional, or educational needs and wants, you'll find the answers you are looking for there.
More features, improvements, and announcements forthcoming. In the meantime, Happy Networking!

RB