This world is but a canvas for our imagination.

Henry David Thoreau
Seven months ago, when we launched Stage 32, our wish was to make the world a little smaller for those whose calling was to create. Talent knows no borders and exposure shouldn't be limited by geography. We wanted to eliminate all excuses, all the reasons one makes when pulling the plug on a life-long dream. We wanted to spark creativity, drive desires, and ignite the collaborative process. We wanted to set fire to inspiration. We wanted everyone to work. Seven months ago, we swung the doors open, expecting (hoping?) our idea would appeal to a small group of creatives. But then something wild happened ... The first adapters ran with the concept, they told their peers, the small group forming into a larger, stronger community ...
A community 50,000+ strong, with participants from over 180 countries ...
We were, of course, thrilled when one of the earliest success stories (and validation of the plan) occurred during week one: a filmmaker in Michigan connected with a composer in Denmark and hired him to score his movie. But it didn't stop there. In recent weeks, we've been inspired by: the screenwriter in Memphis who signed with a Los Angeles literary agent; the actress in Pennsylvania who hopped on a train to NY and landed the lead in an off Broadway play; the actor in Calgary who scored top billing for a web series shooting in his town; the producer in Adelaide who optioned a script from a screenwriter in New Mexico; Persephone Vandegrift was kind enough to blog about how networking on Stage 32 led to her writing the pilot for the historical miniseries, The Vanquished; screenwriter Anthony Marchio and actor, producer Tracie Jules connected and are now working together on the web series Spirit Hunters. And Stephen Richard Melling was one of eight (that we're aware of) directors to film a project using cast and crew made up entirely of Stage 32 members.
(To read other tales of Stage 32 members finding work, launching projects and furthering their careers OR to share a success story of your own, check out the Stage 32 Success Stores lounge topic.)
Just as inspiring, many members have taken their networking to the streets by setting up Stage 32 meetups in their town. The first one was organized by Nicola Jane Buttiegieg
in London. Since then, Stage 32 meetups have occurred all over the world, including Austin, Birmingham, Santa Monica, Chicago, Park City, Manhattan, Jacksonville, Sydney, Cork, Toronto, Vancouver and Barcelona.
(To start a regular Stage 32 meetup in your area, just go the Stage 32 Meetups topic in the Stage 32 Lounge and make a post.)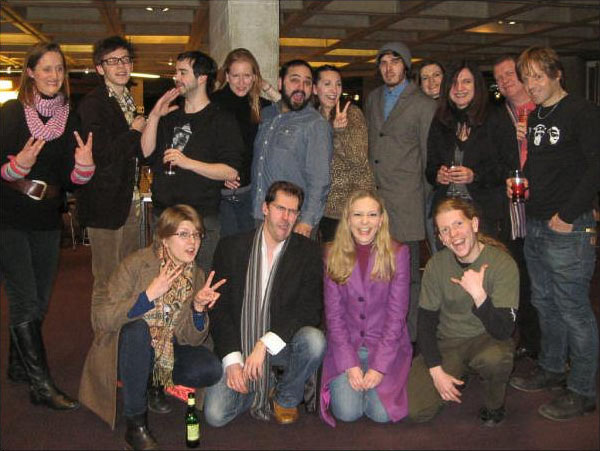 Stage 32 London Meetup
The Stage 32 Lounge became the go-to joint. Whether just introducing yourself to the entire community, discussing technique, honing your craft, or bantering about the latest episode of Mad Men, the Lounge has become the most popular section of the site; a place to ask questions, share your knowledge, or just hang out and chill.
Our blog became a multiple award winner with such intriguing and insightful guest posts from the likes of Rex Pickett, author of Sideways, Doug Richardson, screenwriter of Die Hard 2, Money Train and Hostage, and Danny Rubin, award-winning screenwriter of Groundhog Day. Three ridiculously talented men I'm very proud to call friends. I'd be remiss if I didn't mention the contributions from many members of the Stage 32 community who lent their time and their minds in guest blogging for us. We couldn't be more appreciative. It's our intent to bring you more exclusive content conforming to our standards of educating while entertaining.
But it's you, the Stage 32 community, who have provided us with the most rewarding moments. What a diversely talented and benevolent group. From actors who have worked with Fellini (yes, that Fellini), Spielberg and Scorsese to those who have walked the boards of Broadway and West End. From filmmakers who have seen their work score student awards, premiere at Sundance and play in multiplexes to award-winning screenwriters and playwrights. From crew working in neighborhood theater to those toiling on the sets of big budget blockbusters. From neophyte to professional, you dare to dream. You push forward. You choose to win the day.
This site would be nowhere if it weren't for the participation of our members. When we first launched, we stated that Stage 32 was to be "A community for you, built by you" ... and that's certainly been the case. We asked each creative to invite five fellow creatives and you answered the bell and then some. I thank you for your continued support. I appreciate your generosity of spirit.
This is only the beginning. The dream of forming a small group of talented individuals has turned into a movement. What was once a nugget of an idea is now a collection of greater plans. The goal remains the same: to make it easier for all creatives to connect and find work. But the tools, the devices and the vehicles will become more plentiful and serviceable. The evolution continues. Stay tuned.
Go confidently in the direction of your dreams. Live the life you've imagined.

Henry David Thoreau
Thank you,
RB