Michael Apted has had one of the most interesting, varied and busy directing careers in motion picture and television history. He's directed a James Bond film (The World Is Not Enough), blockbuster fantasy movies (The Chronicles of Narnia: The Voyage of the Dawn Treader), acclaimed dramas (Chasing Mavericks, Nell, Enough, Gorky Park), adult comedies (Critical Condition, Continental Divide), award winning bio-dramas (Coal Miner's Daughter, Gorillas in the Mist), long form music videos (Bring On The Night), and a variety of television series (Rome, Coronation Street).
But his greatest fame may derive from the series of eight documentaries he's made which chronicles the lives of the same group of Brits beginning at the age of seven. 7 Up, the first in the series, aired on British television, and subsequently in U.S. theaters, in 1964. Apted has released a new film updating the progress of these 14 people every seven years since. It is the only documentary series of its kind ever made. A remarkable, enthralling piece of work. Roger Ebert, taking the series as a whole, has called the Up collection "One of the ten greatest films of all time."
The entire series is available for streaming on Netflix. I cannot recommend it highly enough.
This Saturday, February 16th, Stage 32 will be holding two special screenings of the latest installment, 56 Up, at the Arena Cinema in Hollywood. Mr. Apted, who, by the way is also the former three-time President of the Director's Guild of America, and the current Secretary/Treasurer, will be in attendance. After the first screening and prior to the second, I will be leading a discussion with Mr. Apted including a Q&A session. This is a unique opportunity to meet the creative talent behind the series and discuss with him his most renowned work.
I hope to see many 32'ers in attendance. And for those of you not residing in the area, we plan on posting the video of my discussion with Mr. Apted in the near future.
RB
---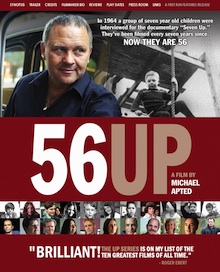 56 Up, will screen February 15 through February 21 at the Arena Cinema in Hollywood. The Stage 32 special screenings including the discussion with directing legend Michael Apted are at 5:00 p.m. and 7:45 p.m. on Saturday, February 16th. Tickets for this event are $10 and are available here. Please remember, tickets are on a first come, first serve basis.
Arena Cinema, located in the heart of Hollywood on Las Palmas Street just south of Hollywood Boulevard, is Hollywood's newest venue dedicated to the exhibition of the best in independent films.
All Stage 32 members are welcome to attend the screenings and join us for an after-party at Sadies on Las Palmas off of Hollywood Blvd.
A special thank you to Arena Cinema owner, Stage 32'er, and producer of the upcoming The Indian, Christian Meoli for making this event possible.
For tickets, click here: