Extra, extra! Read all about it!

I wasn't always such a twisted and depraved soul. In many ways, it was the world of background acting that opened me up to the fun and fascinating film industry and all the sordid bits that entails.
For those who are curious about what goes on behind the scenes or want to get involved, let this serve as an introduction (or perhaps an admonition) to those considering making the leap into the wild world of background acting.
For the legions of people who know my pain and joy, sit back and enjoy the ride. Because this one's for you.
Get An Agent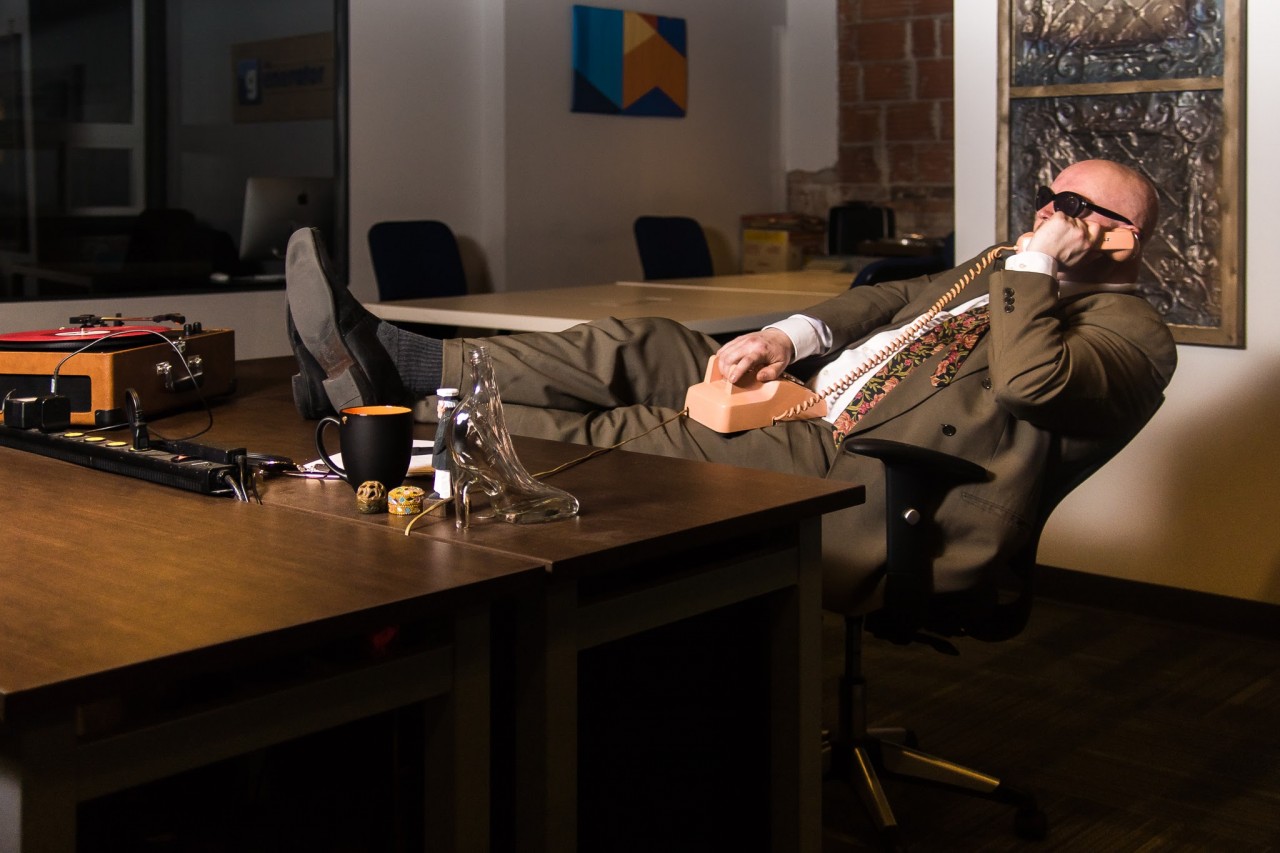 Moguling for the next gig. #operatorsarestandingby Photo credit: David Fillion.
It never occurred to me to get into this kind of work until I was discovered by my friend Sean Gratton, who launched a background agency in Hamilton, Ontario. He originally approached me about filming a music video for one of my songs. Although that project didn't come to fruition, Sean has performed background in three of my more recent videos.
At any rate, he contacted me about doing a German TV show filming in Niagara Falls, Canada. I mentioned this to the secretaries in my office and could see how jealous they were and realized there might be some fringe benefits to this.
While I came into this by accident, I know many of you take this seriously and seek out agents. There are tons of them and some are real shysters. Anyone who wants you to pay $700 to their recommended photographer for headshots probably does not have your best interests at heart. Just sayin.'
Most of the ones I have met charge a percentage for their service. I would ask around in your area, but it might be 10%. Some charge a registration fee. If they do, it should not be much. They are just trying to filter out the serious from the not so serious. If you are willing to spend $50 a year for representation, you are more likely to show up for work. And believe me, there are a lot of flakes in this business.
Wardrobe or...No Logo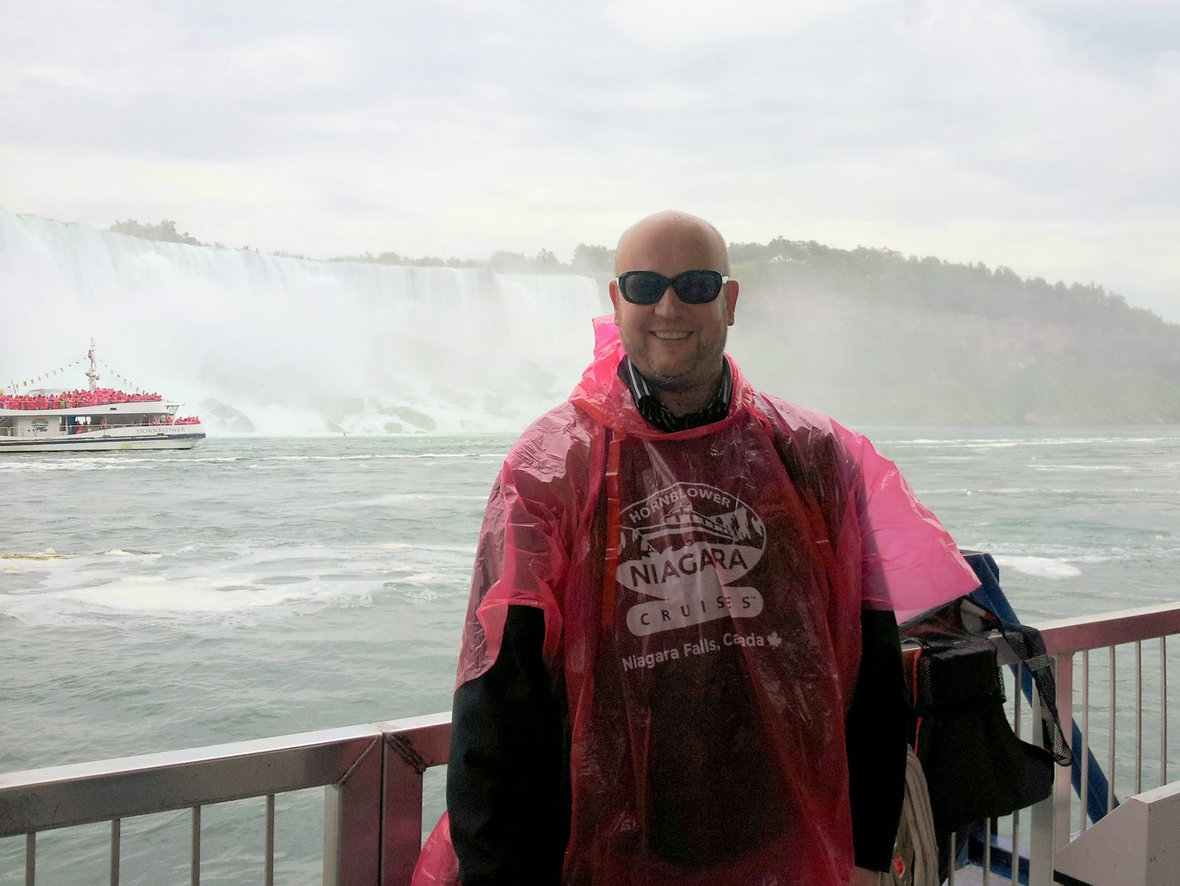 All aboard! Niagara Falls, Ontario.

At my first shoot in Niagara Falls I learned that you are generally responsible for bringing a variety of wardrobe options for Wardrobe to assess. Usually you have some instructions like business casual or dark suits or whatever. Almost always, there can be no logos on your clothes. Also stripes and some other patterns don't film well as the camera sees differently than your eye.
I learned all this the hard way. I showed up with one outfit and my shirt was dark and striped. The German Wardrobe lady approached me and immediately started yelling, "Zis weell not do!" She was absolutely furious.
I thought my career was over before it started!
Eventually they took us to "set" which, in our case,, was the Maid of the Mist. In Niagara Falls, they have boats that tourists take to get a more up close view of the falls from the water. It's actually breathtaking.
This is where the lunacy of this business dawned on me. We were going to stand among a crowd of paying customers while wearing branded pink ponchos. So… logos and I'm pretty sure my shirt did not matter!
In some cases, they supply costumes and make-up. Almost anything is possible but I recommend you have a suitcase with a variety of dressy and casual ready because you usually only find out your wardrobe assignment the night before, often around 10, for a shoot that could be first thing in the morning at a location that is also a surprise!
Food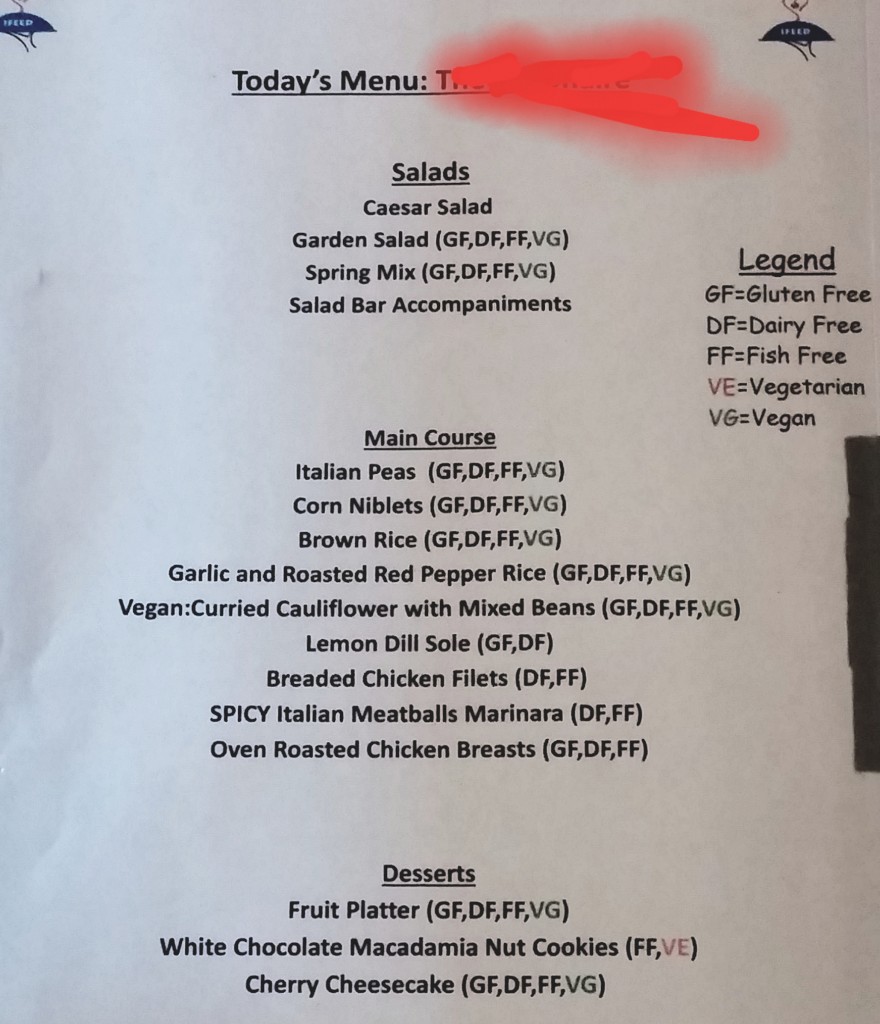 One of many menus I have had the pleasure of devouring. Note the variety of options.

One of the many things I look forward to is the food. I never know what it's going to be and on smaller shoots, it is usually pretty good. They have caterers who provide a great lunch with all kinds of options. Most diets. Through the day, there is often a craft truck with snacks and drinks.
At worst, there is almost always a peanut butter and jam station with fruit and coffee. My kids are forbidden from bringing peanut anything to school and I am glad this trend has not caught up with the film industry.
The only bad experience was on a large shoot with 800 extras at Toronto's Pearson Airport. Here you could see the class warfare of film production at large. The union people got the fancy food and the plebeians were served soggy lettuce and some other horrifying slop. (I just played dumb and took the union food, which was great. Don't do what I do. Do what I say!)
What Actually Happens (Or: Hurry Up and Wait)
I would say that the vast majority of the time is spent waiting around. I have worked several times and not been used. Which is fine. I got to hang around interesting places with neat people.
Alternately, I have done shoots standing for hours at a time also doing nothing, which can be hard for some people. The airport shoot I described was one where I saw some older ladies who were on set for the first time and they could barely believe how exhausting it was. This is actually work!
Don't Be a Flake
Sick at the hospital before a shoot. Luckily Operators were standing by.

I think we're called background actors because someone thought being called an "extra" was demeaning. I would encourage anyone to realize this is work and a lot of planning goes into this and just because you are the least well-paid does not mean you are inconsequential. Scheduling all of this is serious work.
Last year I was booked for a smaller shoot and I knew it would be almost impossible to replace me quickly. On the other hand, I was so sick I went to an emergency care clinic. I had some random illness that caused itching and vomiting so I went in to get medical help.
I explained at 7am to the kind nurses that I had to be on set by noon and I needed to be doctored up by 11 to get to set. After a while, they juiced me up and let me go, but not before learning I had diabetes! With all this fresh in my mind, I went in against doctor's orders for an almost ten hour day at Digital Canaries for some re-enactment show for cable.
No one knew I was sick and I made lots of new friends as I played a forensic detective. Essentially we were in a murder scene in the same room as the second verse as my Operators Are Standing By music video was filmed -except there were two bloody people, naked and covered in stage blood.
My job in one of many scenes shot that day was to measure blood splatter and move every so many seconds to different points all the while with my back to a camera person who also could not see me but was about a foot away. We had to basically dance around each other in careful ways. A murderous ballet!


Mac in the hazmat suit. Sunglasses for photo not part of the film's costuming but totally cool.

The last thing I wanted to do was bump into the camera man behind me and cause an accident as these cameras can be pricey. The Arri Mini we used for my Paris of Love/Paris Amoireux video set cost around $90,000 or so I'm told. This camera setup maybe was a lot cheaper (or maybe not!l) but still...
(Remember I am beyond ill at this point and wearing a hazmat suit. Just another day at the office, folks!)
Star Power
One of the many fun things about background acting is that you get to occasionally interact with people who are famous.
Ultimately, that's the bottom line. Most people who work outside the film industry still watch TV and go to the movies (or watch youtube). Our world is frenzied with the mere glimmer of fame and fortune.
Occasionally in the background world you can brush with fame. That may sound silly to some. It is actually very cool to the outside world. Tell your mother or some friends you were on set with so-and-so and they become instantly envious.
Last year I was on a shoot with Zoey Deutch, for example. Until I arrived, I had no idea she would be there. Of course, I had seen and enjoyed Why Him? in which she stars. I liked that movie a lot more than most as I am in the KISS Army and they appear at the end.
Zoey was dressed in an oversized brown suit and was much shorter than I imagined. Yet when she looked at me, covered in stage blood, and asked me to hold her drink, I did not think twice. It took me a minute or two to realize who she was but I completely recognized her.
On the other side, on set is absolutely not the time for fandom. Always best to go with the flow and remember how much work goes into this whole process.
In my tiny corner of the film community, it is like Hollywood North.
I have done shoots where they drive the actors back and forth to America each day though the shoots start at 10 and end at 9. From Toronto to Buffalo is often a few hours as we have the most heavy traffic in North America. (good luck, LA!)
You don't know anything so don't try to angle to the stars about your latest pitch. Just do your job. If you have something serious, pitch anytime other than there.
In it for the Glamour, the Fame, or the Money?
My son Erik Hawthorne in The Umbrella Academy. He is background in the purpled area. And laughing!

The pay is usually pretty minimal, even if you get unionized. Most people I know do this do it for fun as a change from their other jobs. It is certainly not a way to get rich. (That's a future post!)
The glamour? Put it this way: my son was sort of envious that I do this kind of work sometimes and so I got him a gig on a major Netflix show that his friends all watch. Now he gets to be a bit of a rock star with his school chums -and he relishes every second of that.
Nonetheless at the end of the actual shoot, he told me this was not as much fun as he had anticipated. Also only one person gets paid even though the parent is there all the time too so there's a lot to be said about child actors on a different day.
In Conclusion

So there you have it, folks. An inside look into the exciting world of background acting.
Some people ask me what it's like to see my stuff after and I have to admit, I have never seen any of my work. Much like Johnny Depp, I view the process as over when I am done the work. Then I move on to the next thing. So yes, I am comparing myself to Johnny Depp. Have fun out there!
Mackenzie Kristjon is an actor and singer-songwriter whose act This Mad Desire's upcoming album American Dream's new single Antifa and the Supremacists is already out on streaming services. He las launched a fake campaign for the American Presidency as he believes the US is ready to elect an Icelandic-Canadian president. Stand Up and Dream Again, America! More info on that at patreon.com/thismaddesire. His new poetry book "we are all things and all people" is available on Amazon. http://www.thismaddesire.net and http://2020americandream.com
---
Let's hear your thoughts in the comments below!
Got an idea for a post? Or have you collaborated with Stage 32 members to create a project? We'd love to hear about it. Email Joleene at joleene@stage32.com and let's get your post published!

Please help support your fellow Stage 32ers by sharing this on social. Check out the social media buttons at the top to share on Instagram @stage32online , Twitter @stage32 , Facebook @stage32 , and LinkedIn @stage32 .