Good morning, Creative Army. I'm thrilled to announce yet another exclusive Stage 32 partnership, this time with one of the oldest and most respected brands in the industry, Variety and Variety Insight.
Under the partnership, VBI's flagship product, Variety Insight, will be the Official Entertainment Industry Database Partner of Stage 32 and Variety Insight members will receive a credit toward education courses on Stage 32. In return Stage 32 will be the Official Education Partner of Variety Insight and Stage 32 members will receive a complimentary one-month membership to Variety Insight.
This is an opportunity for all Stage 32 members to gain access to the most comprehensive database and analytics service in the business. From finding out who's working where, who's buying what, who's on the search for material and more, Variety Insight will give you the inside edge you need and, candidly, deserve.
Of course, we're thrilled to be seen as the industry leader in online education for film, television and digital creatives and professionals worldwide and to be recognized as such by Variety Insight. We will be providing their creative and professional members the world class craft and business training taught by our unparalleled roster of global instructors.
More about the partnership below including a link to the official announcement on Variety this morning.
Cheers.
RB
"Now, more than ever, it's important that our industry is provided access to the most up-to-date information and education on how to stay creative as well as how to safely and smartly get back into production post-Covid-19. Stage 32 has over 1,200 hours of online education taught by top industry professionals around the world and we look forward to partnering with Variety Insight and offering this education to their industry members," said Richard Botto, CEO of Stage 32.
"We are happy to do our part and offer a free month of Variety Insight access to our industry peers at Stage 32. While so many executives, producers, writers, directors and actors are ready to work but waiting for production to return to its pre-Covid-19 levels, Variety Insight's data on film, television and digital production is unsurpassed and allows our users a clear line of sight on opportunities as shoots begin resuming," said Mark Hoebich, President of VBI.
The organizations have worked together for seamless integrations to each other's platforms. Variety Insight users can access the education credit through a newly added "Education" tab on the platform's homepage. Stage 32 users can take advantage of the free month of Variety Insight with the newly added offer located on their Stage 32 profile page.
VBI and Stage 32 have complementary user groups so the partnership allows both companies to expose their world-class products to groups that will find immediate value and benefit in each service.
To See the Full Partnership Announcement in Variety Click Here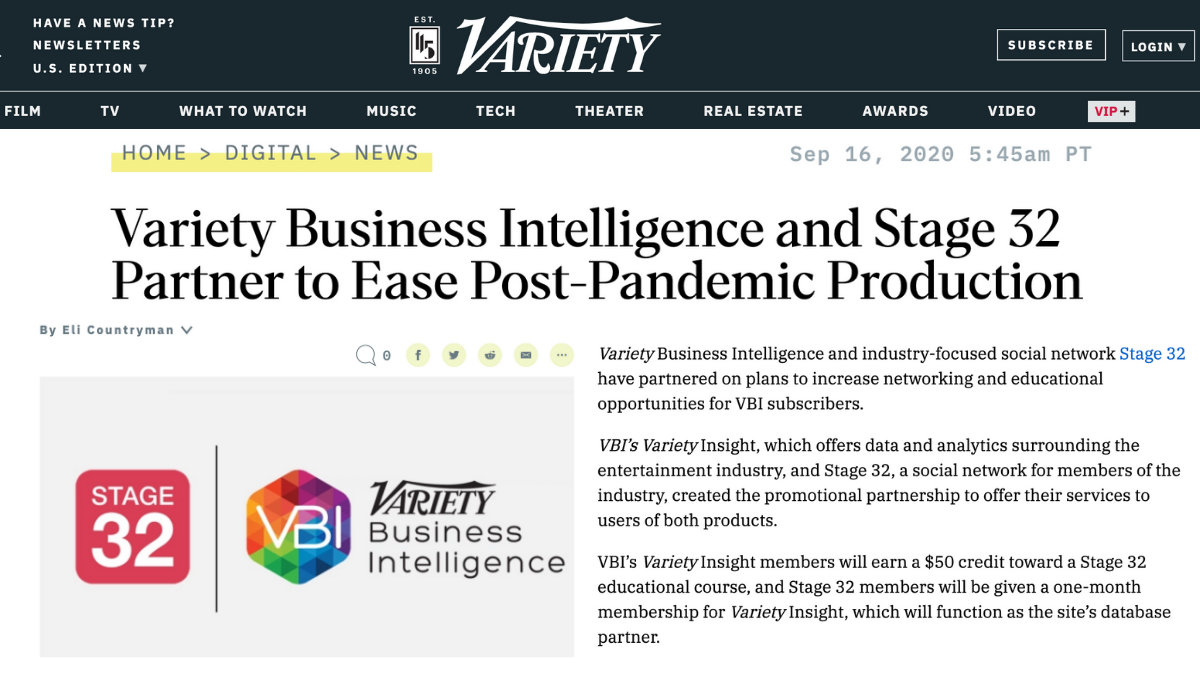 About Stage 32:
Stage 32 links entertainment industry creatives, professionals and executives globally. The platform is recognized throughout the industry as the leaders in film, TV and new media education and is the networking and education partner of organizations such as the American Film Market, the Cannes Film Festival Marche du Film and many other festivals, film commissions and film and television organizations around the world. To learn more about Stage 32, visit www.stage32.com
About Variety Business Intelligence (VBI):
Variety Business Intelligence is a leading provider of business-class data and analytics to the global entertainment industry. VBI oversees a suite of business solutions, including Variety Insight, its flagship data & research platform, as well as the Variety Archives, and Vscore, a leading familiarity and appeal metric. To learn more about VBI, visit www.varietyinsight.com
---
Let's hear your thoughts in the comments below!
Got an idea for a post? Or have you collaborated with Stage 32 members to create a project? We'd love to hear about it. Email Taylor at taylor@stage32.com and let's get your post published!

Please help support your fellow Stage 32ers by sharing this on social. Check out the social media buttons at the top to share on Instagram @stage32online , Twitter @stage32 , Facebook @stage32 , and LinkedIn @stage-32 .