I grew up in the Bay Area, in Oakland. I lived on Fruitvale, so homage to the film Fruitvale Station, it's like my hometown. It got pretty bad in my area when I was 10, so we moved to a better area — a safer area — in Dublin, California. I was there until I was 15, and then I moved to Omaha, Nebraska. California to Nebraska, can you believe that? Everyone was like "Why did you go to Omaha?" and I said, "You know, just to change up the scenery, why not?"
In all honestly, what really happened is my father worked for Kellogg's and they had shut down in northern California, so we had to move to Omaha for work. I was 15 and I already had 2 major moves under my belt and I was already starting to learn to roll with the punches. It was in Omaha where I spent my last two years of high school — and became a Husker fan for life. As I'm sure some of you know, when you sink into a college football team, you are in for life. I had no choice; I had to bleed red and white. I, myself, was a big football player, too. I overcame the move to Nebraska quickly and that was the time where I set my goals and dreams to be a professional football player. I wanted to play for the Huskers, and I was determined to make that happen. Then, I blew out my knee senior year, and my whole life changed.
When you blow out your knee and you have to have ACL surgery, one, it changes your life, and two, it changes your dream of wanting to go into sports and become a professional athlete — which every kid pretty much dreams of. Knowing that I had two pins in my knee I thought "you know what? I guess it's not meant for me to be in football" I could have let it get me down. But I didn't.
At that moment, out of nowhere, my dreams changed. And I had to listen to them. It turns out right after I blew out my knee there was an audition in Omaha my senior year of high school for a teen soap opera called In Our Lifetime. The soap opera was created and written by a woman named Tari Robinson who used to write for The Fresh Prince of Bel-Air. She was originally from Nebraska, so she wanted to come back and do a local teen soap. This is like the Dawson's Creek days and all that teen drama was popular, so it was exciting — word spread pretty fast in Omaha.
I decided to give it a shot and audition. I checked it out and it was hilarious to me because I was in this long line of people — it looked like an American Idol casting — and everyone had these headshots and was perfectly prepared. I came in with my senior wallet picture thinking, "I'm so cool", but having no idea what I was doing. I walked in with that, and a resume that my older sister had helped me type, and I ended up booking one of the lead roles — just like that. Little did I know I would get the bug then. The drive for a new dream. Myself, my wallet picture and my attempt at a typed resume, that's what sparked it all. And I think for some of us creatives, that's all it takes. We filmed the soap opera. It didn't end up selling, and got shelved, but Tari Robinson saw something in me. There was my first champion, which you need in this business. Tari spoke to my parents. She said "I think your son wants to pursue acting." They told her that I had the bug when I was little. When I was a kid I used to be part of Fox Kids. To be honest, I was a little kid with a temper, and I would tease my little sister and my older sister, and my parents told me back then that I was letting the TV stuff get in the way of school and focus, so it went on the back burner. Instead I got into martial arts and sports. Little did I know it would come back up after my dreams of playing sports came to a crushing halt. But there I was. Ready to act.
I went to Chicago to get involved in acting opportunities because Tari suggested it. It's only a six-hour drive from Omaha so I felt I was close to my family. Tari told me "you're such a nice guy, I think LA is going to eat you alive." So I went to Chicago instead. I lived in Rogers Park, which we all know wasn't the best area back then, but it's what I could afford. I thought back to Tari telling me about LA, but here I was in Chicago thinking "oh my god, this city is going to eat me alive!" And I tell you it was a blessing. I have angels protecting me, because when my parents weren't around or anybody else who was visiting me I didn't need a TV, I had a live show out front, I felt like I was back in Oakland. I learned to stay strong, stay focused and stay out of bad influences.
There were a lot of drugs, violence, shootings, and then whenever my parents would visit it was like the most peaceful neighborhood. My mom and dad would say, "It's such a great neighborhood." Of course I didn't tell them any of the negative things because I didn't want them worrying about their son, who's 18-years-old, living on his own in a rough neighborhood. It changed my life. I was out there and I went to Second City and Act One studios and pursued the arts, worked two waiting jobs at Rainforest Café and Bakers Square, and just did what every other actor does: dive in. Talk about learning hard work and building confidence. After a year there of booking some work, I decided to come to LA.
You come here - the new kid in town - with all the stuff in your car, and you drive down Sunset Blvd. thinking "Oh my god, this is amazing, I'm so going to be the next Dawson's Creek." Haha! When you look back, it's just so funny to remember what you were thinking. It never turns out quite that way, but if you work hard enough it ends up happening in a better way I would say.
If I could go back in time, I'd tell the 19-year-old me in LA to shut your mouth and enjoy the ride and don't worry so much, because what turns out to happen for you as you get older and into your thirties is going to be amazing. I would have told myself to be a little calmer, like the way I was with everything leading up to it. That's what brought me to where I am today, and I'm very grateful for that.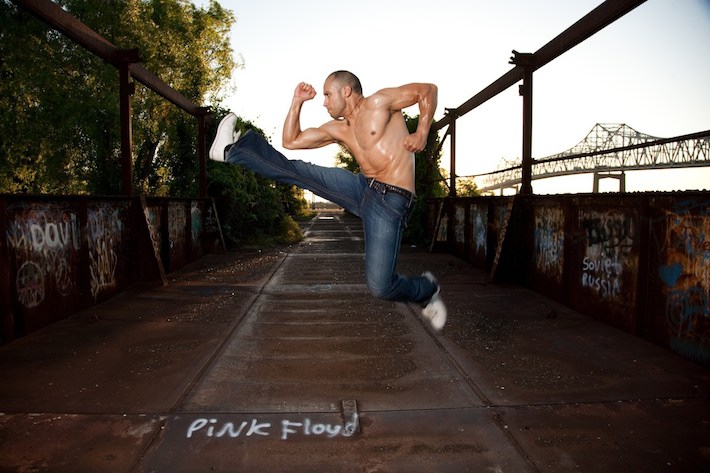 Jaylen Moore
When I arrived here in LA, it was nothing like I imagined or expected. There were no trumpets and people singing Prince Ali has arrived. I got out here and I had one contact, my cousin, who went to UC Riverside. It's amazing what you do to pursue your dream. And you should never rest pursuing your dream because there is always someone next to you who is outworking you. So, the first six months I lived in Riverside and was driving over 150 miles a day going back and forth doing agency drop-offs. I was just walking in and saying "Hey, I'm the new guy in town, I'm going to be your new star. What's up?" I thought saying that I was from Chicago was edgier than Omaha, Nebraska or even the Bay Area, so I went with that as my identity. That relentless pursuit everyday, that's what it takes to make it.
It was very fun and exciting, with the new highs of moving into a big city. When I got here I had to figure out how I was going to pay my rent and I was smacked with reality. It's crazy, all the experience I had as a server, you'd think it'd be easy for me to get a job as a server, but it wasn't. All the restaurants I went to, especially the high-end ones, would say "Oh, well you have to have ten years of experience." Keep that in mind if you come to LA and manage your expectations if you start by wanting to be a server. It was weird, but I think the universe was assisting me, and here's why: I couldn't get a job as a waiter, and so I talked to my mom and dad and my older sister, and they said to me that since I was so into fitness and martial arts, why didn't I become a personal trainer? When my first dream of playing football was crushed, I hadn't even thought about staying in fitness for a profession. But, when I did blow out my knee I did stay on the football team and would help my coach develop different fitness programs for my team. It kind of made sense.
Here I was with my two dreams intersecting – my love for fitness and my pursuit of acting. I went into a Bally's. I was a 19-year-old kid with determination and I got hired the day I walked in. I went in there and said, "I have extensive background in fitness, martial arts, and dance, and I feel like I would be a great trainer. I'm a people person and I think it would be a mistake if you don't hire me." And the manager looked at me and said, "You're hired." I met so many people through my personal training career and it was a great thing that happened to me. I eventually went private and had my own training business for 12 years. During that time I still pursued my number one dream of acting. I never gave up. And you never should. I slowed down my personal training business about a year-and-a-half ago when my acting career took off.
12 years later, my big break hadn't come yet. I was acting, sure, but there are always different points in your career. For example, years ago I booked a huge role on That's So Raven and I played the character of Eric. I had fun, it was great exposure, but when it was over, that was it. You go through all these phases of ups and downs. That's the reality of this business. The real big leap for me was about a year-and-a-half ago, January 1st 2012.
Before I explain the "Big Break" I need to mention that I'm married. My wife and I had our 1st year anniversary. She is my rock. Her name is Brittany Logan and she's a screenwriter and actress. We met on a musical six years ago, and I'm that lucky guy where my wedding date and my actual anniversary with her are the same day. I can't fail.
The reason I brought that up was because a year before we got married, we were saving money. It was a big collaboration between what we're earning and our parents helping out. I was just a little depressed; I hit a little lull in my acting career. I had some good projects under me, but nothing was consistent. I was getting burned out from training, and my passion for art wasn't fulfilled. A friend of mine called me who was in New Orleans. He said, "Look we've been out here and this market is funny. They're short on actors who are ethnically ambiguous" — which is basically my category — "who can also do their own stunts." What was happening was all the A-list parts were being cast out of LA, and all the other juicy parts and film were locally searched to get the tax break Louisiana was offering. At the time I believe it was up to a 35% tax break. Obviously this meant I'd need to go to New Orleans. I told Brittany I wanted to do this, and she said, "Okay." My rock.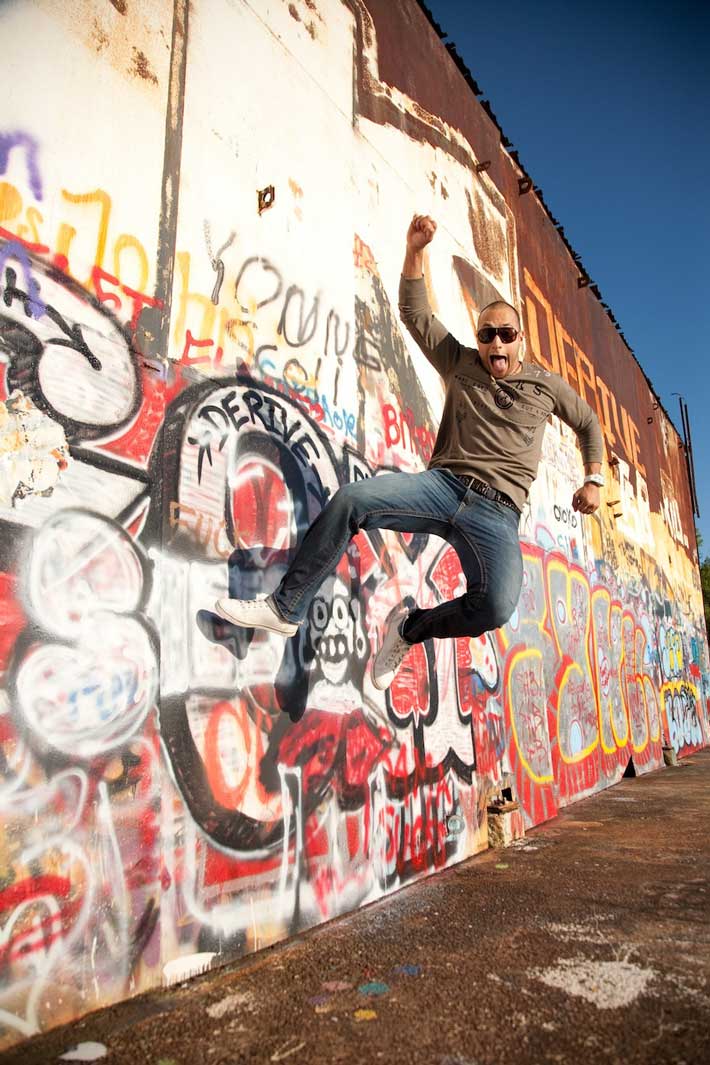 Jaylen Moore
Reinvention, work in "South Hollywood," and marriage
New Year's 2012, I shaved my head and literally reinvented my look. I felt like a new man. I said to Brit, "I'm getting married to you this year, but I don't want to get married regretting that I didn't give it one last extra push just for acting." And she totally supported me. She took over my clientele (she's a trainer as well). As actors we're hyphenates, get used to it. You're a personal trainer-DJ-MC-waiter-dancer. She was so wonderful living the "hyphenate life" and completely supported me, and I took off.
I went to New Orleans January 2012 and immediately booked a part on the film called The Host. Yes, The Host written by THE Stephanie Meyer. They were looking for actors who could do their own stunts because there was a big fighting scene. I booked the character, "Seeker Song." Unfortunately, in the film a lot of the scenes we did were cut out, but one of mine remained in there. And then it started snowballing for me. It went from The Host to Oblivion, where I got to work with Tom Cruise and Morgan Freeman. The part I booked was actually written in for me. The director was so cool, and when I met him, he interviewed me and said, "I'm impressed with your audition and the fact that you can speak different languages, and you have a cool look. I don't really have this in the script, but I want to write in the role of "Radio Operator," because I think we're missing some things in the story. I can't promise you it will make the final cut but you'll be working with the leads."
Woah.
Hyphenate-life no more. I'm an actor.
---
Part II of Black V-Necks and Minutes will run this Wednesday. In the meantime, Jaylen will be available for questions and remarks in the Comments section below.