Those of you who have been members for a while know that the entire Stage 32 staff is always looking for ways to improve the site. Sometimes the improvements are major, like the new Stage 32 Meetups or Stage 32 Jobs section. Other times, the improvements are more subtle like those we've highlighted below. Big or small, all of these improvements are designed to increase your networking and career opportunities as well as enhance your Stage 32 user experience.

So here's what's new around the neighborhood.

---
Did You Do Something Different?

We've now made it easier to find out more about your fellow Stage 32-ers.

To begin with, we modified the way a profile page loads default user information. When you go to a user's profile you will see 7 different buttons representing 7 quick preview sections: info, bio, credits, awards, links, resume and desert island movies. You can click on these buttons to quickly toggle between each section. If the button is grayed out (as in an example below - awards and resume), it means that these sections were not populated.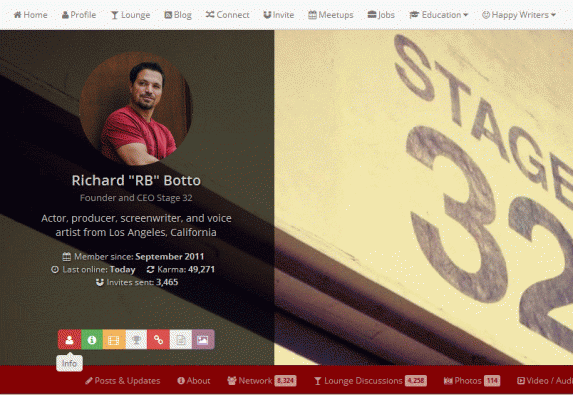 ---
Come Here, Look a Little Closer
We have added a quick info-box action linked to the name of each Stage 32-er. Simply hover over somebody's name and wait a second to see a box show up with that user's information. It will list an option to connect (if not connected), or an option to send a message (if that member is already in your network). You can see where this Stage 32 member resides and learn her or his occupation. Finally if this member has any credits or awards - the count will be displayed alongside the karma points on the bottom of this box.
---
Is that a New Color?

Due to some confusion within the community, we have adjusted the background color of the menu located on your Profile page.

The functionality has not changed. It is still the same menu, but we wanted to highlight it for better visibility.



The functionality of this menu allows you to:
View the wall posts made by the Stage 32 member in question (Posts & Updates)
View member's bio, credits, awards and more (About)
View member's connections (Network)
View member's contribution to Stage 32's lounges (Lounge Discussions)
View the photos uploaded by the member (Photos)
View video reels and listen to audio reels uploaded by the member (Video / Audio)
View member's loglines (Loglines)
View jobs posted by that member in the jobs lounge (Job Postings)
Remember, in a recent poll of those who have used Stage 32 Jobs or other means to hire other Stage 32 members for a project, 91% said that a completed profile was the first thing they looked for. Upload your bio, headshots, loglines, reels and other pertinent information and media today!
---
Look Down (Are Those New Shoes?)

We have enhanced and expanded our footer menu at the bottom of every page of the site:


On each page you will be able to quickly locate:
Our social media pages
Shortcuts to your settings such as email & password settings page, notification preferences and purchase history page.
Our mission statement, policy and terms
Our deals section, mobile app page
And a way to reach out to Stage 32 support team
---
Like What You See? Let's Chat!
We have adjusted some of the chat functionality and created a new, cleaner look:
To start a chat with someone in your network click on the "Chat Now" tab in the bottom right corner of your screen, select the person you wish to chat with and start sending your messages.
The new functionality allows you to "Load Earlier Messages". If you want to restore a chat session you had with someone in the past, you simply need to click the "Load Earlier Messages" tab visible on top of your chat entry box and your chat history will be restored.
We hope you enjoy these new changes and enhancements to the site. I'm pleased to report even more changes are forthcoming. You'll be hearing from us again soon!
Cheers!
RB
---
Like this blog post? Please share it on social media (Facebook, Twitter, LinkedIn, email etc) by using our social media buttons at the top of the blog. Or post to your personal blog and anywhere else you feel appropriate. Thank you.
As always, we welcome thoughts and remarks in the Comments section below...