For the last few months I have been proud to work with the CEO over at Bondit Media Capital, Matthew Helderman on a 4-part Film Finance Master Class, which we are now officially launching.
Stage 32 and Bondit have partnered to develop a comprehensive series featuring top producers in the industry today including Matthew Helderman, CEO of Bondit Media Capital, Robert Ogden Barnum, Co-Founder of Fortitude International and e2b Capital, Jordan Yale Levin, President of Yale Productions and Elsa Ramo, Founding Partner of Ramo Law.
The featured producers have been involved in over two hundred projects and will discuss the evolution of film financing today including everything from pre-sales, packaging, distribution, financing packages, case studies and more.
A special thank you goes out to Screen Daily for covering the launch!

You can find the Stage 32 & Bondit Film Finance Master Class here:
1 - Intro with Matthew Helderman, CEO Bondit Media Capital
2 - Part 1 with Robert Ogden Barnum, Co-Founder Fortitude International & e2b Capital
3 - Part 2 with Jordan Levine, President, Yale Productions
4 - Part 3 with Elsa Ramo, Founding Partner, Ramo Law (Ramo recently packaged Stage 32 members film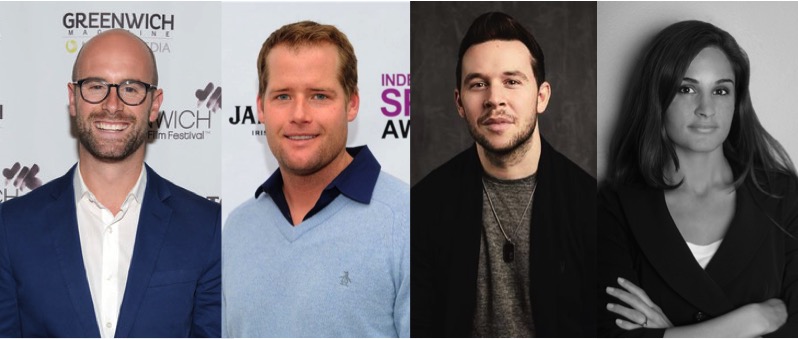 L-R (Matthew Helderman, Robert Ogden Barnum, Jordan Yale Levine, Elsa Ramo)
About Matthew Helderman – CEO, Bondit Media Capital
Matthew Helderman founded Buffalo 8 Productions in 2012, as a feature film & commercial production company growing to deliver projects to clients such as Sony and Lionsgate. Under Helderman's leadership, Buffalo 8 has built a full library of content – touting 4 premieres at the 2016 Sundance Festival – a roster of commercial directors, a talent management division and a full post-production facility. In 2013, Helderman co-founded BondIt Media Capital to solve the multitude of financing difficulties found in the entertainment & media business — by 2017 BondIt had participated in the financing over 200 feature film projects ranging from low budgets to studio level productions. Helderman graduated with a B.A. in Philosophy with a minor in English from Lake Forest College. Helderman has been a featured speaker at the Cannes, London, and Bahamas Film Festivals as well as guest speaker at the Chinese US Business Summit.
About Robert Ogden Barnum – President, Fortitude International, Co-Founder e2b Capital
Recently recognized as one of Variety's "10 Producers to Watch", Robert Ogden Barnum is an Independent Spirit award-winning feature film producer whose most recent films include Miles Ahead, Don Cheadle's directorial debut about Miles Davis, starring Don Cheadle and Ewan McGregor, Daughter Of God, starring Keanu Reeves, and Elvis & Nixon starring Michael Shannon and Kevin Spacey. Other recent projects include Paul Bettany's directorial debut, Shelter, starring Academy Award winner Jennifer Connelly and Anthony Mackie, and Mike Binder's Black and White, starring Kevin Costner, both of which premiered at the 2014 Toronto Film Festival.
Barnum is partnered in e2b Capital, with former head of William Morris Independent, Cassian Elwes. e2b Capital represents a variety of financiers for films, actively helping them select investments and overseeing the production and delivery of the films. Additionally, he's a partner in Fortitude International, the foreign sales and finance company that was launched in early 2014 with partners Nadine de Barros and Daniel Wagner.
About Jordan Yale Levine – President, Yale Productions
Named as one of Variety's 10 Producers to Watch in 2016, a member of the Producers Guild of America, and the President of Yale Productions, Jordan Yale Levine has made a strong name for himself in the entertainment industry.
Jordan has garnered a substantial list of film credits, as well as currently having several projects in various stages of production and development. Jordan is responsible for the producing, financing and/or distribution of over twenty-five feature films. These films include the recently released IFC title, King Cobra, starring James Franco, Christian Slater, Garrett Clayton & Keegan Allen, which premiered at the Tribeca Film Festival in 2016, and Jack Goes Home, released through eOne, starring Rory Culkin, Britt Robertson & Lin Shaye, which premiered at SXSW in 2016. Additional films include Petunia, starring Brittany Snow, Thora Birch, and Eddie Kaye Thomas; Addiction: A 60's Love Story, starring Ian Harding, Evanna Lynch, and Carol Kane; Black Limousine, starring David Arquette, Bijou Phillips and Vivica A. Fox; Wreckage, starring Aaron Paul, Scoot McNairy and Cameron Richardson; He's Way More Famous Than You, starring Michael Urie, Jesse Eisenberg, and Ben Stiller; and more.
About Elsa Ramo – Managing Partner, Ramo Law
Elsa Ramo was recently named one of Variety's "Hollywood New Leaders in Legal & Finance". Elsa is an established entertainment attorney, representing producers, financiers, and production entities in film, television, and digital content. She graduated from University of San Diego School of Law in 2002, and began her career by establishing the Los Angeles office for Davis Dixon Kirby LLP (a royalty litigation firm). After several clients approached her to handle their independent productions, she founded her own firm on the Universal Studios backlot in 2005. Ramo Law PC is now located in Beverly Hills. Her law firm has seven full time attorneys, a packaging and sales executive, and a full staff who provides production, distribution and finance legal services in feature films, documentaries, scripted and unscripted television and digital content. Their television credits include series on Crackle, MTV, Netflix, Hulu, and Bravo. Some recent film credits include: Still Alice (Julianne Moore, 2015 Best Actress Oscar™ Winner), Fury (Brad Pitt), Stanford Prison Experiment (Billy Crudup) which won an award at Sundance this year, Stockholm, Pennsylvania (Saoirse Ronan), and Short Term 12 (Brie Larsen). She represents such producers as: Informant Media (Crazy Heart and Kidnapping Freddy Heineken with Anthony Hopkins), QED International (Fury with Brad Pitt), Scott Mednick (Teenage Mutant Ninja Turtles and 300), and Electric City Films (Little Birds and Mississippi Grind).
We are proud to have several Stage 32 member projects being packaged through Ramo Law including the soon to be released What Lies Ahead (starring Rumer Willis and Emmat Dumont) by Stage 32er William J. Viglione, which was found through a Stage 32 pitch session.
---
Like this blog post? Please share it on social media (Facebook, Twitter, LinkedIn, email etc) by using social media buttons at the top of the blog. Or post to your personal blog and anywhere else you feel appropriate. Thank you.
As always, we welcome thoughts and remarks on ANY of the content above in the Comments section below...