I'm afraid of heights. I don't like climbing ladders. But I also like to get where I want to go, even if it means going up high.
The most important thing I have learned in trying to raise money for my first feature film is that I needed to start small—at the bottom of the ladder.
Of course, I didn't do that. The first thing I did was try to get a feature made from one of my science fiction/horror novels, the budget of which I estimated would be in the $50 million range or higher. After two years of pitching to producers and getting nowhere, I decided to write something in the lower-budget horror genre.
I looked around my home town for inspiration and settled on a story about a 19-year-old local girl from a well-to-do family who disappeared from her front porch after an argument with her boyfriend. A month later she was found floating face down in a nearby river. Her death made national headlines at the time, which was in 1901. People who have lived in that house have since reported strange visions and eerie noises. It was even featured on the reality show "Dead Files." You can read about it here.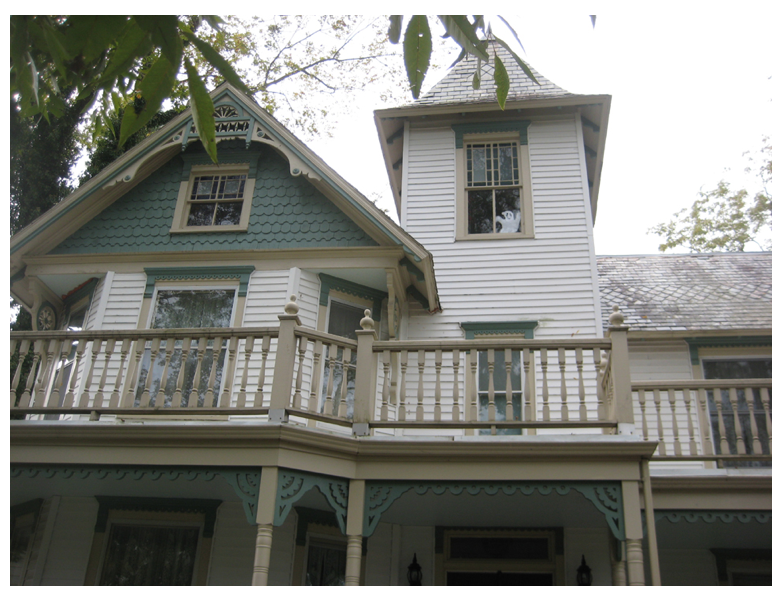 The Cropsey House in Elizabeth City, NC.
It took about six months to research and write the screenplay. Once I got it where I wanted it, I pitched it to a couple of producers in Wilmington, NC—Billy Lewis and Jonathan Landau (NOT the producer of Titanic and Avatar!) who had done work on similar films. They liked it and we proceeded to do revisions. They gave me ideas, I came up with a few of my own and after another six months, we had something we would be proud to pitch to investors.
We talked to an entertainment lawyer, formed an LLC and opened a bank account. One thing we decided early on was that since Jon and Billy had been involved with the writing and I had been involved with production, I would become a co-producer and they would become co-writers, giving us all more say in every aspect of the project. It was a better deal for me since I wasn't being paid for the screenplay.
We put together a pitch package, including a completed budget, comps to similar genre movies, attachments (of which we have several), "A-list" star wish-list, estimated return on investment—basically anything an investor would want to see in a business portfolio. We put together a Go Fund Me page and raised some development money. We started an imdb page which you can find here.
Concept art for Those Who Walk Among Us
I began pitching the project on Stage 32 and other places. I had some interest but most producers wanted a project where they could be involved from the ground floor.
One of the producers I pitched back in 2018 was Cody Lyons of The Octoberists. I liked them because they were working in the same genres and were having some great success. I watched one of the films they distributed, THE DARK TAPES—a mind-bending, surrealistic found-footage horror offering that is actually several stories with one central theme. It was right up my alley.
I got some great feedback from Cody, who said he liked the screenplay, but didn't feel he could help us because of our situation at that particular moment.
Fast forward a year. In that time several possible avenues of funding had made themselves available, but for one reason or another nothing panned out the way we had hoped.
I decided to look at some of the people who I had talked to previously to see if perhaps their feelings or circumstances had changed. Cody was one of those people. He wanted to talk, so we set up a time and date for a phone conference with him and his business partner Eric Thompson.
We discussed what we had accomplished so far, what we were hoping to do in the future and how we thought we could get there. The first conference went very well and everyone was on the same page and enthused about the project. Cody wanted to send me some notes on the screenplay, which he did. They would be reaching out to their contacts in L.A. and elsewhere to hopefully get THEY WHO WALK AMONG US funded and on its way to production.
We have been talking and emailing back and forth since then, keeping in touch with who is doing what and discussing any successes or setbacks we've had. I have found Cody to be a straight-talking, genuine and resourceful person with a lot energy and great ideas. So far, it's been an awesome experience.
So, I started at the bottom of the ladder with one little screenplay. I got a couple of other guys involved and polished the screenplay up some more. Another rung up the ladder. We put together a GoFundMe page and raised some development money. Another rung. We got a lawyer to put together a contract and we formed an LLC. Another rung. We put together a pitch package and got some attachments. Another rung. Now we are working with Cody and Eric and taking it to the next step.
I'll admit, sometimes I slip and plummet back down a few rungs. I may even fall all the way to the ground. But I just get up and start climbing again. Hey, I never said I was smart—just determined to get to where my ladder leads me.
---
Let's hear your thoughts in the comments below!
Got an idea for a post? Or have you collaborated with Stage 32 members to create a project? We'd love to hear about it. Email Joleene at joleene@stage32.com and let's get your post published!

Please help support your fellow Stage 32ers by sharing this on social. Check out the social media buttons at the top to share on Instagram @stage32online , Twitter @stage32 , Facebook @stage32 , and LinkedIn @stage32 .