FADE OUT
Congratulations! You've finished your latest script. Weeks, months, even years scribbling away in a notebook and banging away on a keyboard have paid off. So what's next?
Script coverage is a necessary and key element in the marketing process, but when searching for coverage, the volume of options available can overwhelm writers. Many services deliver a wide range of prices, capable of getting that script polished and ready for Hollywood. As well, several contests provide coverage as an added value, offering to help improve a writer's chances of placing higher, or even winning.
Before you get your credit card out, there is a crucial step writers often overlook and that is covering their own script first.
Being objective is difficult, but necessary before taking your intellectual property to the marketplace. Proofreading, technical and content editing and polishing are integral final steps, but scriptwriters rarely prepare their own coverage report.
My suggestion? Do exactly that! Make a table of elements...
Score your script as if you were scoring someone else's. Be critical but fair and most importantly be realistic. Think like a film critic. Would you give it two thumbs up?

Before starting to read, look your script's basic mechanics. How long is it? 58 pages? Then, it's too short to be a feature. What about 250? Mostly likely, too long.
Who is your target market/audience? Millennials? Baby-boomers? Hard core action fans? If you were the MPAA, how would you rate it? PG? PG-13? R? Is there a significant amount of violence and gore? Is there hot and steamy sex, just this side of porn? What about profanity? Or maybe all of the above? Producers will take this into consideration. So should you.
Identify the genre in simplest terms. Is it a drama or a comedy? From there, build upward and outward. However, don't over categorize. Avoid describing it as a dark/dramedy/action/suspense/thriller/musical. Be precise. The best method to accomplish this is identifying the various qualities or features (aka tropes) of your specific genre and study how they play out in your script.
Write a synopsis as you go, making note of the key plot points or events. Ensure it is no longer than one page: A ¼ of the page for Acts One and Three and ½ a page for Act Two. Remember, brief is better. Avoid writing a scene by scene account.
There are payoffs here too from a marketing perspective. If you're like me and despise writing one-pagers, this is a great exercise to help you do so. It also helps you to clearly state your pitch when the time comes.
Now comes the tough part - the dreaded analysis.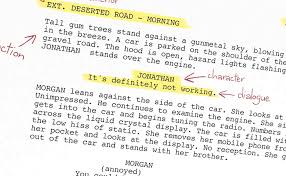 1) Concept
Draft your logline. Every script is a story about someone who wants to do something. Start with your protagonist. What is it they want to accomplish? Is it fresh? Compelling?
Note: remember that logline and tagline are not the same thing and are often confused. For example, the tagline for the John Hughes film, Ferris Bueller's Day Off was, 'One man's struggle to take it easy'. The logline: 'Adventure ensues when a popular high school senior fakes being sick to take a day off.'
What is the setting? Is your story set in a single location? Or does it have multiple locations, both indoors and outdoors? Keep in mind that those items will affect the budget and producers are always thinking with budget in mind. Wouldn't you?
2) Marketability
Speaking of budget, count the number of scenes as you go. How many are set at night? Are there a significant amount of visual effects? Again, this affects the bottom line. Like it or not, the movie business is a business.
Some writers avoid being concerned with budget at all. However, there is an important point here. When researching production companies to approach, you need to know what kind of films they make and understanding what yours may cost, will assist you in that search. For example, a small indie production house is less likely to produce your epic, superhero period piece, than a major studio that has the resources to do so.
3) Structure
Is there a clearly defined structure with an opening catalyst event that produces a central question? Does the story contain one or more subplots? Is each fleshed out and structured as the main/central plot?
Does the subplot serve as a source for character reveal or theme? Does it complement the main plot or does it overwhelm it? Or worse yet, is the subplot more compelling than the central plot?
4) Characterization
In order to identify the conflict in your story, identify the two key characters: your protagonist and antagonist. These two characters are the cornerstones of your story.
Write a brief character sketch for each, no more than one line. What is their name? How old are they? What is their function in the story? What is their goal? What are they afraid of? How do they relate to one another?
How soon in the story does the protagonist appear? Before page 10? Sooner is typically better.
What about their intro? Is the description detailed yet clear and succinct? And, don't forget about the antagonist, as well as the other central characters - they need to be fleshed out just as completely as the protagonist with flaws, desires and a backstory of their own. They must leap off every single page.
5) Dialogue
How many times does your main character speak? Is it more than any other character? Screenplay software makes this a breeze, providing you with a detailed report.
Does each character speak in a unique voice? If you removed the names, could you still identify them based on word usage, tone and speech patterns? Is it clipped, catchy and smart? Or instead, do the characters have long winded speeches?
What about voice over? Is it used sparingly? Or used to provide story exposition in a 'tell, don't show' fashion?
Have you included lines such as:
Bob points a gun.
DOUG
Why are you pointing a gun at me?
The above example is a radio line, harkening back to the days before television. The audience couldn't see the gun. Therefore, the clearest way to convey this scene to the listening audience was through dialogue.
Also, watch out for talking heads, where two characters interact without any action or reaction. Remember, film is a visual medium. Scenes have to include more than just people talking back and forth..
6) Style
Is everything on the page only what you can see or hear? If it's anything else, the narrative is non-manifestation oriented and needs to be cut. There are some exceptions, stylistic choices for example. Occasional author's intrusion is another. Shane Black, writer of 'Lethal Weapon' is famous for it. So much so, they are referred to as Blackisms, but if overused, they stand out like a sore thumb, giving the reader reason to 'Pass' rather than 'Consider' or 'Recommend'.
Have you included camera directions and transitions throughout? Are you directing rather than simply writing the story? Too much direction results in a clunky script that interrupts the overall flow and rhythm.
What about white space? Is the narrative dense? Exceeding five lines can make reading the script a chore.
7) Format
Don't leave it to your software! It can't read your mind. Whether you review your piece as a soft copy or print it out, go over the script line by line. Read it aloud. Ensure where there is dialogue, the character cue accompanies it, especially if there is a page break. Be on the lookout for widows and orphans.
Beware of overwritten sluglines. Keep it succinct. Don't be fancy. Bolding isn't necessary. Neither is italics or underlining. If you are trying to emphasize words, be consistent and use one method throughout. Never all three.
Once you've taken a hard analysis of your work and you are confident it's ready to go, send it out, but, be prepared. Getting 'Pass' from a production company or agent is far more likely than a 'Consider', or 'Recommend'. Don't get discouraged. Read through the coverage and compare it to yours.
Are there points where you and the coverage reader agree or do you differ widely? If so, dig deeper into the script and consider the feedback and make some changes, but, don't simply send it to one reader, send it out to multiple companies. Enlist other writers to read it. A table read with some actor friends is another great way to get an honest appraisal of your script.
ONE LAST THING: Before sending your script out for coverage, submitting it to a contest, agent, manager or production company, ALWAYS ensure you have taken steps to protect it. There is no one single fool proof way to protect (and even doing so may not protect you, see author Tess Gerritson's story of the film Gravity as an example).
At the very least, register your script with you're writer's guild (e.g. WGA) or through the Copyright Office.
About Shaun Goldsmith
Shaun Michael Goldsmith is a highly trained screenwriter and story consultant, whose feature-length screenplay; 'Cold Autumn' was recently optioned in LA. He is a Nicholl fellowship semi-finalist and an experienced script reader with contests, writers and production companies in both the United States and Canada.

His brands include compact, elevated thrillers and high concept action films, focusing on minimalist style narrative and a highly structured approach, while emphasizing character, plot, style and theme.

Based in Toronto, Canada, he is currently developing three projects: a feature thriller taking place on the high seas: 'Peril', a treatment for a film set during the Iran-Iraq war titled, 'The Hatred of Others' and an upcoming non-fiction book: 'Structure Sells'. www.parallaxlens.com.
---
Like this blog post? Please share it on social media (Facebook, Twitter, LinkedIn, email etc) by using social media buttons at the top of the blog. Or post to your personal blog and anywhere else you feel appropriate. Thank you.
As always, we welcome thoughts and remarks on ANY of the content above in the Comments section below...