EXCITING UPDATE! Stage 32 will be broadcasting a breaking news LIVE feed from the 2015 NAB show in Las Vegas, NV all week long! NAB is the premier conference to discover emerging technologies and latest innovations in digital media, film, entertainment, post-production and more!

We'll be bringing you the latest and greatest from:

Blackmagic Design, Kinefinity, Canon, Zacuto, Atomos, Vinten, G-Tech, Sony, Convergent Design, Datavideo, smallHD, Anton/Bauer, Sachtler, Bexel, Paralinx, Litepanels, Autoscript, OConnor, Movidiam, Zeiss, Manfrotto, Wowza, Tilta, INOVATIVE Carts, DJI, Hocus Products, Society of Camera Operators, Movcam, Panasonic, Telestream, Think Tank, ncam and many more!



Go to: https://www.stage32.com/nablive
---
Similar to a Twitter hashtag, a live feed is almost a "stream of consciousness" from 30 reporters we have walking on the show floor at the same time, 24:7 throughout NAB this week. They will be uploading photos, videos, blogs of exactly what they are seeing so YOU can see it too.

Most of the coverage you ever see from NAB, comes hours if not days after the news hits. So last year our good friend planetMitch from planet5D decided to bring together everyone on the show floor to report and review as it happens!


---
"Daily Wrap Up" TV broadcasts at 5:30pm PDT on the Live Feed
We are thrilled to be live feeding the Teradek "planet5D Daily Wrap-Up Show"
at 5:30pm PDT every day during NAB.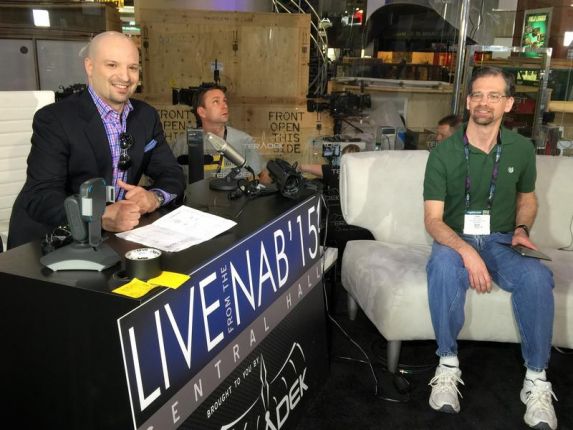 Trust us, this is a feed you do not want to miss!
---
What are you Waiting For? Head to the Live Feed Now!
Coverage starts today, but the show begins tomorrow, Monday, April 13 at 9:00am!

PLEASE NOTE - when you go to the LIVE feed, give your browser a few seconds for it to load. There is a lot of information being fed, so it may take a few seconds to download.
---
Like this blog post? Please share it on social media (Facebook, Twitter, LinkedIn, email etc) by using our social media buttons at the top of the blog. Or post to your personal blog and anywhere else you feel appropriate. Thank you.

As always, we welcome thoughts and remarks in the Comments section below...