Some time ago, an acquaintance at my local coffee house made the following comment about a writer's life, quoting Gustave Flaubert:
"Be steady and well-ordered in your life so that you can be fierce and original in your work."
I had been living this way for some time. As I worked and put myself through graduate school, I made time to write. Writing had been part of my life for over a decade. So what does it mean to be "steady and well-ordered in life so that you can be fierce and original" in your writing? To me, it means preserving, conserving, and strengthening all aspects of myself – physical, mental, emotional and spiritual – so that I have the stamina to write.

"Write what you know" is a well-known maxim in the fiction writing field. Even though I write science fiction/fantasy, what happens to the characters is based upon personal experience, or knowledge gained from others I've known, or research. Being "steady and well-ordered" also means, to me, that by conserving my creative energies my characters and fictional settings will be alive each time I sit to write. When not writing, I live my life.
I remember meeting an old friend from my high school and college days who also wrote. One day at lunch she eagerly divulged details about her latest and unfinished work. I hadn't asked for details, and wondered if she realized that the energy she spent spinning her tale actually depleted the energy she would need in order to meet those characters again as she approached the page and the keyboard? I had read years before an author's premise that to talk about the characters or plot of a work in progress takes energy away from the work itself.

My years of internal martial arts practice, meditation and study with a clairvoyant made this idea sensible to me not just with regard to my writing, but to any unfinished undertaking in life. Whether it's considered a jinx to talk about an opportunity before it's solid, or it's merely a matter of getting hopes too high, not speaking about what isn't fully manifest isn't a bad idea to me. Just the opposite. It's the flip side of the three monkeys of Buddhism, which often are called "see no evil, hear no evil, speak no evil."
Mindfulness Happens Anywhere We Let It and Affects Everywhere We Are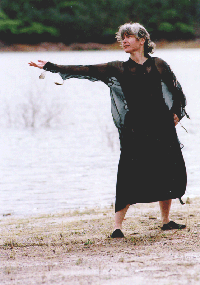 Acorn qi gong at Emigrant Lake, Oregon, photo by Elizabeth Ellingson.
The aforesaid monkeys demonstrate three precepts of Buddhism's mindfulness, the mistranslation of their symbolism indicating the need to pay attention not only to the moment, but to the actions I need to be engaged in it at any moment, and not to expend energy thinking or talking about what others say or do if it doesn't directly affect my life. My characters rely upon my discretion about their existence until my work is finished and I'm prepared to launch them into the wider world. To speak about them while they are being conceived uses energy I would use to write it down. The energy I use to write happens both at my keyboard and inside my head, and I'm sure that's the way it happens for fiction freelance writers everywhere.
What many artists may not have learned is that energy is finite. In the universe it's infinite, yes…but within us? Not so much. That's what contributes to the crash and burn of an immoderate life, which is what Flaubert intimated in his statement. My practice of internal martial arts (qi gong and tai chi) as well as my study and practice of Chinese Medicine brought home to me the importance of a regular lifestyle not just for a writer, but for anyone in terms of conserving energies and preserving health.

Regular hours, both on work days and on off days, are a writer's friend – and they're anyone's friend. For the writer, might it mean you have less time overall to write? Yes. Is everything else you need to do, or want to do, important to your life on this planet as a human being? At least half of it is – at any rate, any of it could be the seed of a future story if you engage in the experiences of work, family, travel, and yes, reading. If you're a writer, you need to be a reader too – time for this is also part of the "schedule".

When I first began writing a novel while working full time, I set aside four hours on each Saturday and Sunday for my "writing time" which, when I got hung up on a certain plot point (where are these characters going?) would require going for a walk for about twenty minutes, which was enough to let the ideas I needed come to me so I could complete my writing shift. So, set a writing schedule that is realistic and reasonable. If need be, write it in a calendar in pencil, because life sometimes may require your presence elsewhere.
Food is important. The brain is a hungry organ, and if you don't feed it well, you might find that when you're at your keyboard what results is more deadwood than alive and growing. When you eat, eat. Don't eat while writing. Mindfulness needs to be applied to everything, including sitting at a table and eating your food – so that you actually know in body, mind, and soul, you had that experience, even if all you ate was a tuna sandwich with pickles and a small glass of beer. Don't get so caught up in writing that you forget to eat.
Even if you think sitting at the keyboard isn't asking a lot of your body, it is (especially if the ergonomics of your desk area are lacking). Free range glucose is what the blood carries to the brain so that it can function. Contrary to what others may have told you, there isn't fat in your head, so the only fuel for thinking comes from what you eat. If you're a writer on a tight budget, I can say as someone self employed for nearly twenty years that I know about tight budgets.

Eat real food, not, as one student of mine called it "the idea of food". If you don't know how to cook, learn – it's an important life skill (and it can actually save you some time you can then use for writing – I plan one day a week when I don't have scheduled work as a "cooking" day so that I can make several servings of something that I can eat during the week). Besides, if you are a novice cook and you have some disasters in the kitchen (those happen) that might give you something to use in your next novel or short story, and it will be an instance of writing what you know to which many people can relate!


Sleep Well So That Dreams May Come


Flaming June, painting by Frederick, Lord Leighton.
Sleep well. Preferably at night. For some, especially the working parent with children, night may be the only time available to write. To cheat yourself out of sleep just to write may mean that everything around you in life suffers, including the quality of your writing. I've changed sleep shifts due to work over the years, and I've changed my sleeping habits for health reasons within the past few years, so I'm not going to be rigid about anything except this one consensus from 2,000 years of documented medical texts in China: human beings are a diurnal species by nature.

A chosen lifestyle may create the impression that this isn't true; however, human physiology makes it plain that the night owl life is draining and impacts health, which in turn impacts the ability to spend as much time writing as originally planned. If keeping a regular sleeping schedule – including on days off – means not writing every day, then set aside one day a week when a few hours could be put toward a writing project. Or, as several popular writers have admitted to doing, devote just one hour a day to writing, even if that hour seems completely nonproductive from a page count perspective.
As freelancers, we don't usually have deadlines that pre-empt our other responsibilities. Rather than write at the end of a very long day, consider going to bed earlier and getting up earlier and writing before others in the house get up. Get enough sleep, whether it's all at once, or through a bimodal sleeping pattern, or through a shorter night's sleep with a nap during the day so that you feel rested. If rested, there's enough energy for anything that needs to be done during the day, including writing if it's on the day's activity list.
Sitting in the Garden, Doing Nothing, Watching Plants Grow: An Overlooked Necessity for Creativity
My garden where I sit. RIP to my cat Nicholas.
Rest, relax, contemplate or meditate a little every day. Rest is not sleep. Rest is rest. Sit and watch the grass grow for a few minutes, outdoors if possible. Woolgather. Bird watch. Walk around the block and introduce yourself to neighborhood cats.

These moments are a different way to be mindful of the present moment as the present moment without it being tied to a goal-oriented task (which the American mentality pushes us to think is the only way time is well used, to the great physical, mental, and emotional harm of us all). We are human beings, not human doings, as psychologist John Bradshaw said, and these moments of rest, of engaging in a non-goal-oriented task, makes us more human. By being more human, we become more aware of ourselves and our surroundings, which brings us more ideas to fuel our writing.
For some, the most difficult endeavor of all may be learning how to let things go. As Sartre pointed out, our work as a writer is never finished – it's the reader who finishes our work, and each reader finishes it differently. The finishing goes on in the reader's mind. My personal rule of thumb is that I give a work three editorial passes.

I'm ruthless when I do it – I worked as a proofreader and a typesetter for a few years – and when those three passes are done, I consider the work as good as I can do for now. If I'm not satisfied with it, I may set it aside for several weeks or even months, and then approach it with a fresh eye. If I'm confident I can go ahead and publish it or send it to an agent, I do, without succumbing to the temptation to make it "perfect" first.

Nothing is perfect on the face of the planet, so neither will my writing be. Our best in the moment of completing a creation is as good as it's going to be in that moment. The alternative would be to never move on to the next writing endeavor, and, as someone who writes as part of my life, I want to move on to that next endeavor. The Greek philosopher Heraclitus' axiom, Panta rhei ("everything moves", sometimes translated as "a man can't step into the same river twice") applies even to the writer's ability to let go of the work at hand when it is ripe.
Consider the well-ordered daily life as helpful a tool for writing as a room of your own (if you have it); your keyboard or pen and paper; your reference books; your bookmarked websites about writing; even this essay. By creating such a life, you'll be creating a space for a life that will bring you a wealth of themes, characters, ideas, places, and details that will bring your fiction alive, one fiercely written page at a time.
Isabeau Vollhardt is scriptwriter for "2gether 4ever in the Hinterland," a dystopian romance screenplay submitted to Stage 32 for their 2019 contest.
She is also the author of the science fiction/detective/speculative fiction e-book series The Casebook Of Elisha Grey, set in Atlantis during the Second Era.
Isabeau is represented for acting/modeling by IMD, Inc., Medford, OR www.imdmodeling.com.


---
Let's hear your thoughts in the comments below!
Got an idea for a post? Or have you collaborated with Stage 32 members to create a project? We'd love to hear about it. Email Joleene at joleene@stage32.com and let's get your post published!

Please help support your fellow Stage 32ers by sharing this on social. Check out the social media buttons at the top to share on Instagram @stage32online , Twitter @stage32 , Facebook @stage32 , and LinkedIn @stage32 .