My name is Matthew Godbey and I've been an actor and producer in Hollywood for almost twenty-five years. Over the course of my career, I have had to deal with a multitude of personalities – some bad, most good, but no one in all my years was ever nicer than Henry Winkler.
A few years ago, I was on the CBS Studio lot working on a sit-com. While taking a break from rehearsal, standing outside the stage just looking down at my feet, lost in thought, a man approached and said hello. I looked up to find a friendly-faced Henry Winkler offering me a warm smile. He happened to also be on break from a show on the stage next door and was stepping out for some air. We had a friendly conversation and just before he walked away, I said, "Henry hold up. You know, it just dawned on me - for years now I've had a signed photo of you on the wall of my study. It's dated 1979 and addressed with a lovely note to my wife, Diana Valentine."
THE JOURNEY is as IMPORTANT as the DESTINATION
He patiently listened as I told him the long and winding Show Business story of my wife, who started out as a fresh-faced kid straight out of high school. As a newbie, she joined SEG and worked all the time on Happy Days, where Henry first skyrocketed to stardom as the cool and lovable Fonzie. One day, in-between takes, she simply asked him for a photo, and he said, "of course." She wasn't surprised because she never saw Mr. Winkler be anything other than kind to everyone around him.
My wife moved on from SEG work to eventually become an actress, but she quickly decided this wasn't for her and got into stunts through a stunt friend of hers. Being extremely athletic she quickly found successful steady work on many TV's top shows. She doubled for several famous actresses like Jane Russell (The Yellow Rose) and Melinda Culea (The A-Team). She continued this path for years, but eventually desired more of a challenge, so she searched for something else to do.
BEING in the FILM INDUSTRY is SOMETHING WE JUST

HAVE

TO DO
Diana wasn't sure what new profession she'd try, but she knew one thing, she wasn't leaving the film industry that she loved so much. She was asked by a girlfriend to take a course in script supervising at UCLA with her. Her friend ended up in real estate, but Diana went on to become one of the most respected script supervisors in Hollywood. She loved the challenge and the mental aspect of the job. She also loved sitting next to talented directors who she could learn from and be of assistance to. Diana ended up as a script supervisor on over four hundred episodes of television for shows like Beverly Hills 90210, Charmed and Gilmore Girls, just to name a few. It was during these years sitting next to directors that Diana discovered she had a true passion to direct herself. We eventually went on to make independent films, where I would produce, and Diana would direct.
We mostly did this to help her get her foot in the door, with the hope of one day moving her into the director's chair within the studios. Tenacity isn't always easy but advice from Henry Winkler helped. Henry continued to listen as I told him the story of my wife's long journey and her quest to climb the ladder and become a director. For many years, her frustration mounted. With rejection from TV shows where she sometimes held the hand of countless new directors, some of whom found themselves in need of her expertise and guidance, she happily assisted every time. I went on to tell Henry that it looked as though she may finally be getting her long-awaited break, but there was still a long way to go.
This prompted Henry to tell me the story about himself as a young, frustrated actor sitting before his agent practically in tears and ready to give it all up. To encourage him, the agent told Henry, "you sit at the table long enough, eventually, the chips will come your way." Henry recently retold this story at the 2018 Emmy Awards during his acceptance speech for his role as Gene Cousineau on the HBO show, Barry.
A GIFT of INSPIRATION
Before he left, he asked me to write down my address. He left and went back to work, as did I. I assumed this to be the end of my Henry Winkler story. A week later I received a package in the mail. I opened the pristine 11x14 envelope to find a carefully wrapped 8x10 photo of Henry sitting with his two dogs. The picture was signed and dated with a lovely note to my wife some thirty-five years after the original he had given her.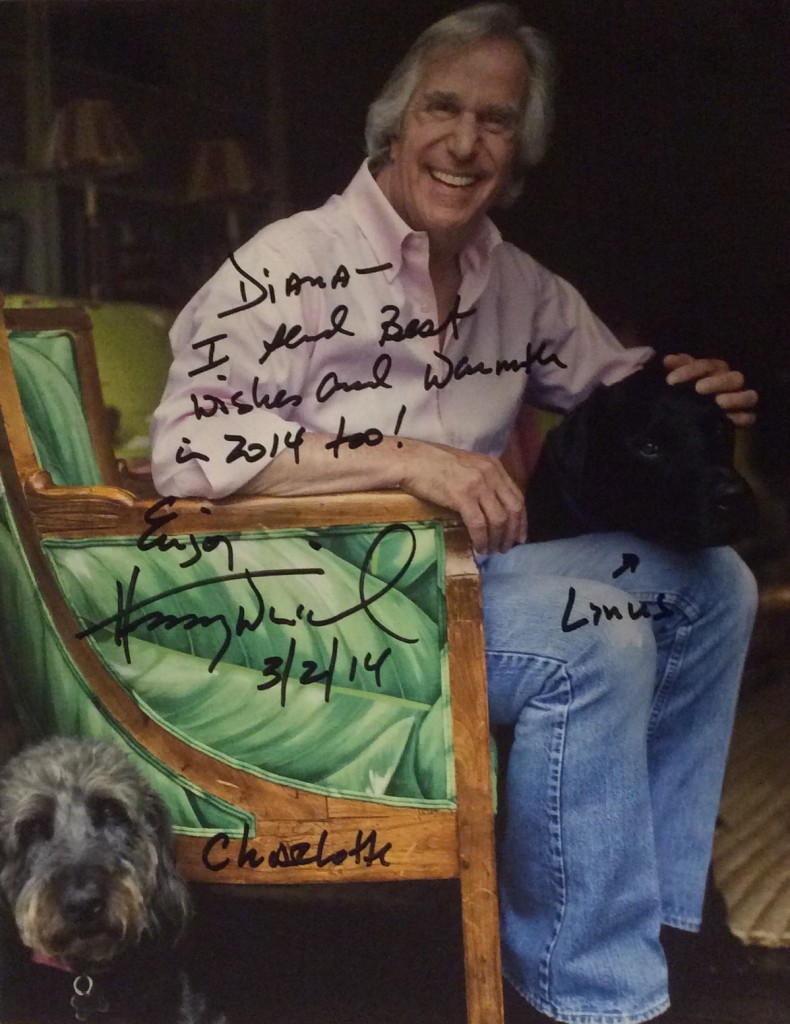 The two photos of Henry more than three decades apart, sit in our home as a constant inspirational reminder of our great journey in this crazy industry. They also serve as a reminder for us to give back inspiration to others who may need it in this sometimes very tough business.
My wife has since gone on to become a very successful director on numerous hit television shows within the studio system. She never takes her success for granted and always makes herself available to others for advice. It is very common that she gives advice and help to individuals trying to do what she has been able to do. Within her job, she is ever prepared today as she was when she got her first Network directing opportunity on FX's NIP/TUCK.
HAPPENSTANCE or SERENDIPITY
At the top of awards season, Diana and I attended the BAFTA BBC TV Tea Party in Beverly Hills and who do I see, but none other than Henry Winkler. I walked up to say hello and remind him of our encounter five years earlier. I proceeded to tell him about my wife having the good fortune of becoming a full-time television director with a flourishing career working on NCIS Los Angeles, NCIS, Criminal Minds, The 100 and many more. Just as I was telling him how inspiring his story had been for Diana, she walked up and I was able to reintroduce her to the man she first met as a young starry-eyed eighteen-year-old all those years ago. I asked Henry if the three of us could take a photo to complete our story and of course, he was more than gracious once again. I've been in this business a long time and have worked with a lot of people, but I can honestly say Henry Winkler is the nicest I have ever met.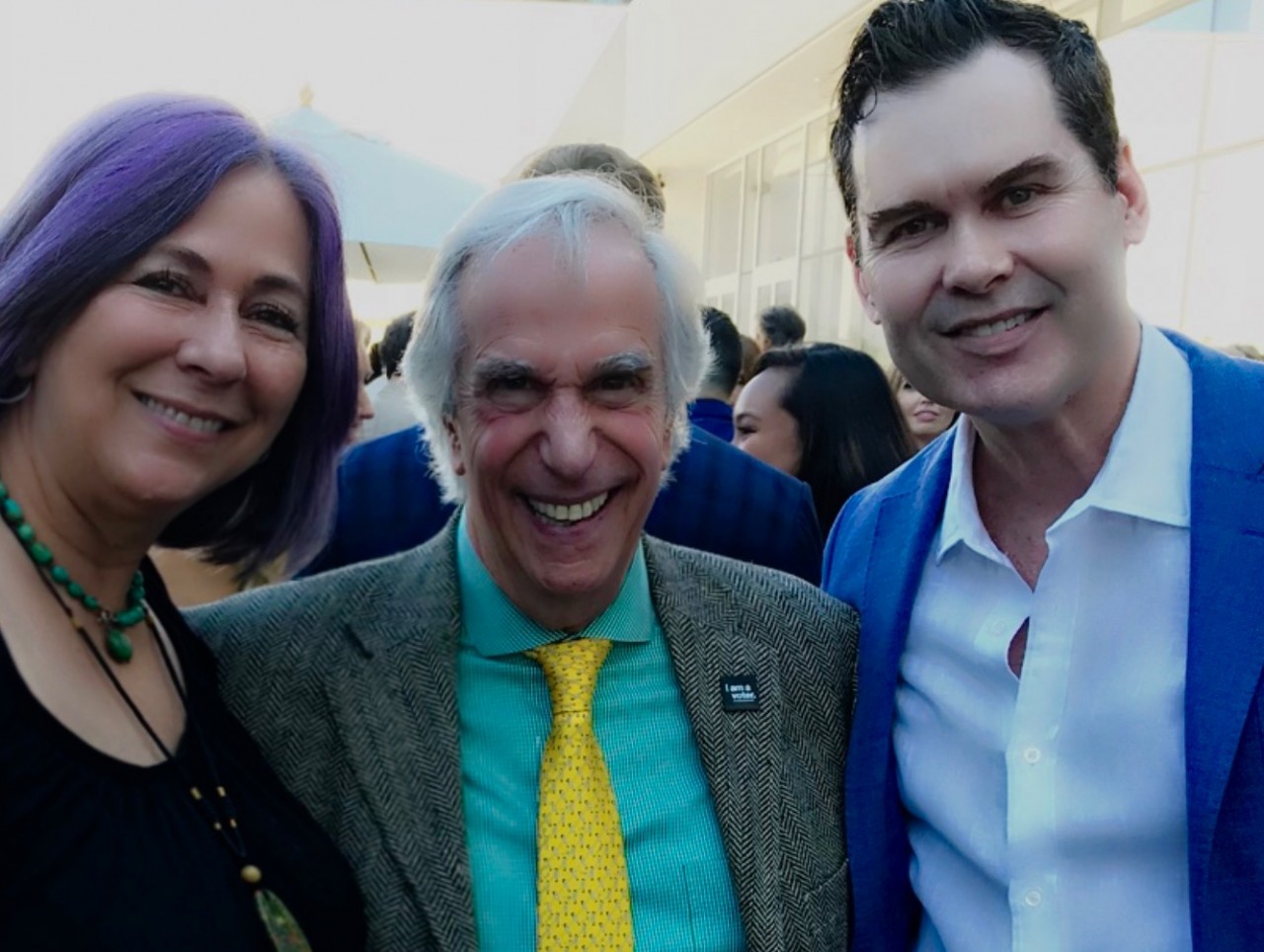 About Matthew Grant Godbey
Matthew Grant Godbey is a talented actor, writer, and producer who has spent many years in the entertainment industry honing his skills as a filmmaker. He is an award-winning actor who has appeared in numerous hit television shows including Criminal Minds (2005), Charmed (1998), and most notably NCIS: Los Angeles (2009) (2010-2017) where he played Detective Dan Evans. Ever immersed in the craft of filmmaking in 2017, Godbey and long time friend Herb Kimble formed CineFocus Productions in Los Angeles where they have produced dozens of successful projects. In 2018 Matthew joined Kimble and the team at UrbanflixTV (new streaming platform) as an Executive helping develop and manage network content. UrbanflixTV is set to launch in May 2020. UrbanflixTV is currently seeking completed films to license.
Matthew is also an extremely accomplished painter who has shown in galleries throughout Los Angeles (Bergamot Station's Track 16, The Brewery, etc...). His most recent show was in New York at the Amsterdam Whitney Gallery. Matthew has continually received rave reviews and his dynamic style has even been compared by critics to the likes of Pablo Picasso. His paintings have been collected by an eclectic group of people including wealthy business tycoons, celebrities, directors, actors, and even a Baroness!
Matthew continues to act, write, produce and paint on a full-time basis. He is currently co-writing a dramedy series with his writing partner Herb Kimble. The groundbreaking new series LAST WILL and TESTAMENT is set to film later this year. As an actor Godbey most recently performed in the CBS series Criminal Minds and the currently filming HEAUX PHASE.
You can find Matthew on Instagram, Twitter, and email!
---
Let's hear your thoughts in the comments below!
Got an idea for a post? Or have you collaborated with Stage 32 members to create a project? We'd love to hear about it. Email Taylor at taylor@stage32.com and let's get your post published!

Please help support your fellow Stage 32ers by sharing this on social. Check out the social media buttons at the top to share on Instagram @stage32online , Twitter @stage32 , Facebook @stage32 , and LinkedIn @stage-32 .