It just dawned on me.
The end of April will mark my four-year anniversary since my pilgrimage to Los Angeles. Like most folks, my first year was learning the real ropes in the industry – mostly through trial and error. Although I served as a busy producer at a TV station in Savannah, Georgia with a Journalism & Mass Communications degree from USC (the University of South Carolina – sorry, not sorry Trojans), there was nothing at that time which could prepare me for Southern California's entertainment tidal waves. You will truly be tested to sink or swim.
Fortunately, I had a job lined up as a producer's assistant at a fantastic television production company. I was also armed with a couple of short films I had produced back in Georgia, which served as great calling cards to everyone involved. We racked up many film festival awards, made online release splashes, and booked bigger jobs afterwards. I ended up respectfully leaving the assistant position by the end of that summer after successfully producing commercial content on the side.
Still from NASA Zero Robotics commercial shoot
In April 2012, I won a six-figure filmmaking grant from my home state of South Carolina. Although I lived in LA for a year, it was the first time I felt like a legitimate writer/filmmaker. It was probably the most ambitious project I've ever accepted and planned for!
But on Wednesday, December 19, 2012, they rescinded the grant due to creative differences. Since all of the administrators were away for the holidays, they didn't request to send it immediately, so I returned it January 2013. This posed an expensive tax problem. I personally had to pay the taxes of that grant for 2012.
I worked a part-time job as a projectionist at a high-end Hollywood theater and accepted many random gigs. "I love films so much," I figured. "Why not surround myself by it around the clock constantly while getting paid? Almost every day, I watched movies for free on the big screen and experienced plenty of produced projects on set!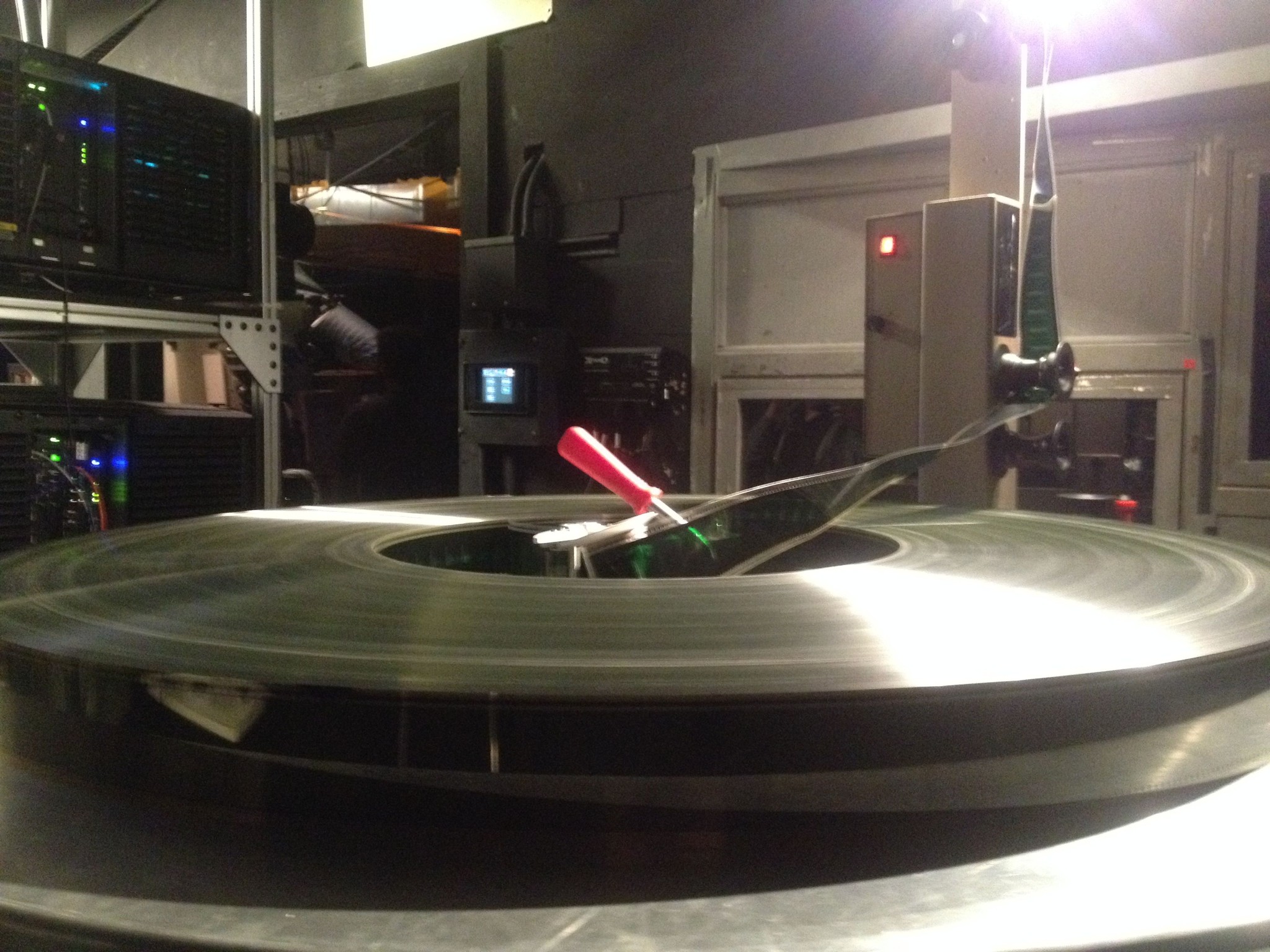 Left: A 70mm print of 2001: A Space Odyssey;Right: Running a 30mm print of Ed Wood
…And yet I couldn't muster the strength to make any of my own. I couldn't shake the six-figure grant rejection. My esteem as an artist was broken – financially and emotionally.
It was the biggest creative block I'd faced, but I inadvertently started studying instead of creating. I dissected at least one produced script a day. Any genre too! It would be The Social Network one day, Bridesmaids the next. At the theater, A-list filmmakers and talent would stop by for Q&As of their films frequently. Sometimes they would wander in the dark projection booth to either gauge audience reactions or inspect the picture quality from the porthole by the projector. I kept it professional and candid interacting with them, often chatting about films, on set experiences, and sharing war stories. I took many mental notes. I looked at this as my own film school serving as a unique institution of self-education and inspiration. I bought a camera and started practicing with short form content again.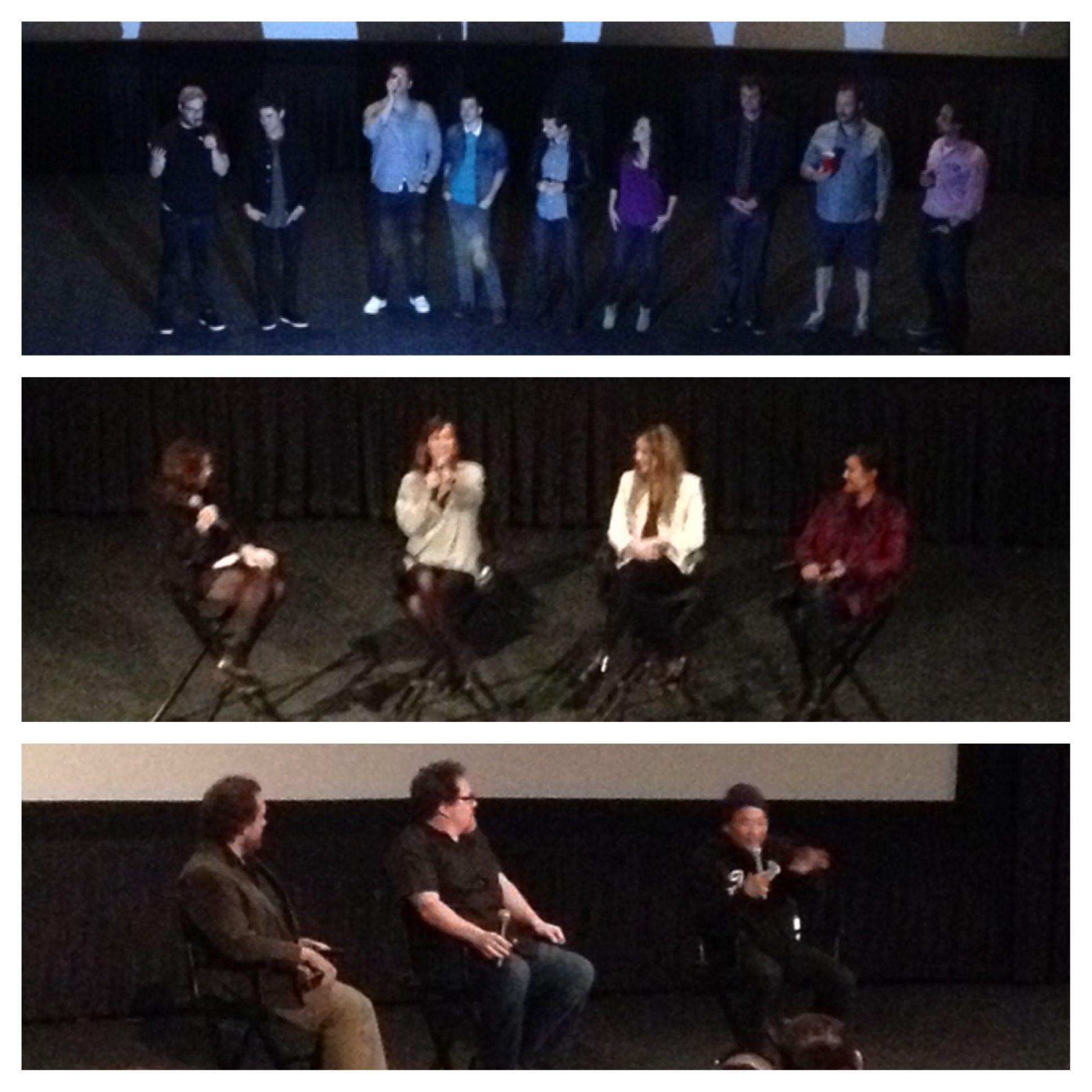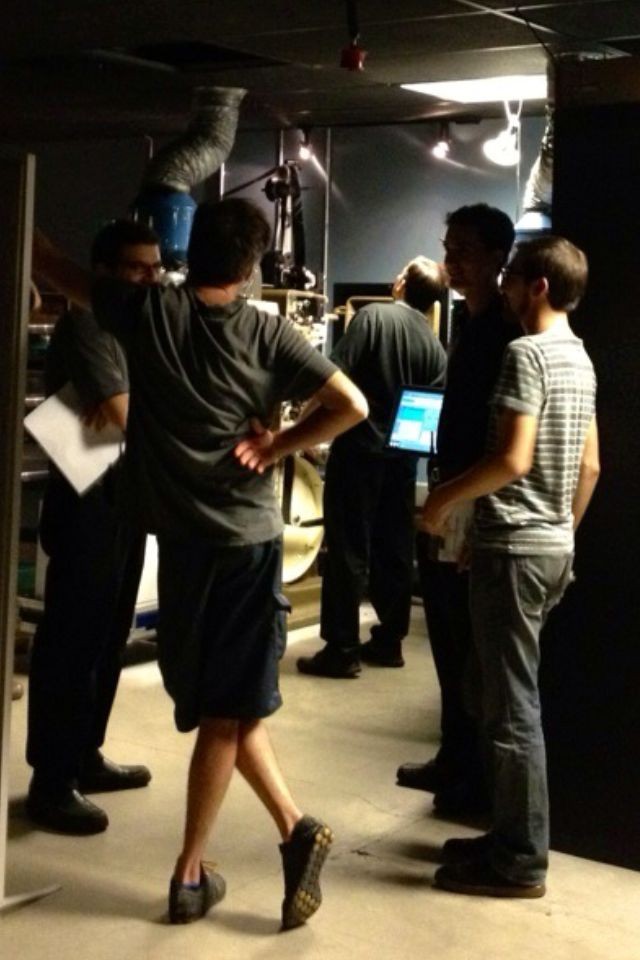 Left: Many, many Q&A's; Right: A candid shot of Paul Thomas Anderson's back. I'm in the silhouette.
By Fall 2013, I began piecing together my first feature screenplay after setting a goal to pitch it at AFM. Sometimes, I'd even write in my car between breaks from work. I also compiled a look book and mood reel. I cold-called over 50 production companies and ended up booking around 20 meetings based on the AFM online directory. I bought an expensive pass and prepared my pitch.
After a grueling three days of meetings, I had 12 script requests. My only major problem was my script was incomplete – it was really rough, at best. If only there was a way to get some coverage…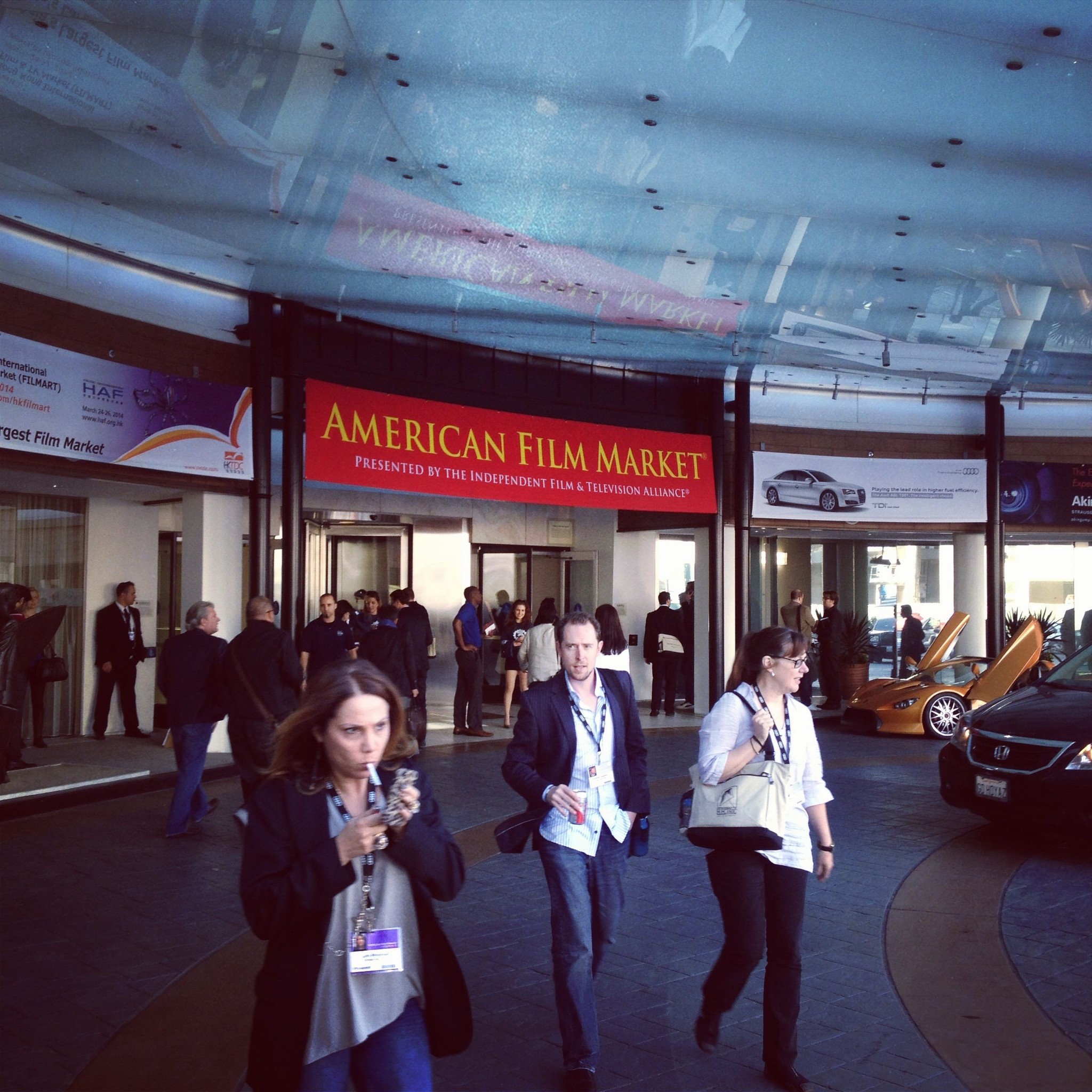 First day and first time at AFM

I felt a little creatively insecure to share it, which I suppose stemmed from the grant debacle of 2012. So, I bounced it back and forth with a couple of trusted writer friends. I ended up sharing collaboration credit after crafting a tastefully fresh approach to this particular horror story called, The Devil's Soldiers. By the time I had a readable draft, it was April 2014… most of the execs from AFM last November started preparing for Cannes that month. I ended up passing it around my small inner circle of brutally creative friends. To my surprise, all of them gave me positive coverage; one writer friend, Stephen Reyes, suggested I enter it to Stage 32 and The Blood List's New Blood Competition.
I signed up on Stage 32 upon submitting it and immediately explored the site. It was one of those, "Aha, this is the future… It's Facebook for filmmakers… a worldwide community of filmmakers." I perused several blogs, attended a seminar or two, and even felt it was time to polish the script, look book, and mood reel to pitch in the Stage 32 Happy Writers section. Had I known late 2013, I wouldn't have spent my money on that expensive AFM pass and I would've just invested it here. I would have bought legitimate coverage! Hell, I wouldn't have wasted so much time; researching every production company in the directory, making those cold calls, trekking and parking (the impossible PARKING!) in Santa Monica, standing in line after line before each pitch meeting etc.
Stage 32 Happy Writers makes it easy! If you planned early, Stage 32 Happy Writers was guaranteed to schedule a freakin' Skype call (or written pitch) with an exec at a designated time, anywhere you'd want! I came prepared… so prepared that one time, I pitched in my pajamas! And I still got a script request! How crazy is that?!
Behind the scenes on the film The Pavement

Last summer, I spent a lot of time shooting more commercials and developing/writing another feature. I had the creative energy to produce again. I partnered with a talented South Carolina colleague, Taylor Engel, and produced another ambitious short film for fun. I posted a casting call and crew openings for it on Stage 32 for it and connected with a few folks. That short film placed in the top ten of HBO's Project Greenlight and I was invited to the gala finale. That same week, Stage 32 announced the finalists on Halloween 2014. The Stage 32 Happy Writers' President called. The Devil's Soldiers placed second. Happy Halloween, indeed....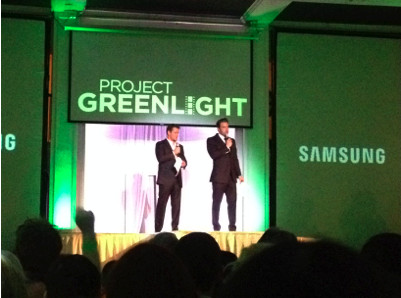 My short film placed in the top 10 of Project Greenlight
To be continued...Come back later to read "Part II" of Frank Ponce's exciting journey into the film industry!
Frank will be a guest on a FREE webinar with Stage 32 Happy Writers President tomorrow, Thursday, April 23, 2015 at 3:30pm PDT. Frank will talk more in depth about how he achieved his successes using Stage 32. To register, click here.
---
Like this blog post? Please share it on social media (Facebook, Twitter, LinkedIn, email etc) by using our shiny new social media buttons at the top of the blog. Or post to your personal blog and anywhere else you feel appropriate. Thank you.
As always, Frank is available for questions or remarks in the Comments section below...