In these strange, uncertain, and truly and worrying times, as the writer, producer, and director of the independent feature film Killing Lionel I thought I'd take a moment to reflect on my journey as a film-maker and hopefully offer some insight and perhaps some advice.
Before I proceed, I'd like to add that everything I write here is based on the experiences of the last six years of my life. Before this time period, I was an amateur filmmaker, with a handy-cam and a dream!
As it is with a lot of things in life, so much of it is down to chance. So although this worked for me, it is just a personal journey and it will differ from everyone else's.
'Killing Lionel' was released in the U.S in December of last year with the follow up 'Card Dead' wrapping on principal photography in August.
Where Did it All Start?
OK, so I'm not going to bore you with my life's story or anything like that, but as with a lot of us it all began at a very early age. Endless summers filming with mates, using nothing but a handy-cam and a few work lights, I knew filmmaking was in my DNA and it was something I just had to do at whatever level.
So let's fast-forward to early 2014 when I was writing a feature script called Killing Lionel. It was around this time also that I became a member of Stage 32 and this is where it all began in earnest.
Whenever I sought advice from anyone, and yes this is a cliche, but the one thing I was told over and over, was to network. Chat to people, surround yourself with folks of a like mind and Stage 32 offered just this.
As I mentioned above, so much in life, especially in the film world, is dictated by chance. However this is also a false statement, due to the fact that if we keep on pushing ourselves and knocking on doors, something will happen eventually, it's the law of averages. And it was on Stage 32, that one of these doors finally opened for me.
Day one on set with Darren Lake who played 'Lionel'
2014 - Getting Killing Lionel Off the Ground
In 2014, my wife and I had been living with my parents for a year, after having made a big decision to move back to the village I grew up in, and wait for the place that we had always wanted. Now I know I said I wouldn't bore you with the intricacies of my life, but bear with me, this is all completely relevant.
Back to Stage 32, it was on here that I encountered and linked up with my now close friend, Martin Ross. Martin is an actor and producer originally from London, who was living, amazingly enough, in one of the neighboring villages not 15 minutes from where I was (part of the relevance to my situation). After chatting with Martin on the phone and then sending him the script, we organized a meeting, and it was here that the decision was made to try and get Killing Lionel into production.
Again, I'm missing out chunks here, but only for the sake of your sanity, but many meetings were had over the next few weeks and a team composed of people we both knew, was assembled. And what a team! But the problem was, money!
Phil Baker & James Stannard as 'Eddie and Sully'
Early 2015 - The Teaser Trailer & Fundraising
So, and this is where it starts to get a bit more interesting for you guys, as it was a connection that Martin had, that really got the interest for Killing Lionel ramped up and helped us raise the money we needed. Martin, who owned a computer business at the time, had, unwittingly been called out to help out a gentleman called George. To cut a long story short, this was none other than 'George Mikell' from The Guns of Navarone and The Great Escape to name just a couple.
Martin and George became close friends over the years, and he had no problem asking George if he would be willing to come down to Devon, and be part of a teaser trailer that was scheduled to be shot in February of 2015, and George agreed to this. Before this he also came down for a press release day in late 2014, and again for 'An evening with George Mikell' hosted in the local town where we shot many of the scenes. Amazingly and very generously, he donated all of the proceeds to the Killing Lionel budget.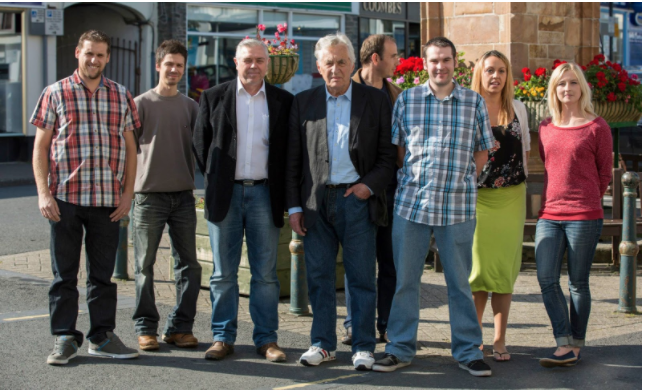 Myself, Martin and George, along with some other members of the cast and crew at the press release day, September 2014
I must admit, meeting George for a meal on the evening he arrived, was a really surreal but amazing experience. I had to pinch myself, when he related tales about being on the set of The Great Escape and how it was to work with Steve Mcqueen amongst other Hollywood icons. We spent a good few hours chatting, but it was mainly just listening to his incredible life-stories, which I'll never forget.
And when it came to working with him on the trailer a few weeks later, it was like, 'what is going on?', 'Am I really here!' He was amazing though, a true gent from start to finish, and I'm so grateful to him for taking the time to help us out.
Unfortunately since starting this blog, George has passed away. A true legend, he will be sadly missed. Once again, I am honored to have met him and will be forever grateful for his help.
So after a successful fund-raising campaign, and putting in pretty much every penny we had to make it up, we finally had enough money to get 'Killing Lionel' into production. A September 2015 date was agreed upon, giving me a clear goal and a lot of work ahead, in the six months leading up to principal photography.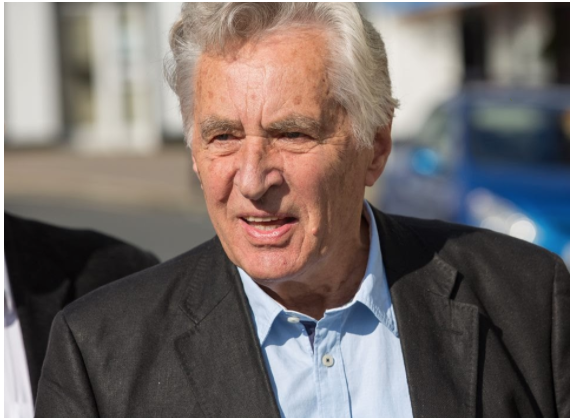 George Mikell - A True Legend, RIP
Pre-Production - Make Lists and Stay Organized!
One thing I learned from my years of making amateur films was, that organization is key. My advice to anyone producing a low-budget independent film is; list, lists and more lists! And honestly, I'm a bit of a geek when it comes to that kind of stuff, so I loved it really.
Another thing when it comes to these low-budget productions, is you need to utilize your team. There's no way I could afford a big pre-production team, working on the various departments, so I took most of it on myself, which was fine, as it was my baby. But what I must mention, is the incredible amount of help and dedication I got from my team (and a big shout goes out to Phil Baker and Candice Owens here), in the months of pre-production, when a lot of it wasn't their responsibility. So I really do feel that taking the time to build the right team is of major importance, and can ultimately make or break your production.
So, the cast was finalized, it was finding the locations and the rest of the crew that was top of the agenda. And this is where my aforementioned 'move to the village' statement plays it's 2nd and final part. It was around April of 2015, just about when we were hitting pre-production, that the house we had been waiting for became available. We were moved in, but the one major question hanging over the film was, where are we going to find the main location?
Production designer 'Minna' working on the set, a few days before shooting in September 2015.
Err, Kim. Can We Please Turn our New Place into a Film-Set?
Haha I know what you're all thinking, 'How on earth, did he convince his wife to agree to that?' The truth of the matter is, because she's awesome!
She thoroughly believed in what I was trying to achieve and has been behind me every step of the way. Kim has even done the catering for all three of my productions now, and has welcomed the many cast and crew that have stayed here too. OK, I did have to promise a complete re-decorate, but that was fine. Besides, as you can see from the pictures, it generally did look like complete and utter squalor after my designer had finished with it, and that's just what we wanted!
Another location I feel I need to mention, and again this was quite incredible how this also fell into place, is the second primary location. Now, the landlord knew a guy who had just bought out a shop with a huge living space above it, and he agreed to let us use it for nothing! That's right, absolutely nothing. So, we had managed to get our two main locations without spending a penny on hiring. It truly was amazing how everything seemed to happen, but again, I'd like to stress it really is about trying many, many doors. You'd be surprised how people really do want to help and be involved. Movie making, after all, is magic!
So that was it, everything was confirmed, all the locations were in place, we were fully crewed up, and ready to go. A lot of the crew arrived from various places on the weekend before shooting, and we couldn't wait to get started.
My DoP (and also editor) Tom Turner of Paramore Productions
Principal Photography: Stay Focused and Keep Your Foot on the Gas
Killing Lionel was shot in September of 2015, with production lasting for one calendar month.
First day on set, wow. I'm not gonna say it was daunting or overwhelming because this is the gold, this what I had craved from almost day one, but it was one of those real heart in your mouth moments for me as a first time director, kind of like 'Right, come on. Let's do this!' With blacked-out windows (yes the neighbors had some gossip) production started here at my home, which was a nice comfortable way to start, in my own surroundings.
My DoP (and also editor) Tom Turner of Paramore Productions and I, had only worked together on the teaser trailer before, so it really was a case of learning how each other worked, on the job. Since KL, Tom and I have become close friends working together on two other productions and forming a great dynamic, which is so important. There's no way I'd have got KL done without Tom, he's a superb DoP and editor, and really pours his soul into every project.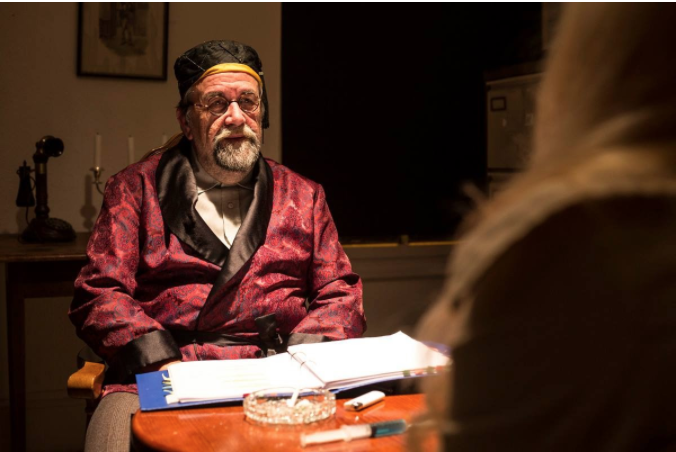 Max Brandt as 'Dr. Oldcorn'
What Did I Learn?
Preparation! We all know how productions work and that this is almost impossible even in the highest levels of film, to be prepared all of the time, and believe me, there were days when we were literally stumbling about in the dark!
Oh, and getting myself literally a S**t hot First A.D. She'll hate me for name dropping her so I'll just do it in part, but Robyn literally got this shoot done, come rain, shine, hellfire, and blood!
Communicating with your crew. We all hear of directors who won't talk to this department or that person because they're way below them. Well I can bloody assure that will never be me, and of course huge productions are way different, but we're all human, and we're all trying to achieve the same end product, and that means all being on the same wave-length, which means communication. Besides, I'm a people person, so trying to keep me away is harder.
Killing Lionel wrapped principal photography on 30th September 2015, a couple of additional days were required for scenes and pick-ups, and then we were off to the edit.
Darren Lake (Lionel) and Carly Barnes who played 'Peaches'
2016 - Post Production: Be Organized & Communicate with Your Team
So, we had it 'in the can' Killing Lionel (just) needed putting together.
The edit for us wasn't straight forward. My biggest learning curve here was that although the internet is an incredible place, with emails and instant messaging being a god-send, there's nothing like face to face or at least voice to voice communication.
One particular area during the Killing Lionel edit held us up for a long time, and this was as much my fault as anyone's. So much time drifted by, toing and froing with emails, sending back samples, but ultimately missing the mark. We got there eventually, but this could have been done so much more optimally if we or more 'I' had communicated more efficiently. So a lesson has most definitely been learned there. And as my Dad always says, if you learn from your mistakes, it's never a waste of time.
Killing Lionel was completed in early 2017 or so we thought.
The Cast & Crew of 'Killing Lionel'
A Finished Product? If You Can Do More to Gain an Edge - Do It
We had ourselves a finished film. A massive achievement in itself, but, as a lot of you will know, if you haven't got a deal in place before production, this is where the nightmare can begin.
In reality, we had a super low budget, British gangster flick, with no recognized names in it, and that really was the bottom line. Regardless of the quality, the story behind it or even the narrative, you can really be stuck in terms of getting it out there. And try we did, for a good few months, but to no avail.
The decision was made, even though funds were scarce, to go back in and add some animation. This was the one thing we had left in our arsenal, something to make it stand out, and give it that slightly different sparkle.
As I have mentioned before, surrounding yourself with like minds is always a plus, and fortunately I had a real diamond when it came to graphics/art-work. A friend of 17 years - Pete Carroll, who has done art-work for 'Peaky Blinders' was just the man for the job. Even if you're not adding animation to your film, having some great art-work is a must, it's what people see first when they look at your project, it's what catches the eye, or not.
The animated scenes were completed in 2017 and added to the film, the film was, as far as I was concerned, done. I couldn't afford to chuck any more money at it, and just had to hope now, that we somehow got a taker.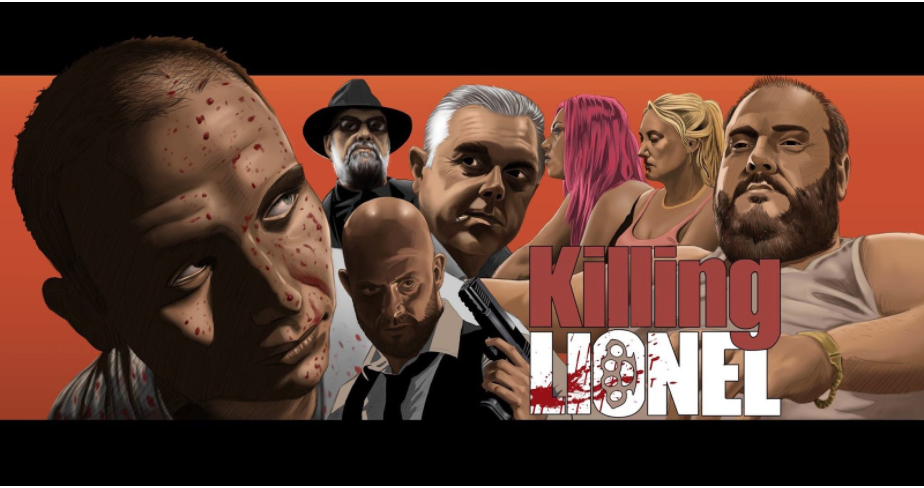 2018 - Still No Sale - but Never Give Up!
To start with 2018 didn't see us fare any better in terms of getting a deal. We had a fully finished film, a trailer and now the animated sequences but still no takers from the U.K.
It was then that I made the decision personally, to go further afield. We had considered a festival run, and even entered an early cut into Cannes in 2016, but it wasn't to be. So I started putting Killing Lionel everywhere and anywhere I could think of. Without listing them all, Facebook groups, forums, twitter etc, you get the picture. Then one sunny day out of the blue, I get a message from a guy in Las Vegas called Cleo Flucker.
Hey, he said. I like the look of your film, I'm a Producer representative and I think I could get your film a deal, would you like to send me a screener? Well, as they say the rest is history, but what I didn't realize was that the relationship that I formed with Cleo on a professional and personal level was going to turn out the way it has.
Cleo took Killing Lionel to the American Film Market in November 2018 and secured a deal with ITN Studios.
This was all done even after he had several other offers on the table, but he wasn't happy and was certain he could do better. He did. Killing Lionel had a world-wide distribution deal. Incredible. Reflecting back on this, my advice would be, get a representative/sales agent, before you go to production. I have chatted an incredible amount with Cleo, and he knows his salt. You can work with them and get an insight into what these distribution companies are after, even before you put pen to paper. Remember, as much as it's about the passion and the art in what we do, the bottom line is that it's a business, and producing a saleable product is the ultimate goal.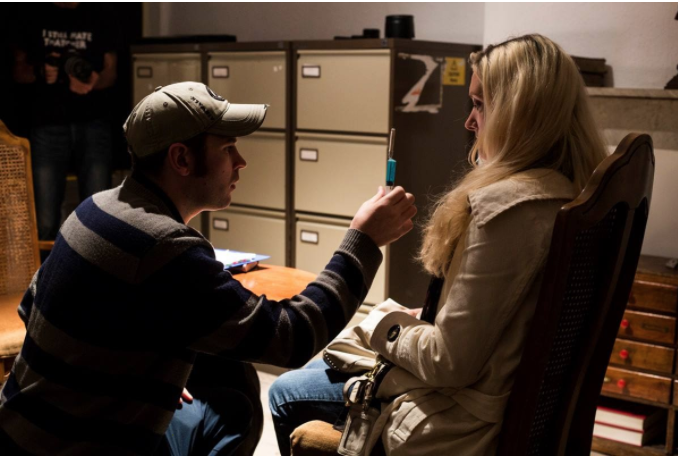 Behind the Scenes - Directing 'Killing Lionel'
Las Vegas, Card Dead, & Beyond
The deal was done, we just needed to finalize the contract and then deliver the 'Deliverables' to ITN. OK so yeah, these things can be thrashed out over the internet/phone etc, but, we had always wanted to go to Vegas! And I could think of no better excuse, so we flew out there for 11 nights in January of 2019. And boy I'm glad we did, because even though we had formed a lasting professional relationship online/phone, actually meeting Cleo in his home city and chatting for literally hours about film, took everything to a whole new level. The contract was finalized and Killing Lionel was officially in the hands of ITN.
Our chats then chat turned to the sequel. I already had a script called 'Card Dead' which followed on from the events of Killing Lionel and it was here in Vegas that we decided on doing it together. Cleo flew over to the U.K and stayed with us for a month, helping with production and playing one of the characters. 'Card Dead' was shot in August of 2019 and is currently in the edit, but don't worry, I'm not going to go into that one now, that is for another time.
Killing Lionel was finally distributed in the U.S on 5th December 2019, with rights also having been sold to Scandinavia, just prior to the Corona Virus outbreak.
Official poster for 'Killing Lionel' by ITN Studios.
About Tim Thorne
Writer/Producer/Director from Devon, in the South West of the UK. In 2015 I directed my first feature film 'Killing Lionel' which got a worldwide distribution deal from ITN studios and was released in the U.S in December 2019. Shot the sequel 'Card Dead' in 2019, which is due for release in 2021. I am currently writing part 3 'Blood Rights' and as everyone else is at the moment, staying home and trying to look after those most precious to me. I wish you all good health and hope you all stay safe.

A brief word on everything pre-2015; My passion from an extremely young age has always been all things film. I tried for many years to break into the film industry and it was around 2014 it finally started to come to pass. It was on stage 32 that I met a producer and sent him my script 'Killing Lionel' and from there, things have spiraled and I find myself where I am today. So stage 32, I am forever in your debt!
Killing Lionel can be viewed on Amazon Prime, Tubi & Fandango now in the U.S amongst other streaming sites. You can see the trailer here. If you do watch it, I'd be most grateful if you could leave a rating and or review on IMDB/Amazon.
Stay up to date with Killing Lionel on Facebook, Twitter, Instagram, and on our website.
---
Let's hear your thoughts in the comments below!
Got an idea for a post? Or have you collaborated with Stage 32 members to create a project? We'd love to hear about it. Email Taylor at taylor@stage32.com and let's get your post published!

Please help support your fellow Stage 32ers by sharing this on social. Check out the social media buttons at the top to share on Instagram @stage32online , Twitter @stage32 , Facebook @stage32 , and LinkedIn @stage-32 .