I asked myself, "What are ya gonna do?"
You live in Hawaii and you're making a documentary film in New York City and you want to go to Europe to capture interviews? How can you find a cameraman in Europe? How are you going to raise $7,500 to pay for all this? And how can you begin to get all this lined up?
That's what I was facing back in August 2014.
Let's start with what I did to find an affordable, experienced, European cameraman. I turned to Stage 32 and did a search —
cameraman + Amsterdam.
Why Amsterdam? I wanted someone who could speak English. I was also looking for a "one-man band" who had experience working with U.S. producers. One name came up, and I immediately sent an email to him. Stage 32 member
Igor Andreevski
, a Macedonian living and working in Amsterdam, answered me, and after I saw his impressive CV and his film and videos posted on Vimeo, my search ended. I sent him my credentials and my EMMY-winning film to view. Several wonderful Skype conversations later, I asked what he charged, and he gave me a fantastically affordable day rate and assured me it would be just him, no other crew members necessary. I had found my one-man band. I sighed with a smile.
I had worked on my EMMY-winning documentary in Belgium 25 years ago when there was no Internet, let alone a place like Stage 32 to find help. I ended up placing a long-distance phone call to the local public television station in Brussels, asking them to recommend a two-person documentary crew to help me (nobody did one-man bands in that day). I really lucked out and was connected to a "war" cameraman who at that time had shot every war on the planet since Vietnam. He was a nice guy too! He was reasonably priced and had an amazingly low shooting ratio (probably gained by all those years dodging bullets). No Skype. No emails. Just expensive phone calls back and forth.
Today, Stage 32 made my job easy, and for that I am grateful!
I am a former Hawaii newspaper journalist and an EMMY Award-winning independent filmmaker. I have been developing television documentaries full-time since 1989. It is my passion. My film awards are many. My Hawaii-based production company, 'Olena Productions, is my vehicle for expressing my film ideas. The documentary project I hired Igor for is my 10
th
film.
I am now in my third year of working on this film. It will explore the world of a jazz master, who happens to be my brother-in-law. I knew he played jazz, but I knew hardly anything else about him since he and my sister lived in New York City and I, though based in Hawaii, was working and flying off to exotic places to make my documentaries. Only when he tragically passed away from leukemia and his obituary appeared in the
New York Times
did I learn just how celebrated he was, not only in New York City (where he mainly played), or in Connecticut (where he was from), but also in Europe, where he toured and had his largest fan base.
I knew one day I'd have to make a film about him. And so, 15 years after his passing, I began. I knew that memories were going to fade, and if I didn't do it, he would otherwise be forgotten and left unknown to the world at large.
Thanks to the Kickstarter money I raised in April 2013, my production filming was launched. With it, I completed a total of 40 interviews filmed in New York City, Brooklyn, Connecticut and Phoenix. I also was able to produce a brilliant, 7-minute fundraising trailer, edited by a Hollywood editor, that showed off my hi-def footage.
I knew I had to film interviews in Europe because there were important storytellers there, but filming in Europe seemed like an unattainable dream….
And yet two things turned that around: 1) an invitation to base myself at a friend's home for several months in England while I set up the Europe shoot and 2) finding Igor on
stage32.com
. Those two events were the impetus to raise the $7,500 I would need to do 5 days' worth of shooting in Europe in ten days (the length of Igor's railway pass and my Eurail pass).
In the dining room of my friend Duncan's home in Burton-on-Trent, in the midlands near Birmingham, England, and on my computer and cell phone every day, I spent two and a half months tying down what I began calling my "Europe Push" filming tour. Who would I interview? To where would Igor and I travel? Where would we stay, and with whom?
It all came together quite remarkably.
The most daunting part was needing to raise the $7,500 to cover Igor's fee and our travel expenses, including the train fares. Within a few days of announcing this need to friends, family and Facebook fans, a check for $5,000 came in from Thomas Chapin's family. The rest was donated by friends, a lot of them on Facebook. I was so grateful for this huge lift!
Fortunately, I was able to arrange for places to stay with friends or friends of friends, and this, of course, really helped to keep our expenses in line with my budget. Only two nights of travel required paying hotel rooms because I didn't have friends in the area. Conveniently, Igor lived in Amsterdam, so when we filmed there, he just headed home on his bicycle and I headed home to my host family.
I was also very fortunate that some of my Europe hosts wanted to help out as production assistants and experience a film shoot. In Paris, there was Antoinette, the auntie of some Hawaii friends. In Toulon, France, there were Marie-Luce and Marie-Francoises, two sisters introduced to me by the same Hawaii friends. In Holland, there was Evert, whose family hosted me after I met him and his wife on my Facebook film's fan page.
What huge cost savers! They all acted as translators when needed, and even today continue to help me with follow up research and script translations.
Stage 32 is the kind of network that can really work for you. Igor was no accident. We were members, so that's how I found him. And how did he turn out? Fantastic. My instincts read him right. He was reliable, professional and an artist of his craft. He contributed ideas, made suggestions and said he appreciated the way I worked. He told me he was grateful to work with someone that knew exactly what she wanted (that wasn't always the case for him before and many times, left him frustrated). I was happy to have my one-man band who didn't mind traveling with all that on his back!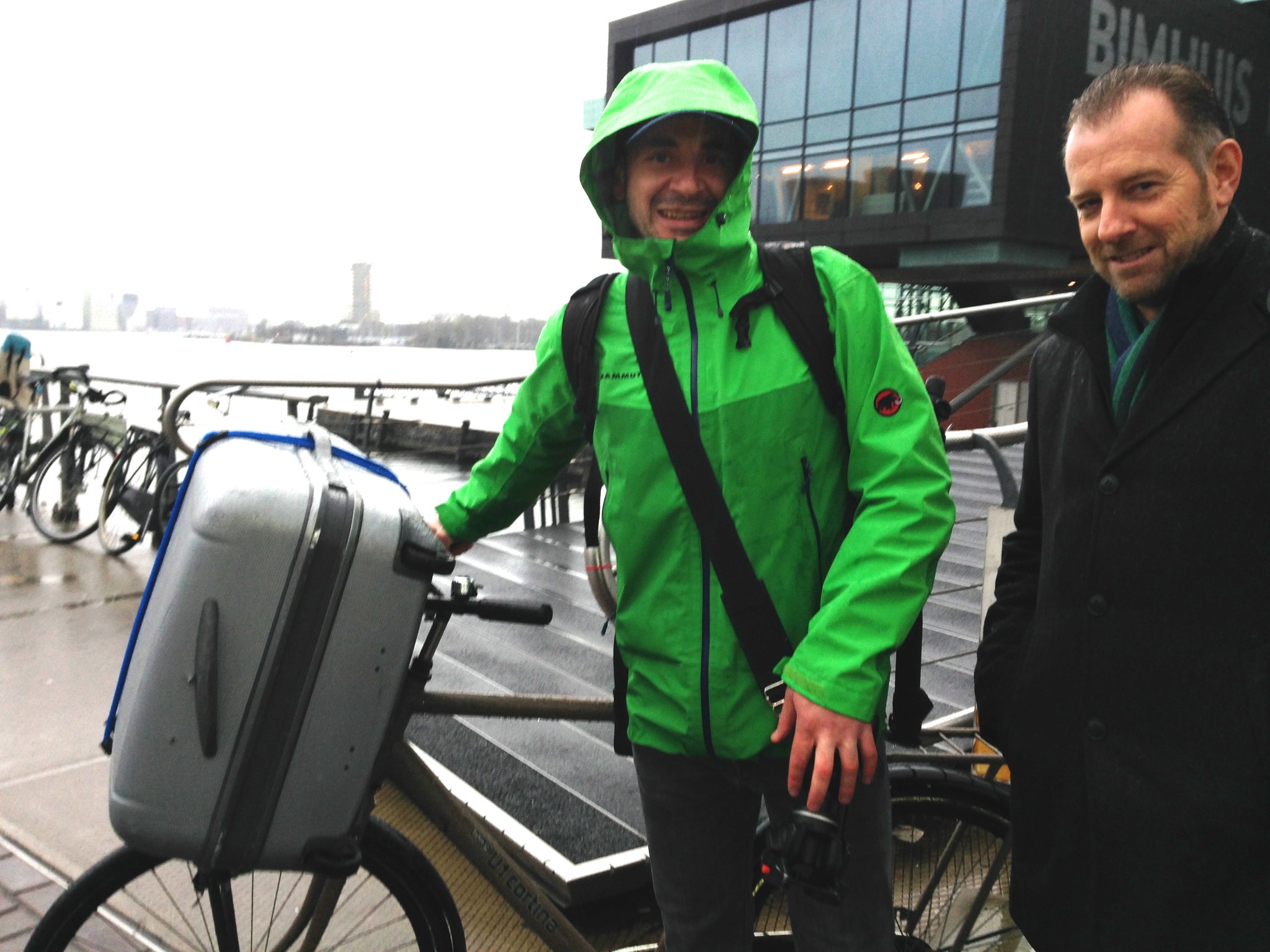 I am glad we both did our homework and checked each other out carefully. When he first arrived by train, carrying his big backpack, his tripod and two smaller backpacks, it felt like we were already friends. Our work from there ran smoothly. I can say there were no real hitches, minor or otherwise, during my Europe Push. I got what I needed and headed back to the U.S., knowing I had accomplished what I had set out to do, thanks to stepping out and into a dream, or should I say,
many
dreams.
---
Like this blog post? Please share it on social media (Facebook, Twitter, LinkedIn, email etc) by using our social media buttons at the top of the blog. Or post to your personal blog and anywhere else you feel appropriate. Thank you.
As always, Stephanie is available for remarks and questions in the Comments section below!