People often say I'm lucky because in the course of my career I've landed some of the choicest projects of the time. I can't deny it so I nod and say, "But no amount of luck can insure a career in this or any other profession. Only hard work can do that. In fact I'll go so far as to say that success is proportionate to the amount of sweat you produce on the job. Some people call it a, 'work ethic.'
In 1997 I was working on a film called, The Object of My Affection when a grip I'd known for years came up to me and asked, "You ever look at your IMDB score?"
"Ah, no. What's that?"
"Well, ya should know. Look it up tonight," he said.
When I got home I did just that. Under my name was an incomplete list of the films I'd worked on and a graph that had a gold star. Confused about what this might mean, I wrote IMDB and asked. Their reply arrived in my inbox a few days later.
I was ranked number 19,126 out of one and a half million other filmmakers and that put me at a statistical #1. I was ranked right up there with the biggest names in film and television.
I found this quite funny after a very busy 14-hour day, fell on the floor, and laughed myself sick. To me it was a terrible mistake but of course I wasn't about to tell IMDB that. A few days later, after thinking about it, I concluded that I received that outrageous rating because I was busy doing the work as best I knew how and that included learning and applying everything I could along the way.
A week after I moved from Chicago to NYC to become an actor, I got a job in The New York City Opera wardrobe department at Lincoln Center…by accident. I was at an audition for spear-carriers, I was cast in three small bits, but the pay was all but nothing. On a whim I went down to the sub-basement shop and asked if they ever needed anyone who'd worked in a costume shop. I was hired on the spot. Lucky for me, Edgar the head of the department never asked what I'd done in a costume shop.... I worked in the billing department.
Broke, I faked it with the help of two tailors who thought my situation was a riot. Forbidden to talk in the shop, they taught me how to cut out a skirt while we shoved fabric back and forth between the stalls on the men's room floor. As my dreams of an acting career began to fade my interest in costuming grew. I got to work early and stayed late. I asked questions and listened carefully to the answers. I learned how to swatch and how to sew. I had become a sponge.
Then after six years of seasonal work at the opera I received a phone call that changed my life. It was Sadie, the head of scheduling at NBC and she asked if I'd be interested in a position…the men's wardrobe supervisor on Saturday Night Live.
I stayed for 3 seasons: 4 and 5 with the original cast, and the short-lived 6th season with their replacements.
I was hit with a big surprise during my first day in 30 Rock's Studio 8H. Except for a couple of popular character skits that were occasionally repeated (The Nerds-The Loopners, Samurai, and The Cone Heads) SNL was a whole new hour and a half show every Saturday night.
My workweek began at 10AM on Thursdays. A small pile of scripts were tossed on to the cutting board that served as my desk and we were, off to the races, as Margaret Karolyi, the department supervisor, liked to say and that summed it up. We had a mere 48 hours to build anything new for the run through Saturday morning.
Dan Akroyd, John Belushi and Jane Curtin as "The Widettes" on SNL
The Widettes come to mind. Pillows from single to king size were purchased. I rolled them and sewed them into the shape of body padding that included tufting butt cracks and hips to add some anatomical realism. Finally I made suspenders out of very wide white elastic to hold the padding in place under their clothes.
Meanwhile, our designer, Karen Roston, and her assistant, Sheila Kehoe, purchased the actual costumes from a big and tall men's shop near Rockefeller Center. By midnight the next day, (Friday) the fittings were completed but not one piece had actually been altered. At 10 AM on Saturday morning the wardrobe staff arrived and they went to work on those pieces like nothing I'd ever seen before. Fabric flew as each piece was made to look as real as possible and not like a slipcover for a bunch of pillows. At 2 PM The Widettes were ready for their first run through on camera. Everyone was exhausted but we all had a very busy 12 hours still in front of us. Yet not one person complained. That wardrobe crew was made up of seasoned professionals with a staggering number of credits and the word, complain was not in their vocabulary.
If you are under the impression that designing or supervising a movie, stage, or TV production of any kind is glamorous, think again. Its impossibly hard work littered with deadlines, unexpected changes, long hours, and to top it off, everything you do is held up for harsh criticism by anyone who has ever seen a film, watched a TV program, or donned a piece of clothing. Meanwhile the public's perception of costume design and supervision have been glamourized by the studio's publicity machines and the media.
Jane Curtin and I as Mr. and Mrs. Loopner. Our Wedding Anniversary photo from Saturday Night Live, Season Five. I was cut before air.
I've met a number of people who have taken academic courses in filmmaking—history and theory-—thinking those courses would prepare them for a career in filmmaking. Sad to say but they had a very rude awakening when they arrive on the set of a feature film for the first time.
I remember one young man in particular, a PA, who seemed terribly disgruntled on the last day of the first week of shooting a major feature film. When I had a moment I chatted him up and discovered that he was taught filmmaking out of a textbook with a heavy-handed bent toward art, and he was, "disgusted by the un-artistic, speed driven reality of feature filmmaking."
I nodded my head and agreed that on many levels film is art, but I also said it was pure folly to ignore the fact that it is largely craft and technique that lead to the creation of that art.
New-bee was horrified and said, "You obviously didn't go to the right schools!"
"You're right, well sort of." I said. "I never took a class in filmmaking anywhere. Ever! I earned my chops by working my butt off."
The following Monday morning I wanted to continue our conversation but New-bee was nowhere to be found. So I asked his boss, the 2nd AD, where he was.
"He called me Saturday afternoon and quit", she said. "It seems he has an aversion to work."
I nodded my head and said, "I was talking to him on Friday and he had all the symptoms."
New-bees, such as this young man, struggle to understand the realities of hands-on filmmaking after being submerged in textbooks. Those who are able to adjust their mind-set often succeed while those who are stuck in their academic morass quickly fall by the wayside.
Thankfully there are schools that teach costuming with the same intensity that their respective medical schools teach brain surgery. They are very hands-on and they teach the hard realities of the business. Jane Greenwood, the eminent Broadway costume designer, with 125 Broadway productions to her credit and still counting, has taught at Yale for more than 30 years and I was lucky to have her share the following story with me.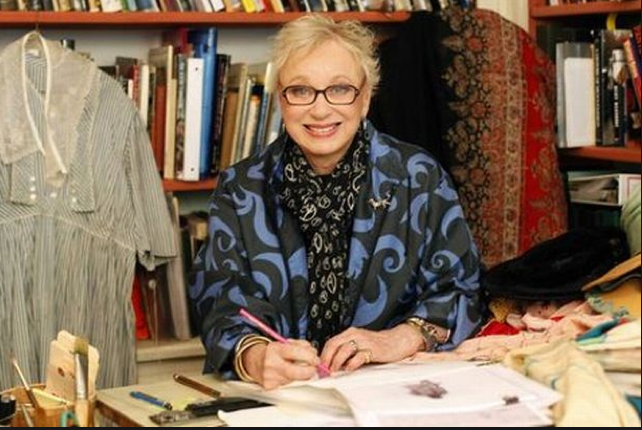 Jane Greenwood, infamous Broadway costume designer of over 125 productions
Jane was reviewing the final projects in costume design at Yale when she noticed that a young lady had jumped the parameters of the project. "How can you possibly justify going that far over budget?" Jane asked.
"Because I'd be the costume designer!" she replied. Her manner was haughty.
"You may be the costume designer but you've fired, and that means you fail this course and that of course means that you aren't going to graduate on time either."
"Why are you doing this to me? You're being so mean," she asked. Tears poured down her cheeks.
"I've told you and everyone else in this class a thousand times that I will not graduate anyone from this program who isn't prepared to work as a professional. Period."
Thank God for people like Jane Greenwood! That young lady may have thought that Jane was torturing her but in fact Jane was sparing her the indignity of being fired from her first job and having one heck of a time landing her second. Film and theatre professionals are very well connected and they can get the skivvy on anyone in a matter of minutes.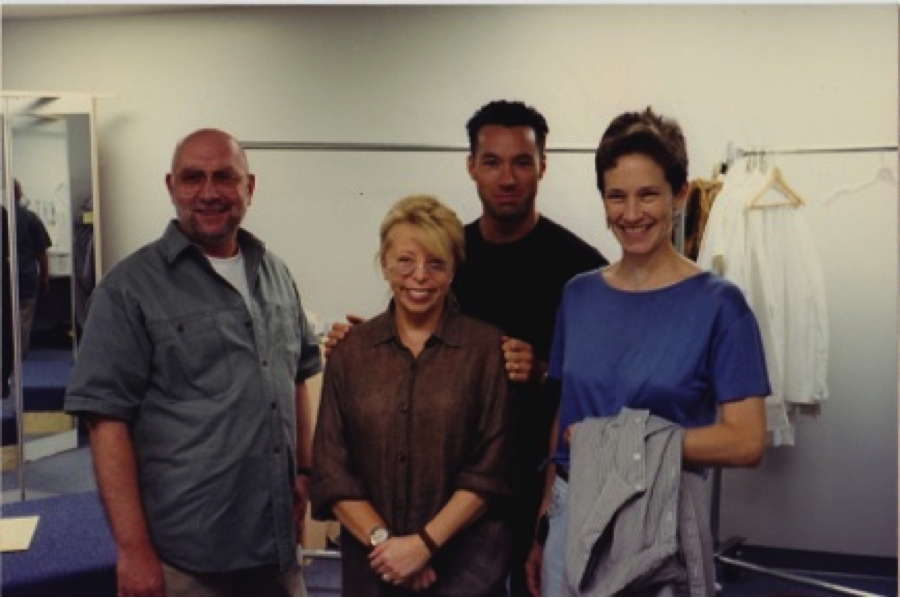 (Above) One of my favorite costume departments: From left to right, me, Our 3 time Oscar nominated costume designer, Anna Sheppard, Tim McKelvey, Men's Wardrobe and Deb Dalton, Ladies Wardrobe.
Washington Square, Baltimore, MD, 1997
Now lets get back to those who dabble in costuming because they crave the glamour they've seen on TV, in magazines, and on the Red Carpet, and perceived the art as, "Nothing but clothes!" I don't know a single person who's been nominated for an Oscar, a Tony, an Emmy, or any other entertainment award, in any category that hasn't demonstrated the ability to get down and sweat when the going gets rough.
To succeed the work itself must be your passion, and the completion of a project that is as good as you know how to make it, your goal. Do that and you will have a terrific and satisfying career and discover, much to your surprise, that your pursuit of glamour was left behind and long forgotten.
Below: Barbra Streisand and I on the last day of principle photography,
The Prince Of Tides, September 1990.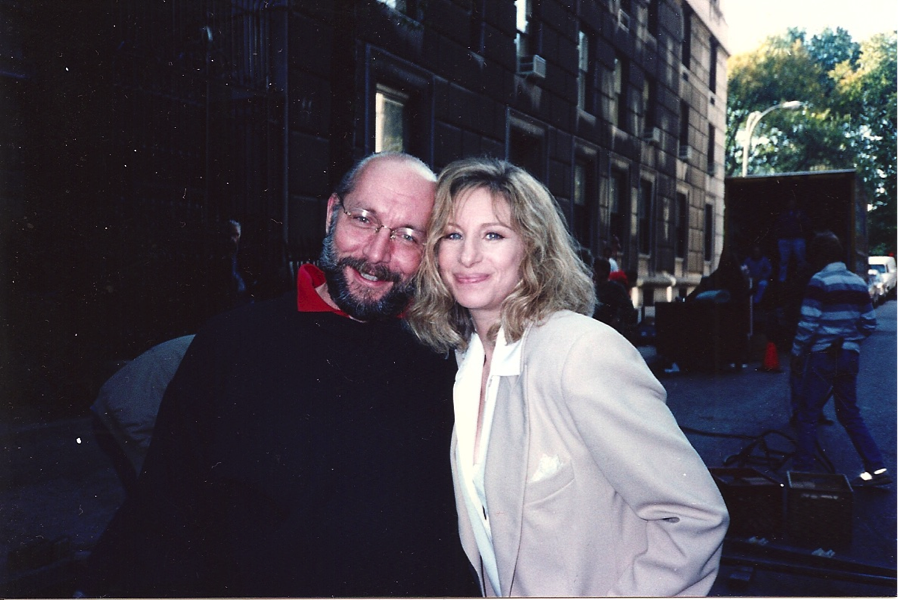 ---
About Mark Burchard

A card carrying member of Actor's Equity and SAG-AFTRA, Mark Burchard discovered he had a natural gift for costuming after auditioning for The New York City Opera and found himself banished to their sub-basement wardrobe department at Lincoln Center in 1971. He subsequently became the men's costumer of the original Saturday Night Live—survived 53 episodes, and quickly moved on to film.
In all, he has 8 Broadway shows (The original Broadway production of Follies, The original Broadway production of David Mamet's Speed the Plow starring Madonna) innumerable operas (The Metropolitan Opera, The New York City Opera) and ballets, (New York City Ballet, The Royal Ballet with Nureyev and Fontaine, The Stuttgart) and over 70 feature films and television series to his credit. His films, which have run the gamut from the sublime to the ridiculous, have garnered 63 Oscar nominations, 24 wins, and 9 Razzie Nominations and 3 wins, and they include Dirty Dancing, Woody Allen's Hanna and Her Sisters, Carlito's Way starring Al Pacino and Sean Penn, Barbra Streisand's The Prince of Tides, as well as a blessedly short stint on that cinematic catastrophe known as Ishtar. He has received two citations from The National Academy of Television Arts and Sciences for his contributions to both Children's and Classical Programming. His entire filmography is available at IMDB.com, where in 1998 he was rated as a statistical #1, and thereby considered to be one of the most influential filmmakers in the world.
Inspired by the high jinks and slaphappy moments in his Academy Award winning 29th film, The Silence of the Lambs, Mark turned his hand to writing comic fiction. His debut piece, Saints Preserve Us! appeared in The Battered Suitcase. That Engis County Affair, It Happened at Longhorn, the first 4 chapters of his novel The Girls, and numerous chapters of his up-coming full-length memoir have appeared in Audience Magazine where he is a regular contributor. His short story, A Moment With Gramma, can be found in the anthology, Back In Five Minutes, published by Little Episodes, London. His work has also appeared in such diverse publications as Kerouac's Dog Magazine (UK), WestWard Quarterly (US), The Stray Branch (US), Do Hookers Kiss? (UK), and Skive Magazine (AU.) Mark is thrilled to have his short story BRUISED published in GERTRUDE!
Mark's photographs have been exhibited in London and have appeared on the cover of The Stray Branch and Westward Quarterly. In all Mark has over 80 pieces of prose, poetry, art, and photography in print.
Mark is a proud graduate of Clown University, and for three years appeared as a member of the Firemen Brigade in the Macy's Thanksgiving Day Parade. He is presently a member of the Confetti Dispersal Team for the annual New Year's Celebration in New York's Times Square. In 2014 Mark served as a member of The Super Bowl XLVIII Host Committee in New York City.
In 2012 Mark was presented with a Poetic License by The General Association of Irregular Artists, which granted him the right to commit Acts of Peculiarity, which he uses more often than not. As proof, he is currently producing RATTLE, a film about "Love, Death, and What We Leave Behind," which is presently in pre-production in the UK. Look for it in 2015!
---
Like this blog post? Please share it on social media (Facebook, Twitter, LinkedIn, email etc) by using social media buttons at the top of the blog. Or post to your personal blog and anywhere else you feel appropriate. Thank you.
As always, we welcome thoughts and remarks on ANY of the content above in the Comments section below...