Are you tired of wrestling with software when you should be writing?
It's 2018. We live in an age where technology is king! So why, as writers, do we continue to put ourselves through the pains and frustrations of archaic or complicated writing software? Managing all our ideas is tough enough on its own. It's time for a change! Are you ready to trade frustration for fun? So are we!
Here at SoCreate, we have made it our mission to do things differently – to create a cloud-based, user-friendly screenwriting platform that allows writers of all experience levels to easily manage their entire writing project, from the first idea or inspiration all the way to the completed, polished screenplay. We are looking for a group of Stage32 screenwriters, both new and experienced, to help us on our journey of revolutionizing screenwriting by joining our exclusive Private Beta list! We want to hear what you think - your opinions, needs, and desires for a writing software that works for you. It is free to join--all you will need to sign-up is an active email address.

While most features of the SoCreate platform are still under wraps, we can tell you this much. With our platform you will be able to:
Easily manage your ENTIRE screenwriting project from inspiration to completion.

Eliminate jumping from your brain, paper notes, and multiple programs. The SoCreate platform allows you to do it all within one application. From the moment inspiration strikes, through the brainstorming process, the writing, the formatting, the editing, and the completed product – you can do it all with our platform.

Forget the frustrations you've experienced with existing software.

We know! Some other software can sure be complicated and frustrating to use, but we are here to keep it simple. Everything from our user interface to our policies and procedures will be fun and easy to use. We pride ourselves on our ability to deliver our writers a clean, clear, and elegant platform.

Allow your creativity to flow in a new, unbounded way!

You, the writers, are our guides and inspiration through this entire journey. We have examined our own writing experiences and worked closely with screenwriters across the globe to understand varying processes and design our platform to serve the needs of screenwriters of all skill levels. It's time to stop letting software boundaries dictate how we write and start letting our ideas take the reins!
Don't miss out! Make your mark on the future of screenwriting. Sign up HERE for our beta list today and get the earliest possible access to a new world of screenwriting possibilities! We are planning to launch THIS SUMMER!
NOTE: Space is limited, so be sure to sign-up now.
We can't wait to share SoCreate with you. Cheers to you, writers!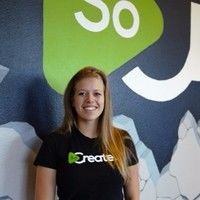 About Alli Unger
Director of Community Outreach at SoCreate, a screenwriting platform for everyone! Feel free to send me a message or check out our website to get more info about us and/or our private beta!
sponsored
---
Like this blog post? Please share it on social media (Facebook, Twitter, LinkedIn, email etc) by using social media buttons at the top of the blog. Or post to your personal blog and anywhere else you feel appropriate. Thank you.
As always, we welcome thoughts and remarks on ANY of the content above in the Comments section below...