I chose to work from home over twenty years ago, for a number of reasons. I'm not only a writer; I'm also a licensed acupuncturist. The busy and crowded waiting room and space I couldn't make comfortable for my patients just didn't ring my bell. The hectic pace didn't work for me either. Most of my patients were better served by a calm and relaxed environment. They liked the sanctuary and quiet space for an hour that could be part of their treatment. So I continued working at home.
The commute is great, because there isn't one. Accommodating my writing as well as my own health issues made my choice to work from home even more practical. It's low scale, but it's not low class. I never treated my home as just a place to hang my hat, or a dorm room. Now that many of you are working from home, or at home wondering when you're going to get back to work, I want to share with you my philosophy and strategy about making where you live a home, as well as dividing space between work and non-work activities.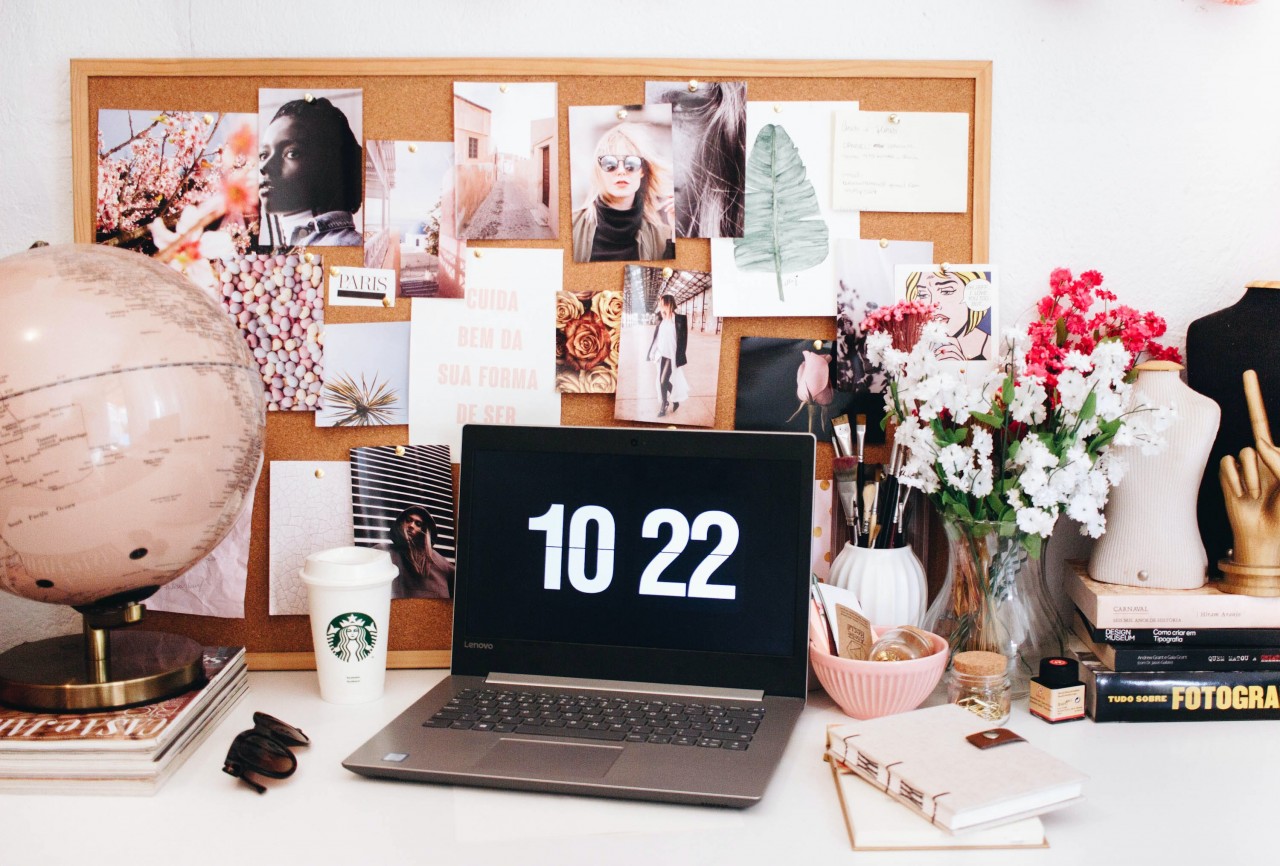 1. Make Your Home Beautiful In Your Own Way
I've always rented my space. It's always been painted some shade of white. So…I've developed a method of decorating that many of my friends and patients over the years have described as 'eye candy'. I unashamedly admit I love eye candy. Some people may want more than others, however…if you're spending most of your time in your house, make it beautiful to you. Whatever your aesthetic sense may be.
When you're spending most of your time in your home, making and adding creative embellishments to the rooms you live and work in will lift your mood and help the space feel more alive. It will also give you something to do to occupy your time.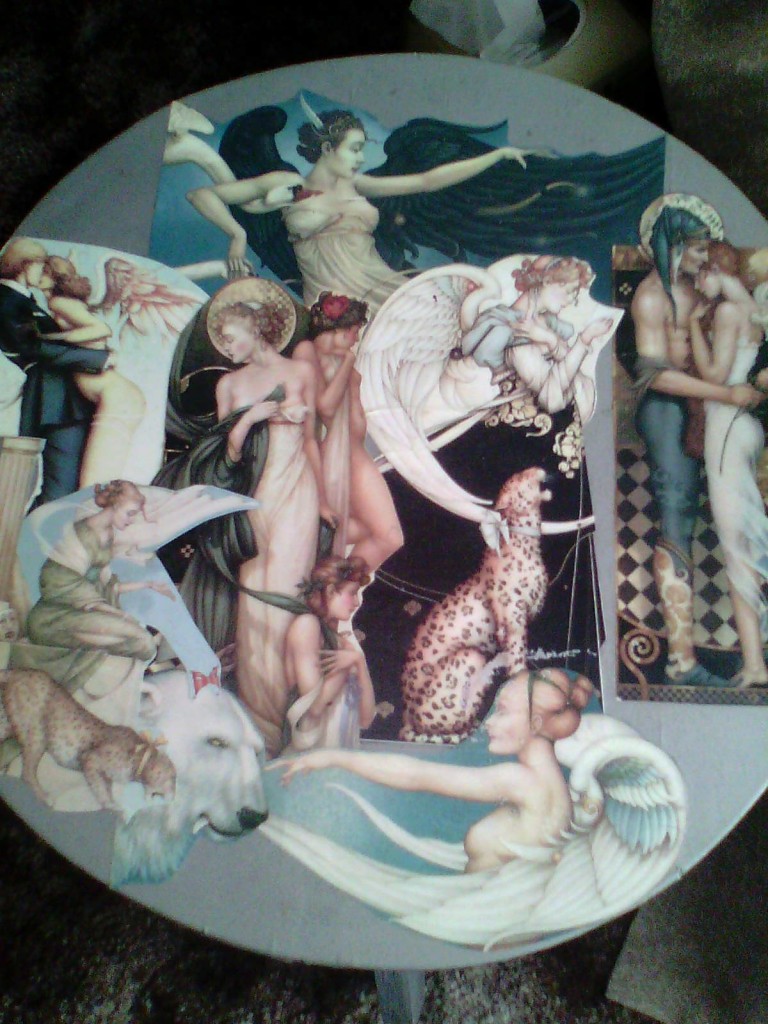 Decoupage table featuring art by Michael Parkes
The photo is of a plain plywood table a friend's mother had made in a woodshop class. I had the calendar art, by Michael Parkes, on hand for a decoupage project. A can of silver spray paint, a jar of Mod Podge, a pair of scissors, and I created this table in large part because Michael Parkes' art moves me. This kind of repurposing or renovation of an unfinished or just plain tacky piece of furniture not only will occupy your time (and not a lot of it) it will also beautify the surroundings that are your home, where you are now spending most of your time. Have multiple people in the house? Many hands make light work.
2. Designate Your Work Space
Nicholas Tiberius Katt (4/9/98-7/11/15) knew how to claim his space. He knew a lot of my patients. Sometimes, he would get on the treatment table with them. As he got older, he was too busy for that because sleeping is what cats do. Depending upon the patient, he would greet them. Being a well-trained cat slave for 17 years, I can say that when they're sleeping, they're also working. Call me crazy if you like. He would claim his favored space, and being a cat, it would change. He made it clear, however, that his drinking water could not be next to his dish of food. It's a cat thing. He was also dressed for work every day, as I am.
Nicholas Tiberius Katt circa 2005 on my back porch
So…people who work from home need to do the same thing as well – keep the workspace designated as a workspace – meaning that the dining room table isn't the best idea, although it may seem expedient, for everyone in a family to use as a desk. Designate it for eating, because that is a home and family activity.
While this may seem picky, it does actually separate psychic energy generated from work with activities that are personal. Also, dress for work ("Friday casual" if you work in an office) so that you know you are working. Think of it as a form of ceremony, a ritual that acknowledges you do have work, and that your work is important to you.
By creating this separation – even if it's in the same room, but just using a different piece of furniture, which is what I have done for years – it creates the foundation of home as well as making a routine for when one is working and when one is stepping away, whether for a break or for the evening.
3. Create an Outdoors Space at Home
Outdoor space is part of your home. If you have even a small balcony or porch, you can create an outdoor space that lets you enjoy nature – birdsong, blossoming flowers, trees swaying in the breeze, sunshine – all of these are essential to not only our mental health but our physical health as well.
If you do not have an outdoor space at all where you live, create a replica inside, using a windowsill and perhaps a table placed beneath it, and add some potted plants. Then, find the closest park to where you live and plan part of your day around going to that park to take a stroll. If it's in your neighborhood, it's an extension of your home. While this counts as exercise, this routine isn't just about exercise. We need to be outdoors on a regular basis. We need to get away from the phone.
Oh. That brings me to another point – when you go outdoors, you are not working. Turn the notifications off on your phone or put it on the same mode you would use if you were on an airplane. Unless there is someone you need to hear from immediately because it may be a life or death emergency, they can wait for you to return from your ten or twenty-minute walk. That includes work. Use this opportunity to stand your ground and begin retraining your employer, if you are an employee. If you're self-employed, as I am, still give yourself the time that is non-work oriented, outside if you can.
4) Keeping a Schedule for Work and Rest
I'm old school. I have a desk calendar where I write appointments – in pencil because things change – and a bookmark that I move from day to day. I can see the entire week at a glance. No scrolling required. If you're using a smartphone, I'd suggest getting a desk calendar as well, because the paper back up is good to have. Make sure there's plenty of room in your schedule, if you're working from home, for the other activities you may need to do – helping kids with homework, cooking, chores – and room for time that is not scheduled.
If you're working from home, that doesn't mean you're less productive. Consider this: you're not spending time on the commute. Also, your non-work time is essential for your physical and mental health. Every day needs to include time for rest, relaxation, quiet, solitude, and the work-life most people have lived for many years doesn't accommodate those activities – and they are activities. We are not work machines.
While the social isolation from co-workers is stressful, the opportunity to create a lifestyle that allows us to be full human beings, not just work machines, is worth embracing. Play, rest, eat, sleep – these are all as worthwhile as our work, because without them, our work is not only less productive, it's less fulfilling. Use this time as an opportunity to reset how you live your life, and encourage your co-workers and colleagues to do the same.
About Isabeau Vollhardt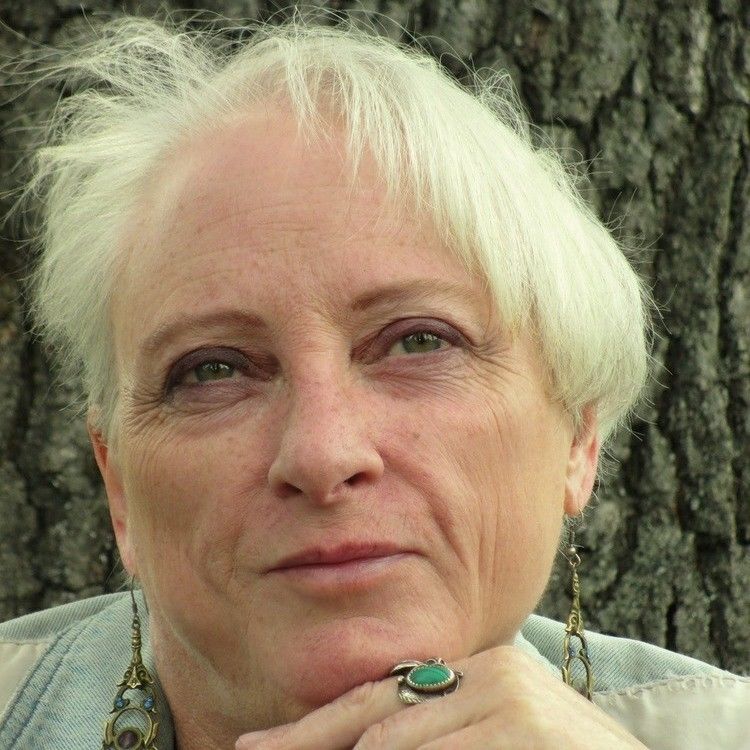 Isabeau is an actor, author, content creator, narrator, and scriptwriter for "2gether 4ever in the Hinterland", a dystopian romance screenplay currently available for viewing on her Stage 32 profile. She is the author of the science fiction/detective/speculative fiction e-book series The Casebook Of Elisha Grey, set in Atlantis during the Second Era, and author of the poetry collection Songs For The Water Dragon/Poems For Plants & Planets/And Others. Isabeau has over 20 years of experience in holistic health care as a licensed acupuncturist/Chinese medicine practitioner/holistic health counselor/reiki practitioner.
More Stage 32 Blogs by Isabeau:
Movement, Contemplation, and Soul Renewal for the New Year
---
Let's hear your thoughts in the comments below!
Got an idea for a post? Or have you collaborated with Stage 32 members to create a project? We'd love to hear about it. Email Taylor at taylor@stage32.com and let's get your post published!

Please help support your fellow Stage 32ers by sharing this on social. Check out the social media buttons at the top to share on Instagram @stage32online , Twitter @stage32 , Facebook @stage32 , and LinkedIn @stage-32 .