One day during the summer after I walked my dogs for 3 miles to the ice cream stand (the walking part is crucial to justify the eating of ice cream), I dragged their tired little stump legs (they're dachshunds) up the ramp and proceeded to place my order:
"Baby twist with chocolate sprinkles, please," I said.
The nice lady on the other side of the window drew this on the order sheet: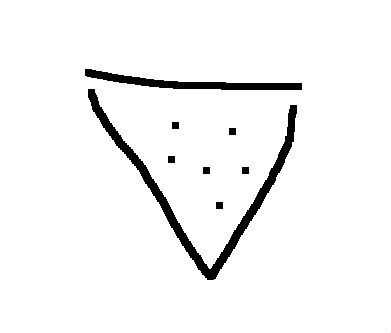 I figured she was outright ignoring me, daydreaming of an art class or something. But I continued with my order anyway, because my dogs were dying and needed ice cream more than me.
"And two doggie ice creams, please?"
The art class continued with the number 3 drawn forward and backwards with two horizontal lines meeting them:
And then she walked away.
Curious, I ogled the order pad and noted there were several drawings along the left side of it, the ones above mine crossed out. There were more triangles, dotted pieces of what looked like pizza (like what she drew for me), more three's backwards and forwards, and other drawings I can't even begin to describe. When she came back to me with my perfect baby ice cream cone, I asked her what the hell was going on. Politely.
"Oh," she laughed. "That's how I write down what customers order. It's faster and easier than writing out every word. And I remember better. If I write too fast, I may not understand what I wrote. Especially when it's super busy and I forget."
I thought that was super cool. And it turns out a group of experts somewhere in the world thinks so, too.
If to-do lists allude you, the article below is for you. It offers several ways to create to-do lists that can help you knock out what's important while still remaining somewhat sane. When you're done reading that, take a peek at a past post by one of our regular contributors, Alexia Melocchi, where she helps writers better manage time with talk of tomatoes. (Great read, btw.)
If you're a writer, filmmaker, producer, insert-creative-art here, you probably need a list. And if they haven't worked for you in the past, the article below just might change that. And an ice cream cone. Try both at the same time.
Read More
7 Expert-Approved Ways to Write a Better To-Do List
---
Let's hear your thoughts in the comments below!
Got an idea for a post? Or have you collaborated with Stage 32 members to create a project? We'd love to hear about it. Email Joleene at joleene@stage32.com and let's get your post published!

Please help support your fellow Stage 32ers by sharing this on social. Check out the social media buttons at the top to share on Instagram @stage32online , Twitter @stage32 , Facebook @stage32 , and LinkedIn @stage32 .