Whether you are an Oscar winner, starting out in the industry or a viewer, you have the power to make a difference through the lens of a camera and that includes a major impact on our planet's environmental health. The Coronavirus is a wake-up call that has a small silver lining – the planet is beginning to refresh, with waterways reported as clearer and air quality improving.
The Ocean Agency - XL Catlin Seaview - Chasing Coral
It's up to each of us to see that this improvement continues when we come out from the other side of our current world health crises.
We all breathe the same air, drink the same water and eat food grown in soil on the same planet. We all have an important role to play in the fight to reach goals set by the United Nations to meet our Sustainable Development Goals (SDGs) and even exceed the goals set at the Paris Accords.
Powerful Films
Can bring Awareness

Convert the previously un-knowledgeable or uninterested

Spawn new ideas, inspire activism and bring previously opposing people together

Bring an experience to life that is beyond reach

Encourage creative problem solving and new skills that can lead to a cleaner lifestyle and a healthier planet
Filmmakers Turned Me Into an Environmentalist
There are Filmmakers like Louie Psihoyos whose masterful storytelling has elevated documentary films to an art form no longer just for art-house aficionados and the passionate few. Please don't tell my boss, Michael Cain, President and co-founder of EarthxFilm, but I used to be really bored as soon as I heard anyone mention a documentary film. It wasn't until 2017 when I met Louie and knew I would be working to help create a test screening for his film The Game Changers at a local university that my mindset shifted. Really out of a feeling of obligation, I turned to Netflix to watch Racing Extinction.
Racing Extinction Oceanic Preservation Society
With nothing but "boring" (documentary watching) expectations, I brought my laundry in to sort while I watched and started the film. An hour later, I was literally still standing in front of the TV holding my laundry basket riveted to the screen. My whole perception of the issues and about documentary filmmaking was turned upside down. Holy Cow, this movie has espionage, drama, intrigue, and a cast of real-life characters including Louie and his team. I have been forever hooked. Filmmaking can make a powerful difference in one person's journey and in the environmental world. Louie's earlier Academy Award-winning film The Cove resulted in a dramatic result to one environmental issue.
The Cove - Oceanic Preservation Society
"Films can be $10 and a box of popcorn or they can be the most powerful weapon in the world to create social change," says Louie Psihoyas, Director of "The Cove". He continues "When we made 'The Cove', a documentary about dolphin hunting in Japan, that country was slaughtering an estimated 23,000 dolphins and porpoises every year for human consumption. Since the film came out there has been an over 93% drop in those deaths because of the activism around the issue. The first day our next film, RACING EXTINCTION, premiered on television, 36 million people in 220 countries and territories saw it the first it aired and it led to laws being passed that stopped the trafficking of some of the world's most endangered creatures into U.S. ports."
Director Louie Psihoyos back left on set of "The Game Changers"
Psihoyos continues, "Our 3rd film, 'The Game Changers', which is about plant-based super athletes, became the top watched documentary in iTunes history and after just 30 days on Netflix, on-line searches for 'plant-based diet' went up 350% worldwide with countries like the UK reporting double-digit growth in people becoming vegans after seeing the film."
According to Psihoyos, "For every person that becomes plant-based, every year:
3 1/2 tons of carbon dioxide won't go into the atmosphere

Over 400,000 gallons are saved

138 animals won't be born into a life of suffering

9000 square feet of natural habitat won't need to be turned into pasture.
An estimated 80% of our chronic disease is correlated to eating animal products. So seeing 'The Game Changers' is a win for an individual's health, a win for the environment, and a win for animals." Louie's mission to protect the environment through masterful storytelling compels the rest of us to understand, care and take action.
The Story YOU Choose to Tell May Change the Course of Environmental History
Some filmmakers become filmmakers out of necessity to tell their own stories or to amplify stories that need to be heard. Making the connection between what happens in our daily lives and what happens somewhere thousands of miles away is something filmmakers do by the nature of their work. Well made films have the ability to bring meaning and understanding to issues that impact social and environmental justice and connect us to world's we otherwise might not know about.
Highlighting Environmental Heroes Shines Light on Relatable Stories
Environmental Heroes as film subjects bring faraway places and distant issues to people who would never be exposed to their stories. Vulcan Productions is a prime example of an environmental influencer with films like – Captain Paul Watson's – Chasing the Thunder a riveting tale that follows the crew of the Sea Shepherd" on its 110 day, ten thousand mile journey to track and capture the world's most notorious fishing pirates.
Similarly, Ghost Fleet follows the story of Patima Tungpuchayakul and her establishment of the Labor Rights Promotion Network that with her leadership rescued thousands of men that were kidnapped and forced to work illegally as slaves in the Thai fishing industry. Patima has been honored by the UN for her work and brought attention to problems of slavery, working conditions, and worked toward building a sustainable supply chain.
Patima Tungpuchayakul - Ghost Fleet
There are now apps available for your phone that identify cans of Tuna as being appropriately sourced and without slave labor bringing the sphere of influence to any ordinary shopper.
Immersive Media, Virtual Reality, Augmented Reality
Films like Chasing Coral virtually and literally share the depth of the crisis of our coral reefs showing us the speed and physicality of coral bleach on the Great Barrier Reef and the world's oceans at an alarming rate. The Virtual Reality version allows the participant to become a part of the experience and see a view of the most beautiful sea-life witnessing the devastating impact of pollution and of the human disregard for nature as if you were there.
The Ocean Agency _ XL Catlin Seaview Su Chasing Coral
According to Director Jeff Orlowski, "The planet is changing; we have a limited time to do something and if we don't address this now, that window might close. As a filmmaker, I feel a responsibility to document that change and reveal it to the public in a compelling way. It's hard for people to wrap their heads around charts and numbers, but when people see a story represented in a visual way, they get it.
We believe that film is one of the most powerful tools to inspire action and one of the most powerful things we've seen with Chasing Ice and Chasing Coral is using film as a tool to organize and connect communities to how these issues are impacting them on a local level."
Orlowski and filmmakers like him, empower others to effect meaningful change by sharing stories that immerse the audience and providing opportunities for impact.
Technology at Our Fingertips
With 4K filmmaking available on your smartphone, anyone can document or create a story, capture nature and bring awareness to help our environment. In fact, young people use their phones and they use social platforms like Instagram, Snapchat and TickTock to express themselves and the state of the environment is very much on their minds.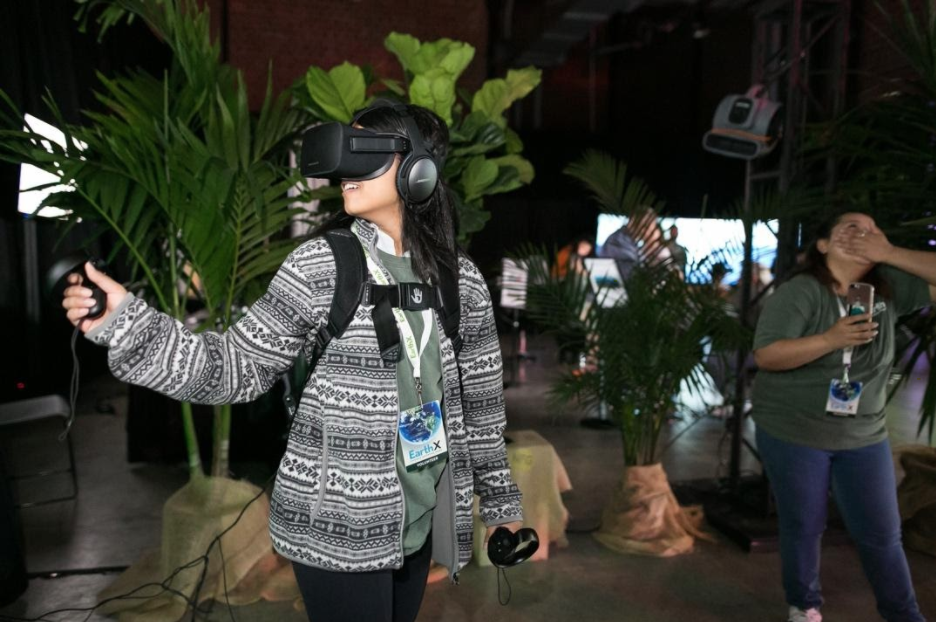 EarthXR 2018
Our Next Generation is the Future Heroes of Our Planet
Documentary Filmmakers are not the only ones with the power of using a story for good. Animated narratives and films about nature encourage young people to appreciate animals and their place in our ecosystem. From Nat Geo to Discovery Channel, Animal Planet to Disney Nature, there is programming out there that influences how our kids think and what gets under their skin from a very young age. From TV shows like Crikey! It's the Irwins, Jeff Corwin's Ocean Mysteries and Danni Washington's Xploration Nature Knows Best, kids develop their sense of what is critical to them and to us from an early age.
Filmmakers influence more than box office, they influence what our kids will care about and sometimes influence how deeply passionate they will become. Fridays for Future championed by Greta Thunberg and other now-popular climate action groups for young people had to have exposure and become aware of the issues before they began to take action. A prime example is Filmmaker Slater Jewel-Kemker who chronicles 10 years of youth climate action from her first time attending (COPS) Conference of Parties where the UN convenes annually on Climate Action, at age 14 in her impactful film Youth Unstoppable.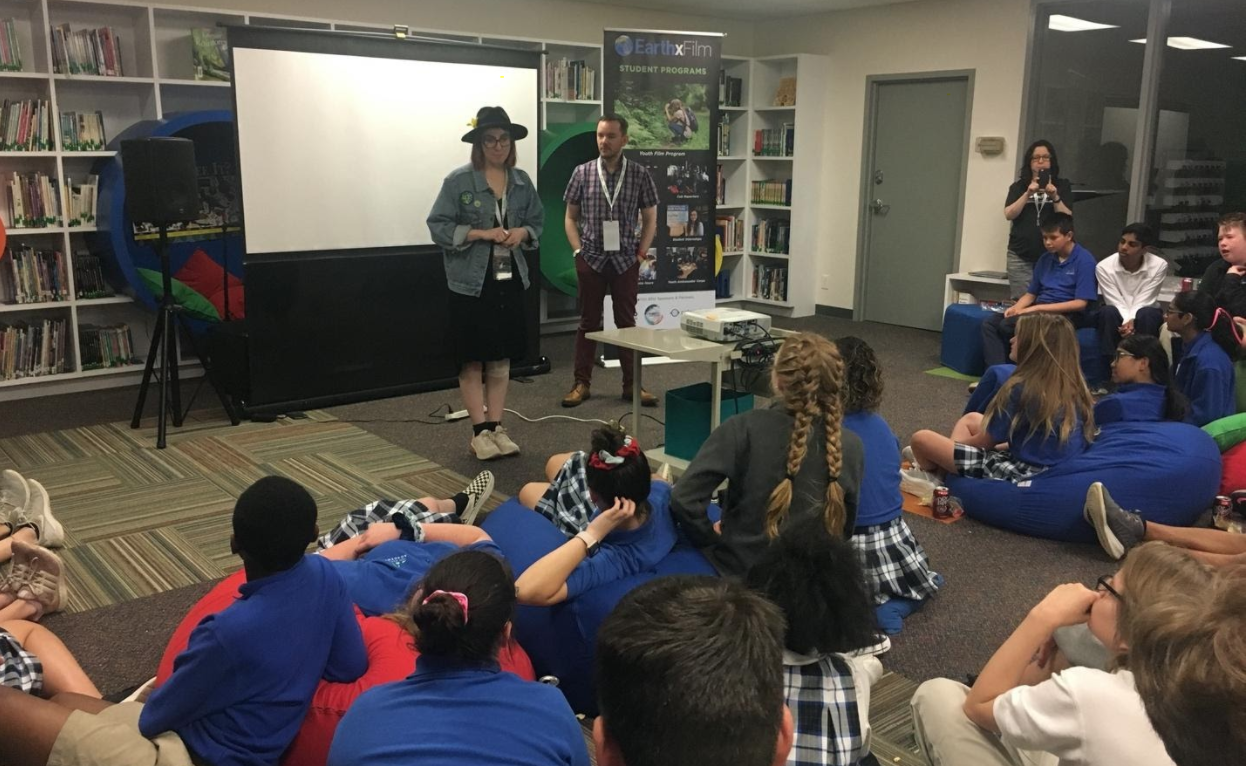 Slater Jewell-Kemker at FW Academy
Jewell-Kemker visited schools with Youth Unstoppable as part of the EarthxFilm Filmmaker on Tour program in 2019. Kathy Uhr, head of the lower school at Fort Worth Academy in Fort Worth Texas says, "The filmmaker program with Slater definitely impacted the Fort Worth Academy students. Especially because Slater was present to answer questions and the students were able to interact with her, they were better able to connect. They talked about how kids could make a difference, and they saw how one voice could connect with others to become an unstoppable force. The students were motivated to learn more about the environment and to find ways to help." Following a screening of Straws by Linda Booker, the same school was motivated to move away from using plasticware and toward re-usable cutlery in their lunchroom.
You Don't have to be a Veteran Filmmaker to make an impact
Planet911 competition – Shares youth views on the impact of Climate Change and how we can all protect the planet.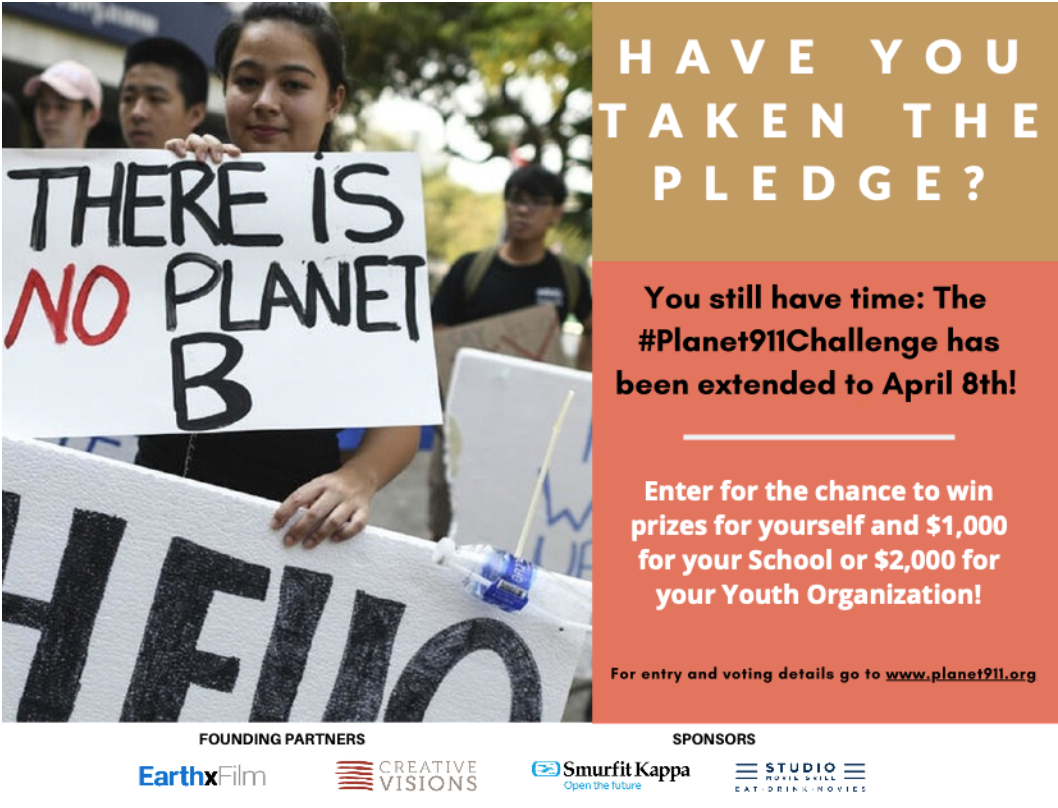 Students and young adults make more and more films just using their smartphones. They take advantage of multiple platforms and their storytelling improves with practice. There are also more structured opportunities to connect students with nature and guide them to tell stories that matter, related to the environment. There are competitions like the Young Filmmakers Contest put out by One Earth Film Festival and the current #planet911Challenge sponsored by CreativeVisions and EarthxFilm in collaboration with Instagram that invites youth to use art, music, spoken word, and any creative means to follow their passions when it comes to filmmaking with a directed question.
Through April 8, the Planet911Challenge invites youth ages 11-21 to express how they will protect the planet in a 15-50 second video and post it to Instagram with the #planet911challenge. Top Films win individual prizes and the school with the most entries receives a cash award of $1000; the youth organization with the most entries earns a $2000 cash award. Click here to see the Spring 2019 compelling Impact Award-Winning film by filmmaker Heaven Atsebeha, then 17 years old from Cerritos, CA and the Fall 2019 Impact film by winner Kelvin Kioko, who offered to donate 10% of his winnings to plant trees in his village outside of Nairobi, Africa.
Planting Trees in Kenya Village
About Melanie Yonks
Melanie Yonks has been in the film and video industry for over 30 years with experience that includes features, commercials and corporate productions. While she has always enjoyed writing and producing, Melanie has finally found her true passion as the Education and Outreach Director for EarthxFilm, a part of EarthX, the world's largest environmental Expo, Conference and Film festival. Her job is connecting with youth and helping them spark an interest in films and filmmaking for the social good, giving them the tools to become the next heroes for our planet.

Melanie is also thrilled to represent Women in Film and Television International as one of eight board members serving the 40+ chapters of WIFTI Worldwide. Melanie is currently on the Advisory Board for WIFT Austin. On the Women in Film Dallas board since 2016, Melanie served as the 2016 Chick Flicks Festival Chair, 2017 President and loved serving on the 2015 WIFDallas Grants and Scholarships Committee, as mentoring young filmmakers is near and dear to her heart. Married for 30 years, Melanie has two beautiful daughters both pursuing their own passions – one of whom works in television in LA.
Links to Films Referenced in this Article:
Greta Thunberg's Friday's for the Future
---
Let's hear your thoughts in the comments below!
Got an idea for a post? Or have you collaborated with Stage 32 members to create a project? We'd love to hear about it. Email Taylor at taylor@stage32.com and let's get your post published!

Please help support your fellow Stage 32ers by sharing this on social. Check out the social media buttons at the top to share on Instagram @stage32online , Twitter @stage32 , Facebook @stage32 , and LinkedIn @stage-32 .