I caught the travel bug early in life and have been blessed with the number of places on this planet I have visited. It's more than a lust for vacation, but it is a desire to see the world, learn from the people, and tally up some great stories. I'm sure there are plenty of you out there who have the same desire to hike Machu Picchu and Angkor Wat and photograph the penguin colonies in Antarctica. But there is always something that stands in the way, the lack of travel funds and the fact that I have a career to maintain, and continue to build, in New York City. Acting doesn't allow the location flexibility of some other careers. I guess the best of both worlds would be to somehow take my career abroad. But how? The first factor is connections and knowledge of the local industry. Secondly, work visas for artists are notoriously difficult to obtain without already being attached to a production- and even so, then for a limited time under limited conditions. There is no way to work abroad legally without a local passport or being sponsored by someone.
If you want it bad enough, you'll make it happen. Curiosity is its own reward.
Hong Kong had always been on my radar. I didn't know anyone there, do not speak the local language, and hadn't traveled much around East Asia. This time last year, I started doing some research. First, I started talking to people, mostly strangers at the bar, actually. In New York City, everyone knows someone who has worked there or at least visited. I was still too shy about the idea to bring it up in conversation to friends, lest they call me stupid and crazy. Everyone who knew someone was happy to make a referral. I was curious about Hong Kong also because I knew there was somewhat of a media industry there. What kind of market exists for an American girl like me? I'm 5'4" blonde haired and blue eyed, by the way. If there was a market for my type, what was my competition like? One day I put "Hong Kong" and "China" into the search bar on Stage 32. Along with many others, an agent's name appeared on my list. We connected immediately. He is a foreign talent agent in Beijing. Perfect. Beijing was not my first choice city, but as a resource, he was incredibly helpful. He was quick to answer my questions, lend opinions, and steer me in the right direction. He let me know that almost no foreign talent in China have work visas- and no one cares. I found that to be true. Generally the politics seem to be less than NY and LA. Little emphasis is put on what your training is, who your agents and managers are, or even your union status! Actually, being non-union is a plus over there because they don't want to deal with SAG rules and regulations. Also, productions often pay in cash. I couldn't ask for a more perfect scenario. I bought a one-way ticket and packed a suitcase. I notified my New York agents that I didn't know when I would be returning. Every single one of them said the same thing, "Go, have a blast, and we'll be here when you get back." I was in Hong Kong 3 weeks later.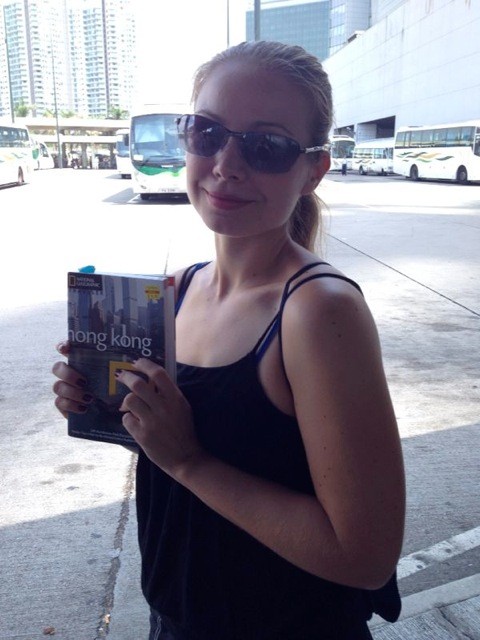 My trusty Hong Kong Guide
Mr. Beijing Agent was also good for one other thing- a big thing. In one of his messages he wrote, "By the way, if you're going to be looking for a roommate, a friend of mine will be moving there soon. Maybe the two of you would want to room together." He put us in touch and the rest came together so easily. I had a home to go to when I arrived and she and I became fast friends. We took Hong Kong by storm and remain good friends to this day. I still haven't met Mr. Beijing Agent. I don't know how to thank him for getting me set up professionally and personally- half way around the globe. I'm grateful to Stage 32 for those connections.
One of the first people I connected with on Stage 32 when I arrived, a British writer and director and long-time Hong Kong resident, immediately invited me out to lunch at a swanky private-members club. He sat me down and ran down a list of everyone in town that I needed to know. I was literally just handed a list of Who's Who in Hong Kong. And he bought lunch. What amazing generosity. I ended up meeting most of those people. That initial meeting with this new Stage 32 friend served as the backbone for everyone I met and every professional step I took while I was there. I would have had so much less to go on without this global network and instant accessibility. I would do anything I can to help him and my other Hong Kong contacts too. Pay it forward.
My new Hong Kong roommate introduced me to a friend of hers from Beijing. Later when I decided that I wanted to travel to Beijing, I messaged that friend and asked if I could stay at his place. He was so gracious to me. Later, to my surprise, via social networks, I learned that he was very good long-time friends with a top commercial agent in New York. I had been "stalking" this agent for years, seeking her representation. And when I accidentally left a couple of personal items in Beijing (ok, my phone charger- it happens to everyone!), he managed to get them to his best friend in New York, whom I had to visit to pick up my stuff when I returned! So, I went all the way to Beijing via Hong Kong, to get some personal attention from a woman I had wanted to meet in New York. Funny how those things work.
Networking and taking a chance on my career brought me to places like the Great Wall of China
Hong Kong has it pluses and minuses, as a city and an industry, but so does everywhere. You always have to be learning on the fly. The biggest pluses were the friends I made. I loved every single day of being there. I'm happy to elaborate to anyone upon request about the trials and tribulations I encountered during my 3 months in Hong Kong- there were definitely some challenging times. My top lesson learned is that 3 months of pounding the pavement there was certainly not long enough. If a foreigner showed up in NYC and complained about not booking a role right away, I'd laugh. Of course it takes time! I got myself repped by agents and scored meetings with some writers and producers, but it all takes time for me to figure out a brand new city and a brand new industry and for them to get to know me. After all, we know it's all about who you know and who knows you.
I have now established a network of insiders whom I can turn to for further guidance in Asia. I did pretty well for 3 months. I also contacted agencies in Shanghai. I met some very interesting people and had some good experiences. I got auditions that I wouldn't be able to get in NYC- at least with my current representation. It felt so good to get up and pound the pavement everyday, searching down agents, attending castings and noting cultural differences. I would go back, in a heartbeat, but with a better game plan, mostly for side-income. I had no part-time work, so funds dwindled quickly. It is an expensive city. All of life is trial and error. If you have a yearning to give something a try- just go do it.
Meeting with agencies in Shanghai
I have since returned to New York with high hopes of returning to Hong Kong in the Fall for some work on a film production. Time will tell if that actually pans out. In the meantime I've embarked on another project in New York that stems directly from my experience in China (Shanghai, more specifically). In any case, I will be returning, hopefully sooner than later, to re-visit all of the wonderful friends I made there. I wasn't as professionally successful as I had dreamed in my head, but I don't regret a minute of it and I'll be back for more.
You'll find a way if you want it; if it bothers you in the pit of your stomach when you're trying to fall asleep at night, then you know you won't be satisfied until you give it a try. You can make it work. Start with small requests and your resources will help you find your way. Don't be shy to ask for help. I found a way to combine my passion for the industry with my desire to live abroad. Each day is an adventure- just the way I like it.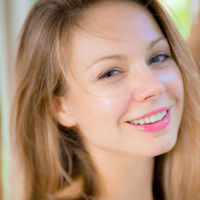 About Stacey Malo
I am a model and actress working in New York City and Hong Kong. My areas of greatest expertise are in commercial acting and print modeling. I also have experience in film and video production and producing, however most of my work is in front of the camera. I regularly book commercials, voiceovers, lifestyle print, showroom modeling, beauty, live events, videos, and other acting projects. I am represented by agents with whom I freelance for certain areas of the industry. I am trained and experienced in hosting, improv, teleprompter, and ear prompter.

Specialties: freelance film and television production, acting, modeling, improv, teleprompter, ear prompter, hosting, reporting, and demonstrations. I am very good at dealing with all kinds of people and am always looking for the next opportunity!

Training: Esper Studio, People's Improv Theater, Weist Barron, Actor's Connection, Actor's Technique NY
---
Like this blog post? Please share it on social media (Facebook, Twitter, LinkedIn, etc), your personal blog, or anywhere else you feel appropriate. Thank you.
Stacey is available for remarks and questions in the Comments section below.
Examples of her work can be found
here
.