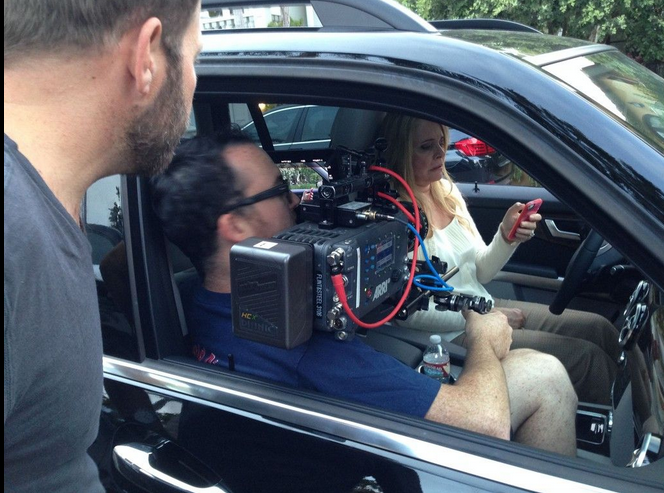 My line producer found me a great DP and a first AD. I hired a friend to edit and storyboard. I posted a slew of jobs on Stage 32, and sat back as my inbox filled with willing candidates. One by one, jobs were filled, and to-do items were checked off the list.
Next I hired a casting director, Robert Enriquez of Red Baron Entertainment, to put out breakdowns and arrange auditions. I gave him my talent "wish list" which consisted of working, no-name actors, and he promptly called me and said, "Think bigger."
"It's a SAG ultra-low-budget short!" I reminded him.
"Actors need to work," he said, "you live in LA. Don't think Angelina, but think bigger." So I did. And with his help and connections, pretty soon I was in talks with several name actresses for two different roles. Not A- listers, mind you, but people you'd know, and in some cases with Oscars and Emmys and Golden Globes.
To my surprise and delight, Priscilla Barnes showed up to read for Sue, my lead. As a kid who grew up on Three's Company, I was thrilled she wanted to be in my little film. What's more, she was hilarious in the audition. She totally nailed it. I went home and told my wife about Priscilla showing up to audition, and after watching her tape, my wife, a latch key kid who also grew up on her show, made me swear I'd make an offer to her the next day. So I did.
With my line producer jumping ship two weeks before the shoot, the final sprint to the starting line was more intense than it needed to be. But it was also exhilarating. One thing I hadn't fully accounted for is just how much more exciting it is to be making anything than it is to sit alone in a room day after day, talking to myself (i.e. writing). By contrast, the actual making of something I'd written -- from the production meetings, storyboarding, auditions, walk-throughs, tech scouts, hiring – felt empowering and energizing.
My wife and son left for the east, my production manager moved into the guest room for the week, and everything was set. I remember I had a moment with myself before the shoot. I sat myself down for a little talk that went something like this: "Things will go wrong. At times, it might feel like everything is going wrong. In fact, most likely at some point during this shoot, something will happen that threatens the whole enterprise. But as much as this is an exercise in where you put the camera and how you work with actors, it's also an exercise in how you're going to handle yourself when the dooky hits the spinning blades."
I know, good talk, right? And there it was again: the anxiety of failing publicly. Of making a big bet on myself and having it be a total loss. Turns out I might be at least partly psychic. But at that moment, I had no idea...
...To be continued - Part II of Erik's journey will be posted at 1pm PDT today, be sure to check back to see the exciting conclusion!