"Live as if you were to die tomorrow. Learn as if you were to live forever."
- Mahatma Gandhi
"Education is the most powerful weapon which you can use to change the world."
- Nelson Mandela

"The great aim of education is not knowledge but action."
- Herbert Spencer

I'm very excited and proud to announce the launch of our new and improved Next Level Education section.

When I first conceived of Stage 32, my wish was to bring education to all film, television and theater creatives regardless of skill or geography. All creatives, no matter what their discipline, deserve the best tools and knowledge to help them hone their craft and increase their odds of success.
In the fall of 2013, we launched our Next Level Education series. Our aim was to bring in top industry educators and offer a variety of educational offerings at affordable prices. To date, we work with over 300 accomplished educators across all disciplines and our prices are amongst the lowest in the field.
Thousands of Stage 32 members have signed up for our Next Level Education. I'm overwhelmingly pleased to announce that we have a 97% satisfaction rate and that 91% of all those who have taken one webinar, class or a lab with us, say that they would take another. Both of these numbers are head and shoulders above industry averages.
Of all the resources and features the Stage 32 network has to offer, it's our Next Level Education of which I'm most proud. My team and I look forward to continuing to help more creatives realize their dreams through our instructive and inspirational offerings.
Below are some of the benefits of our Next Level Education webinars, classes and labs as well as a description of the new section and a video tutorial.
Thanks, and have a creative day!
RB


Stage 32 Next Level Online Education Benefits
Improve Your Skills: No matter what your discipline - if you are looking to learn or enhance a skill, we have a webinar, class or lab for you!
Exclusive Access to Over 300 Top Industry Professionals: We pride ourselves on working with only the most accomplished industry professionals to assure that you are receiving quality and timely information.
Participate from Anywhere in the World: All Stage 32 Next Level Education is online and available to all members no matter where you live.
Receive Feedback: All Stage 32 Next Level Education is interactive and features a question and answer session with your instructor.
Learn at Your Own Pace: When you sign up for any live or On-Demand Next Level Education, you will have unlimited access to the material for a full year.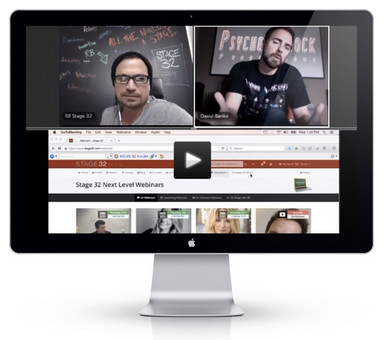 What Stage 32 Next Level Education Offers
Next Level Webinars - Our Next Level Webinars are live online seminars and are jam-packed with information. Our webinars run a minimum of 90-minutes (although many of our instructors tend to go much longer) and include an interactive question and answer session.
Next Level Classes – Next Level Classes are longer, live courses formatted in a college lecture hall style. Most classes run about 2 hours and are fully interactive, covering a 2 to 6 week period. Although these are live classes, if you cannot make a class, that's no problem. All classes are made available On-Demand within a day or so of completion. From time to time, we offer 8-week Next Level Labs. Our labs are limited to 20 people and include one-on-one time with the instructor.
On-Demand Next Level Webinars and Classes – All of our Next Level Education (with the exception of labs) is available for purchase On-Demand at any time, and can be viewed immediately. Much like when attending a live event, when you purchase On-Demand Next Level Education, you have unlimited access to the material for a full year!
On Stage With RB – Since 2013, our CEO, RB, takes to the stage every month for a 3-hour webcast designed to educate and entertain. Besides interviewing industry insiders, RB also offers tips on how to best use Stage 32 and takes questions from the Stage 32 community. All On Stage With RB webcasts are completely FREE and can be viewed as often as desired.
Podcasts – RB has also been a guest on a variety of podcasts and webcasts offering industry insights, tips and education. You can listen and view them here for FREE and as often as you like.


Click Here to See a Tutorial on Next Level Education:
If you have any questions about the new Next Level Education section or any of our educational products, please feel free to post them in the Comments section below. Either myself or Shannon Stegall, Stage 32's Director of Marketing and Education, will be happy to answer any and all inquires.
And, if you've taken one of our Next Level Education webinars, classes or labs, we welcome posts on your experience.

---
Like this blog post? Please share it on social media (Facebook, Twitter, LinkedIn, email etc) by using our social media buttons at the top of the blog. Or post to your personal blog and anywhere else you feel appropriate. Thank you.