Happy Saturday Stage 32!
As many of you may know, I host an Instagram LIVE every week on @stage32 highlighting some amazing Stage 32 members from all over the world. We cover everything from how to shoot a short film 100% remotely to how to how to master the art of a director/composer relationship and more. Recently, I had the supreme pleasure of chatting with two powerhouse members that have made the most out of 2020 and are ready to conquer 2021.
First up, I chat with Atlanta-based actor and production assistant Kevin Marshal Pinkney about his Stage 32 blog 5 Ways to Utilize IMDb Pro to Research Your Way to the Top. Kevin is a super star when it comes to finding and connecting with the right people to make a difference in his career. In our Instagram live, he gives you can't-miss tips on how you can use smart research techniques to get ahead in 2021. Whether you are an actor, filmmaker, screenwriter, editor, or film composer, Kevin has some amazing tools for you.
Next up, it was a supreme pleasure to chat with London-based screenwriter, director, and actor Adam Morse. Adam recently directed the feature film LUCID starring Billy Zane. Adam wrote an amazing and inspiring blog exclusively for the Stage 32 community about his experience directing LUCID with only partial peripheral sight. Adam publicly revealed that he is legally blind ONE week before the film LUCID made its festival premiere in Edinburgh and he is now championing diversity by blazing a trail for differently-abled artists around the world! In this video Adam talks about how sharing his story on the Stage 32 blog helped get him the exposure and press his film need to procure distribution!
CLICK HERE to Watch "How to Research Your Way to the Top of the Entertainment Industry"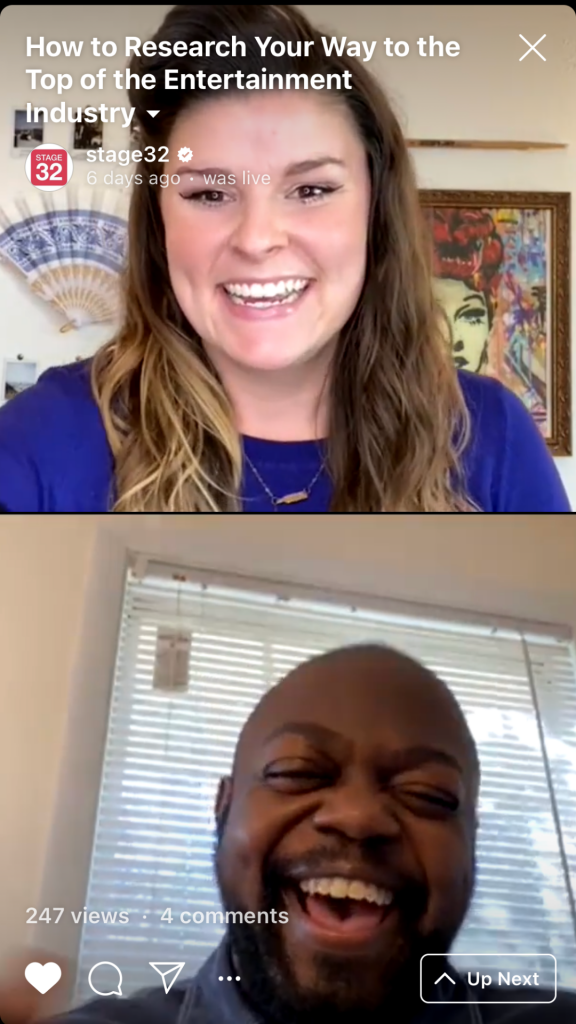 CLICK HERE to Watch "Dreaming is Believing with LUCID Director Adam Morse"
Stage 32 is proud to offer tons of free resources to keep our community inspired to keep creating and educated on what is going on in the entertainment industry.
Follow Stage 32 on Instagram @stage32online and be sure to follow our CEO @rbwalksintoabar for more epic free content!
---
Let's hear your thoughts in the comments below!
Got an idea for a post? Or have you collaborated with Stage 32 members to create a project? We'd love to hear about it. Email Taylor at taylor@stage32.com and let's get your post published!

Please help support your fellow Stage 32ers by sharing this on social. Check out the social media buttons at the top to share on Instagram @stage32online , Twitter @stage32 , Facebook @stage32 , and LinkedIn @stage-32 .