Happy Saturday Stage 32!
As many of you may know, I host an Instagram LIVE every week on @stage32online highlighting some amazing Stage 32 members from all over the world. We cover everything from how to run a remote voice over studio to how to master the art of a director/composer relationship. Recently, I had the supreme pleasure of chatting with two crazytown talented and hardworking women who shared some amazing and inspiration tips and tricks about building lasting careers in the entertainment industry.
First up, I had a wonderful conversation with LA-Based, Australia-born actor, screenwriter, and producer Alana DeFreitas. Alana took her acting career into her own hands and successfully wrote, produced, and starred in a feature film (CONGRATS Alana!!!). She wrote a blog exclusively for the Stage 32 community about what she learned in the process - 7 Things I Learned Making my First Feature Film. During our Instagram live, Alana shares invaluable insights into the indie filmmaking process, as well as can't-miss resources and information for female filmmakers everywhere.
Next up, I had the honor of chatting with long-time Stage 32 member and Rhode Island-based filmmaker, producer, TEDx Speaker, and screenwriter Michele Meek. Michele and I had a wonderful talk about how you, as an entertainment creative, must embrace the business side of entertainment to find success. Our conversation was inspired by her amazing Stage 32 blog You're an Entertainment Entrepreneur, Act Like One. No matter where you live in the world, or what hat(s) you where in the entertainment industry, Michele has some amazing tips on networking and balancing the creative and professional sides of entertainment.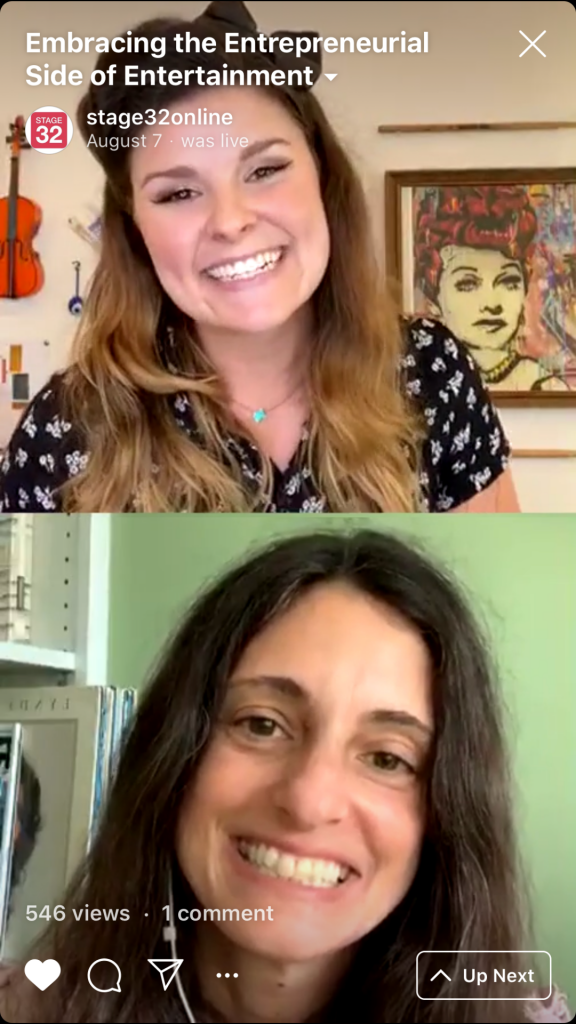 Stage 32 is proud to offer tons of free resources to keep our community inspired to keep creating and educated on what is going on in the entertainment industry.
Follow Stage 32 on Instagram @stage32online and be sure to follow our CEO @rbwalksintoabar for more epic free content!
---
Let's hear your thoughts in the comments below!
Got an idea for a post? Or have you collaborated with Stage 32 members to create a project? We'd love to hear about it. Email Taylor at taylor@stage32.com and let's get your post published!

Please help support your fellow Stage 32ers by sharing this on social. Check out the social media buttons at the top to share on Instagram @stage32online , Twitter @stage32 , Facebook @stage32 , and LinkedIn @stage-32 .