It's an exciting week for filmmakers under the age of 18 who submitted their trailers to the
Stage 32 and U + Trailer Film Festival
. After receiving over 150 entries, we have chosen the top 10 trailers. We were simply amazed at the talent that poured in from the next generation of filmmakers.
The top 10 contestants will be judged by a panel of celebrities and industry professionals including: Nicola Pearcey (Managing Director, Lionsgate UK), William Romeo (American Gladiator), Kierston Wareing (Actress, UK), Christi Soper (Dreamworks), Joey Bragg (Liv and Maddie, DisneyKids), and Peter Block (Producer, A Bigger Boat Productions) and Richard Botto (Screenwriter, Producer, Founder & CEO Stage 32).
In addition, the trailers will be screened on October 11 at the
Sunscreen Film Festival
in LA, a festival sponsored and acknowledged by the
Academy of Motion Picture Arts & Sciences
. Anyone is welcome to come to the screening. The winner will be announced in the theater and their trailer will be turned into a short film, with industry professionals donating their time pro-bono to mentor the kids on all aspects of filming a short. Depending on where the winner is from, the winner will be flown to Los Angeles or London for the short to be filmed.
Once the short is complete, it will be screened on Stage 32 to our worldwide audience, reaching over 325,000 professionals who work in film, television and theater.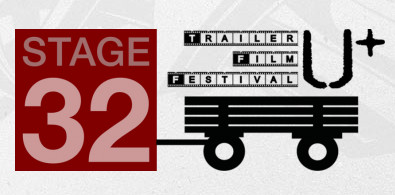 The top 10 contestents for the Stage 32 and U+ Project Trailer Film Festival competition are:
Unplugged
, Eleanor Rocha
Scary
, Samantha Kelch
And I'm Afraid
, Coco Mata
Ruthless
, Douglas Littlejohn
Vigorous Secret
, Douglas Littlejohn
The Weasel
, Tara-Nicole Azarian
Pawn or King
, Keefer C. Blakeslee
The Doggy King
, Siyana Productions
The Worst Day Ever
, Kiki McMahon
Her Words
, Siyana Productions
The Clock
, Liamiko Films
The Riddle
, Tani Jegede
Congratulations goes out to our top 10 finalists and a heartfelt appreciation goes to all the filmmakers who submitted their trailers. We support you and your filmmaking future.
---
Like this blog post? Please share it on social media (Facebook, Twitter, LinkedIn, email etc) by using our shiny new social media buttons at the top of the blog. Or post to your personal blog and anywhere else you feel appropriate. Thank you. As always, we welcome thoughts and remarks on ANY of the content above in the Comments section below...