Stage 32 Happy Writers screenwriting contests are quickly becoming one of the most respected and popular contests in the industry! Why, you ask?
It might be because we are securing the best executive judges in town, or...
It might be because nearly every contest winner has been signed or had their script optioned (*see our success stories below), or...
It might be because our contest winners get unparalleled access to our roster of over 400 industry executives who work directly with Stage 32 and the Stage 32 Happy Writers!
In fact, it is all of these reasons (and more!) that make the Stage 32 Happy Writers contests the only choice for you and your writing career! Check out a video from our most recent winners of our Stage 32 Happy Writers feature contest, Jenna Palermo and Brittni Brown. They just met with executives from SONY, Lionsgate, Universal, Warner Bros, 3 Arts Entertainment and Gotham Group to name a few:
Introducing The Stage 32 Happy Writers Annual Comedy Screenwriting Contest
In our quest to make sure every screenwriter gets the exposure they deserve, and by popular demand, we created our Annual Comedy Contest for our comedy writers! From current comedy films such as Trainwreck and Vacation to classic comedy franchises such as The Hangover and American Pie there is always a marketplace for feature comedy. In addition, current television shows such as Veep and Silicon Valley, as well as classic syndicates such as Seinfeld and Everybody Loves Raymond make us aware that true comedy never goes out of style. We are looking for the next voices that make us laugh.
We want to give the freshest comedic voices a shot at getting heard by people who can make a difference in your career.
Submissions
Original Feature length screenplays will be accepted in the following comedy categories:
Comedies (ex. The Hangover, Bridesmaids, Hot Tub Time Machine, Trainwreck, Ted, Get Hard, Billy Madison, American Pie)
Dramedies (ex. Silver Linings Playbook, The Perks of Being a Wallflower, Crazy Stupid Love, The Grand Budapest Hotel, Punch Drunk Love)
Romantic comedies (ex. Hitch, Bridget Jones Diary, About Last Night, The Other Woman, Magic in the Moonlight, That Awkward Moment)
Horror/comedies (ex. Scream, Scary Movie, The Cabin In The Woods,Zombieland, Shaun of the Dead)
Action/comedies (ex. Spy, Rush Hour, Kick Ass, Red, Men in Black, Lethal Weapon, True Lies)

Indie Comedies - (ex. 500 Days of Summer, Juno, Lost in Translation, Sleeping With Other People, Pulp Fiction, Rushmore)
Original TV pilots will be accepted in the following comedy categories:
Comedies (ex. Veep, Silicon Valley, Modern Family, The Big Bang Theory, It's Always Sunny in Philadelphia, Brooklyn Nine- Nine, Arrested Development, Community, Parks and Rec, Friends)
Dramedies (ex. Girls, Orange Is The New Black, Transparent, Shameless, Nurse Jackie, Weeds, Jane the Virgin, The Wonder Years, Breaking Bad)
Existing comedy show spec scripts
Prizes
1 Grand Prize Winner for Each Category (Feature and TV Pilot)
1 Feature Screenplay Grand Prize Winner and 1 TV Pilot Grand Prize Winner will receive all of the following:
Plane ticket to Los Angeles
Lunch meeting with producer/writer Scot Armstrong (The Hangover II, The Heartbreak Kid, School for Scoundrels, Semi-Pro)
Meeting with 10 Top Executives
Cocktail hour with various executive contest judges
A Stage 32 Happy Writers team member as a mentor for 1 year to help provide access to the over 400 executives we work with
Personal email from Joey Tuccio, President of the Stage 32 Happy Writers, with your logline sent to our executives
Script's title, logline and writer's name will be listed on the Stage 32 Happy Writers site accessible by industry executives
In addition, the TOP 5 writers of each category will receive prize packages that include meetings with top industry executives!
Plus! ALL OF OUR FINALISTS will have their loglines sent to our roster of over 400 executives we work with!
Our All-Star Line Up Of Judges
As always, we have brought in the best of the best judges in the business. And, as always, ALL of our judges are working industry professionals. These are just SOME of the films and TV shows our judges and their companies have worked on: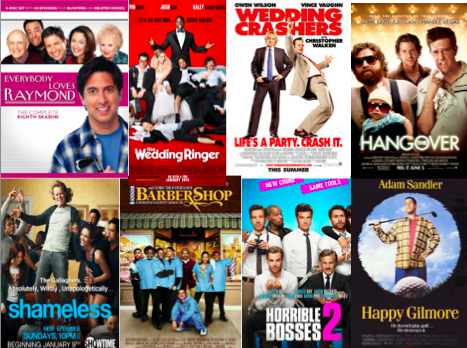 Our lineup includes:
Melissa Daykin Cassill - Vice President of State Street Pictures (Faster, Beauty Shop, Barber Shop, Notorious, Nothing Like the Holidays.)
Matt Horwitz – Manager at Echo Lake Entertainment (writers on Shameless, Everybody Loves Raymond, How I Met Your Mother)
Jared Iacino - Director of Development at Panay Films (Wedding Crashers, Van Wilder, Hot Tub Time Machine 2)
Will Phelps - Head of Feature Development for Mailbox Baseball Productions (The Wedding Ringer, Shaq Inc.)
Scott Stoops - Manager at Benderspink (The Hangover, We're The Millers, Horrible Bosses 2
Tiffany Fiedler - Creative Executive at Five All in the Fifth Entertainment (The After Party with Paramount Pictures, Narc with Zac Efron, Fakenapped)
Sean Berard - Jr. Agent, APA
Jackson Reynolds – Coordinator of Physical Production at Lionsgate (Mad Men, Orange is the New Black, Nurse Jackie, Manhattan, Nashville, The Royals, Boss and many others.)
---
Like this blog post? Please share it on social media (Facebook, Twitter, LinkedIn, email etc) by using social media buttons at the top of the blog. Or post to your personal blog and anywhere else you feel appropriate. Thank you.
As always, we welcome thoughts and remarks on ANY of the content above in the Comments section below...