Some of our guest bloggers and their blog posts come from the depths of our lounge threads. They pose a question or statement, and before long, our members are locked in a heated debate about the question.
That happened with Cheryl Allen's post, Goin' Guerilla.
Here's what she asked:



The responses were hot and cold.
Up and down.
For and against.

If you review the thread, as well as my thread looking for some of you who've shot guerilla, you'll see that the term guerilla is defined and understood differently by different creatives. So we reached out to a few of you to ask you what your take was on the risk-reward shooting style.
Here's what you had to say:


1) What should you do before you start shooting?
Aside from the issues that arise from skirting the laws regarding requiring permits, I do nothing differently shooting without permits than I do when when shooting with permits. If I'm working with SAG-AFTRA actors, I will have handled the SAG-AFTRA paperwork and followed their rules. I issue call sheets; make sure the working conditions are completely safe; if any stunts are involved I'll have qualified, professional stunt people (including a coordinator) on-location; have proper meal times, bathroom access - in other words, run the day just the same as if I've pulled the permits. It is important that all the cast and crew know that permits haven't been acquired, just in case things go south in that regard.
2) What did you do right when you shot guerilla?
The biggest to-do is to keep the footprint to a minimum. Use the smallest crew possible; shoot quickly and efficiently; don't disrupt the normal activities going on in the location; respect the people and the location; don't leave any mess behind; be kind to everyone; if anyone says "don't do this here" - just leave. (Don't argue!) There is a ton of shooting going on in Los Angeles every day, so a small shoot usually doesn't draw a lot of attention unless that shoot does something to draw attention to itself. Remember: you're literally intentionally breaking the law, so just don't get caught!
3) What did you do wrong?
My team usually grumbles that I'm being overly-cautious, but like I said: in a decade of movie making that includes occasionally doing guerilla shoots, I've never had a legal issue. On rare occasions I'll be told to move on. We did a shoot pool side at a timeshare complex a couple years ago, and the manager came out and told us to shut down. My lead producer wanted to argue but as director, I simply shut down and moved on. We did another shoot at a different timeshare on a different project earlier this year and ran into the same complaint - management told us we couldn't shoot. The issue there was we lit a window from outside while shooting inside. My amazing crew struck the outside lights and my DP figured out how to light from the inside to get the rest of the night to match, which it did. I was constantly telling the crew to be quiet, probably too much so - but we got our day and no one from the location complained.
4) What did you learn from the process that others should know?
Shooting anything is stressful. Under the best of circumstances there's rarely enough time or money to get what you want, creatively. So if there's anyway whatsoever you can do it right, then - do it right. Pull the permits (and buy the insurance and file the SAG-AFTRA paperwork and all the rest of that annoying stuff.) Shooting without permits is like speeding on the freeway. You can get away with small infractions most of the time, and bigger infractions some of the time. But when you see those lights flashing in your rear view, don't make things worse. Pull over, be polite, and take the ticket if the cop gives you one. You've made the intentional choice to break the law, so nut up and accept the consequences.
5) What would you do differently next time?
I really, really, really want to more- regularly raise the budgets so I can pay my people who deal with these paperwork issues. That way I can focus on the creative aspects without looking over my shoulder. Most of the projects I've done have been done right in this regard, and it's nice (and healthy) to not have that added stress. However, shooting stories is my favorite thing in life, so even when I don't have all the details covered on a particular project, if the itch to shoot arises, it must be scratched... <smile>
6) What would you like to add?
To me, "shooting guerilla" simply means shooting without government-issued permits.
I live and work in Los Angeles, where film permitting is a Very Big Deal. Most people don't realize that there are some 80 different cities in Los Angeles County. Most of those cities have different rules as to what is and isn't permitted when it comes to commercial shooting (which usually includes student movies, for what it's worth.) Some locations are very lax and accommodating, but on the next block (in the next city) they might confiscate your gear if you shoot without a permit. The FilmLA website/service can be very helpful in figuring out what needs to happen to keep things totally legal and above-board, but that takes time and money... and low/no-budget shows (especially web and short form content) don't always allow for that. In over a decade of shooting here, I've never run into any problems when I've gone "guerrilla" - but I've heard a lot of horror stories from other movie makers which keep me on my toes! The only reason to shoot guerrilla is when time and/or budget constraints prohibit pulling permits.
1) What should you do before you start shooting?
Always, always, always be upfront with everyone about everything. Not informing everyone is reckless and it's being a stupid a-hole. Part of a plan is letting everyone know what the plan is. Everyone has to know exactly what everyone else is going to do in order to execute the plan successfully. But part of the fun, and the glory of the risk/reward of gorilla, is the unexpected. It's impossible to plan for everything because you never know what the heck will happen when you're actually there. But you have to have an A plan, a B plan and an escape plan (including, leave everything and run!).
2) What did you do right when you shot guerilla?
Asking permission to shoot is almost always the wrong thing to do...except for most of the time. Look, every shoot is different. Risk/Reward. The axiom, "It's better to ask forgiveness than ask permission" is a seat of your pants, moment by moment decision. Would I attempt a shot on a property that has a sign, "I will shoot anyone I don't know!"? No. Not even to ask permission. But if I had previously scouted a location and it looked abandoned and still looks abandoned, then go for it.
But if you're in need of a specific look, and there's only one place to get it and you don't have a permit or money and the risk of violence, injury or jail is minimal, just do it based on a well thought out plan.
3) What did you do wrong?
Being stupid. Although, it's always after the fact when everyone says, "That was stupid." The most important thing to do wrong is not plan thoroughly. Again, A plan, B plan, escape plan. Not scouting is stupid. Not informing everyone of the plan is stupid. Not having a plan is stupid. Not having a phone number of a person that will bail you out of jail is stupid.
4) What did you learn from the process that others should know?
See answers 1-3.
5) What would you do differently next time?
I would scout more if possible. Try to make it possible. Make sure you make it possible.
6) What would you like to add?
If you have a permit, it isn't gorilla. Risk is necessary for any production, but gorilla filmmaking can be the most exhilarating, the most satisfying, and the most rewarding filmmaking. But reckless is not gorilla. Reckless is stupid and stupid gets people hurt.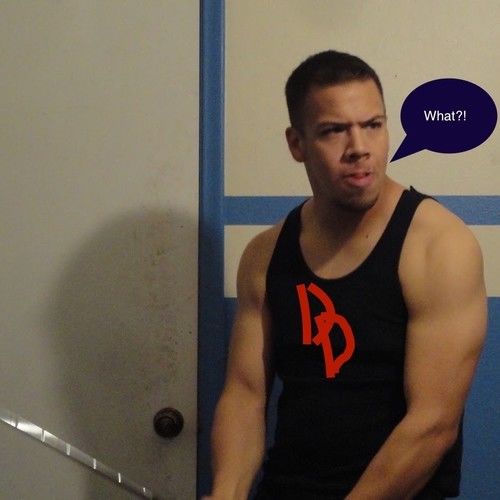 1) What should you do before you start shooting?
There is a term "shoot to edit" to help in post-production. The same should apply to your script, "write to shoot". Tailor your script to be flexible and reasonable with your shooting locations. Places you are familiar with and that are preferably public domain.
2) What did you do right when you shot guerilla?
Stick to your shooting schedule. Be determined to finish your project. When my actors couldn't make the shoot date, I scrambled to write a new script overnight and recast. The camera rental return date was already set. Let that motivate you to get your money's worth.
3) What did you do wrong?
On my short film I had no permits and still grabbed shots at a busy airport parking lot. I remember being prepared to meet the law or security. But I treated my location and shooting time like a bank robber. 3 to 5 minutes, get your shots, get out. I've found if you act professional, no one gets in your way. You are relying on their assumption you have permission.
4) What did you learn from the process that others should know?
My short "Prowler" came out of necessity. I planned an entire shoot weeks in advance, but my cast dropped out on me. I learned that not budging from your shooting schedule will bring the craftsman out of you. Have an outline of what the story could be and shoot coverage. You can shape it in the editing room with voiceover and SFX in my case.
5) What would you do differently next time?
The 2nd time around I would try to obtain a shooting permit but with a small to no budget at all you are subject to being a smooth talker to gain permission. I have had a winning streak explaining to shop owners, home owners, what exactly I am going to film and how long it will take. They always say "yes" if you explain your plan. Be courteous and humble.
6) What would you like to add?
I shot many short films and they all had flaws. From bad editing, bad camera work, final cut was too long, low quality equipment, etc. But "Prowler" got me recognition because it was the accumulation of every trick of the trade I had learned on those bad films. Don't give up and your mistakes will become a success. And my motto is: "You have to make this film look more expensive than it really is."
1) What you should do before you start shooting?
You should find out what your options are. If you want to be a filmmaker long term, it's a good idea to find out what the rules are and do your best to obtain the proper permits, etc. If the permission you obtain amounts to a handshake with the owner of a property, you could get into trouble down the line. When getting permission isn't an option, tell your actors what to expect and what the risks are. If you're the director or producer deciding to shoot guerrilla, it is your job to get between any authorities and your cast/crew. You potentially got into a mess, it's your job to get everyone out of it.
2) What did you do right when you shot guerrilla?
We did what the police told us to do. After filming in what we thought was a public area under a viaduct for about two hours (with a little fire burning for part of the shoot), just as we were leaving the scene, a police car pulled over. A couple of the crew said we were taking "photos." The police officer asked us for ID. All of us complied. While he was checking on our ID, a second police car arrived.
We found out from the cop there were a lot of graffiti artists who liked to paint in the area we were filming. We probably didn't need to give him ID, but when you're walking around with a couple thousands of dollars of camera gear in a couple backpacks, it's better to do what you can to deescalate a situation.
3) What did you do wrong?
I feel some of this comes down to what you think is wrong. We never trespassed. We never got bolt cutters like Werner Herzog to do what we needed to do, and to my knowledge, we didn't break any laws. I've filmed on transit trains with a cast and crew of fifteen, in grocery stores, and in other public places without explicit permission. We never hurt anyone or caused any damage. For the most part, no one has ever bothered me while filming.
4) What did you learn from the process that others should know?
Travel light. If you need to have the gear on set, make sure there is crew that can help with it. I film with the GH4 or the BMPCC so I'm always a low profile. Location sound is a big giveaway that you're filming. If your Location Sound engineer has lav mics, that's the best way to go if you need to go unnoticed.
5) What would you do differently next time?
Until I am able to raise an actual budget to film, there's not a lot I would do differently. We are respectful to the public and when we are filming, we are in our own world.
6) What would you like to add?
One of my favorite experiences filming guerrilla so far was filming at the Chicago Auto show. We used lav mics and Zoom H1s to record audio and I filmed handheld with my GH4. We spent about three hours at the auto show walking around and making an improv based short film. No one noticed us and there were plenty of videographers taking video of the cars. For the first half of our day, I was pretty nervous. After that, I realized no one cared. No one cared about what we were doing. We got the coverage we needed, we had a lot of fun, and we came away with a nice little short film.
Would you shoot guerilla in your neck of the woods?
Why or why not?
---
Like this blog post? Please share it on social media (Facebook, Twitter, LinkedIn, email etc) by using social media buttons at the top of the blog. Or post to your personal blog and anywhere else you feel appropriate. Thank you.
As always, we welcome thoughts and remarks on ANY of the content above in the Comments section below...