EXT: PARENTS HOUSE-DAY
There I stood, with a 3 and a half foot pick-axe in my hands doing what seemed to be an endless landscaping job for my parents when my long time friend and director of our movie Krisha texts me and says we got into Cannes. At this point I'm sure most of you are wondering, Bryan, what the hell were doing landscaping work for after your movie had won a grand Jury award at SXSW in Austin and then got accepted into Cannes?
Let me back-track some. In fact, let's go back to how my acting career officially began. Like most kids, I loved movies, I can still remember being young, when the magic was real, and feeling the effects of a movie for days sometimes weeks after I had watched them. My mom had told me later in my life that I would obsess over certain movies, that I would put them on repeat if they allowed it. I remember films like Jurassic Park, Pete's Dragon, Land before Time, Ninja Turtles the Movie. Needless to say my taste changed as I got older, but these were some of the first movies I could get unapologetically lost in. I don't recall this particular moment but at age 8 my mom and I were in the mall one day and there was an open casting call to be an extra in a made for television movie called A Woman of Independent Means starring Sally Fields and Ron Silver. Me being a minor she obviously had to do this with me. Thinking back on it now, I'm so grateful for her doing that. After all I had to rely on her to get there, I had to rely on her schedule, her time, but she did it with a smile on her face because she knew I would love it. I do recall being on set and having that "I belong" feeling that passionate people are always referring to. I also remember constantly looking at the camera as I would do crosses with my mother. Just so we are all on the same page, I don't look at the camera anymore.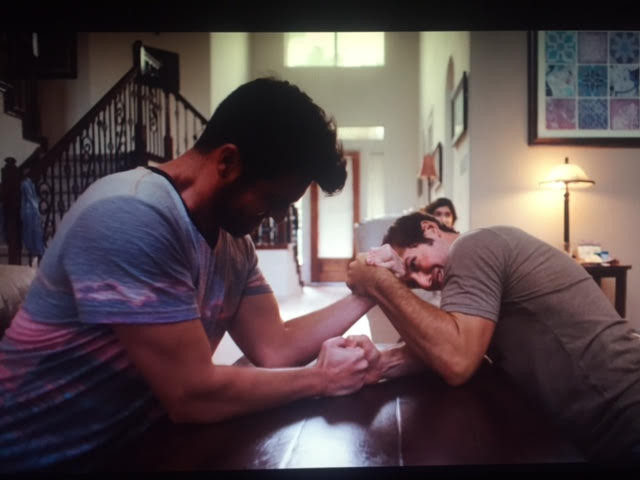 As I got older I'm ok with saying that the whole acting bug had left me for the time being. I was heavily involved in sports and let's be honest, there were just too many girls to chase on the play-ground. Some days I was going to be a famous athlete others were spent drumming hoping to end up in a famous boy band of some sort. Sooner than later, around age 13, the acting bug hit again. I met a kid who would later play a HUGE part in my career. Trey Edward Shults, I remember us meeting initially through my brother, who was a year younger than I, my dad started coaching a basketball team that Trey wound up on some how. Just to paint a total picture here, Trey couldn't dribble a basketball to save his life, in fact I remember that part more than as to how exactly it was we started hanging out, maybe there was no formal introduction, who knows. Before I knew it I was at Trey's house most of the week making these...well...I guess you could call them short films. It didn't matter what they were. They were ours, and we were creating storylines, characters and finding the right places to shoot, some of you in the industry refer to these as locations. We learned fairly quickly that I could actually "borrow" my parents camera without asking and riding my bike over to Trey's house to film. We never had call times, just, whenever you wake up come over. We did some comedic stuff but our bread and butter were crime dramas. Logan and Raven were our character names, classic, I know.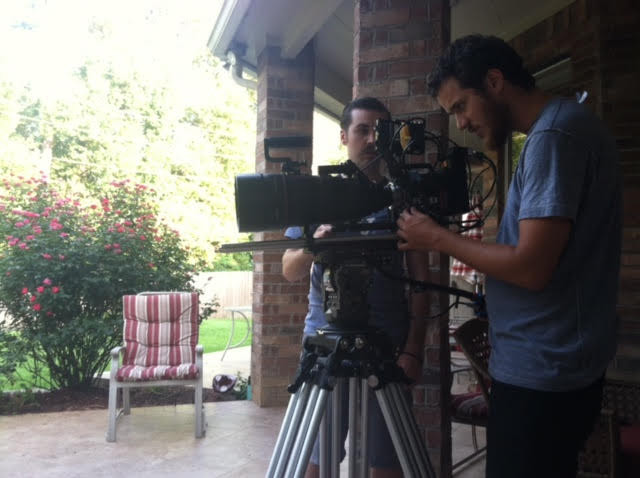 I remember Trey having a strong sense of the camera, setting up the shots, when to cut, editing it all together after each "take." Most of the time we would film each other or when we really wanted to raise production value we would have either my brother Aaron or Trey's best friend and sidekick Justin Chan, who would also play a HUGE part later in our careers, film us. If it could still only be that simple, show up to a friends with no real call time, no lights, gorilla style shooting, fake guns, fake police badges, no budget what so ever and total bliss. Mind you none of that stuff would have ever won an Oscar but we didn't do it for others, a lot of the time we would never show friends the finished product. One summer we started filming at Trey's Grandmas house out in the country. Around this time I met Krisha Fairchild, Trey's aunt and long time actress who I remember being totally mesmerized by her personality and silver hair. We some how worked her into the script of our Logan and Raven saga because she was already a working, BIG time actress in our eyes! Bless her heart she sat there and helped us with the story so it would make sense. I remember her being some sort of bill collector and her coming to our "house," Trey and I ended up killing her and stuffing her in a hot tub (thanks for the cameo Krish).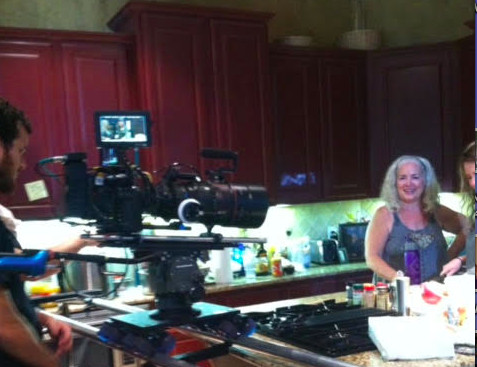 After a long junior high experience filming, once again the acting bug started to leave me. I don't remember why this time it left. We seemed to be so interested in making movies. Sports and girls crept back in and caring the whole, what other people think thing did too. Trey and I lost some touch throughout high school, I played four years of basketball and he got into Wrestling. I graduated high school in 2006 and could only sum up that whole experience in two words, total bust. Up until this moment I had only fantasized and wildly imagined bigger things for myself. After graduation and no college prospects I got a "real" job, moved out of my parents and got an apartment with some friends and hoped for the best. After plowing my way through those years, most of which weren't pretty, I decided to move to Sacramento where my parents had moved a few years before for my mom's job. I had never lived anywhere but my hometown so needless to say I was terrified.
After settling in Sacramento my dad came home one day from work and placed and acting book on my bedside table, I don't remember him saying anything, he simply set it down and left the room. I think he knew if he "pushed" me to get into acting I would resist, because who listens to their parents right? That book would help me make the best decision I've made in my life. It was The Technique of Acting by Stella Adler, a must read for any actor who hasn't. After reading the book I told myself, I have to try this. The very next month I was enrolled at the Academy of Art in San Francisco. Again, I was terrified, on the drive down with my dad I was wondering what the hell I had actually decided to do and if I was crazy for doing this at 23 years old.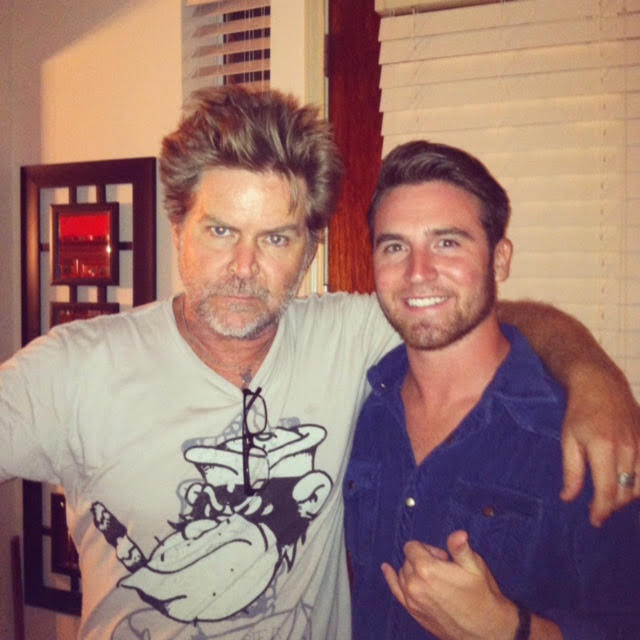 After a short stint at the Academy I had racked up some short films, made some great friends and gained a little confidence in the process. In the Summer of 2012 I get an email from who else, Trey Shults. It turns out Trey was directing a short film which he was calling Krisha and he wanted me to act in it. At this point I hadn't talked to Trey in years but to my surprise he had been working as a PA for Terrence Malik for a couple years leading up to this. Seeing his email and him wanting me to fly back to Houston to film was one of the best feelings I've had. I did just that, I flew back, we shot for a week or so, and it was everything I'd hoped it would be. Fast forward a year, Trey submits the short to SXSW and it get special recognition from the jury which was beyond exciting however I wasn't there to see it all. Another year passes, by this time I've made the move south to LA to pursue my dreams as an actor.
Things for me early on in LA seemed to be going so well, my very first gig was standing in for David Duchovny on a Californication promo shoot which had been my favorite show for years, gotta love Hank Moody. While I'm doing my thing in LA Trey is back in Texas gearing up for the feature length movie, Krisha. After all the recognition from the short and from the support of friends and family Trey was able to raise enough money to hire better actors, build the cast, get great cameras and even cater food. I get back to Texas to film and I'm riddled with excitement, the same feeling I would get when I watched movies as a child or when Trey and I would make our crime dramas in his backyard, that feeling let me know I was right where I was suppose to be. There were more of us this time, bigger ambition, higher hopes for everyone involved. As I'm meeting the new cast and some crew I couldn't help but get a feeling that this time was going to be different, better somehow. We had Bill Wise and Chris Doubek both of which were in, we had Olivia Applegate who had just finished a Terrence Malik Film. We seemed official now.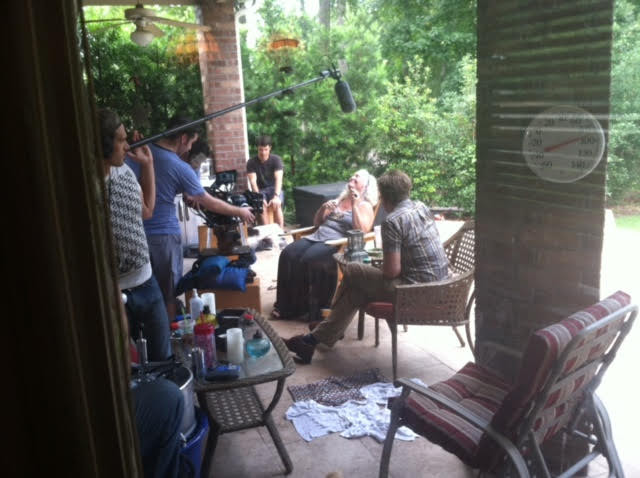 Over the past couple years in the industry I've heard of a lot of people talk about the comradery on a set, or how it was like a family, I can say this in total confidence that the set of Krisha was nothing short of a family, most of the cast and crew slept in Trey's parents house while we were filming. We all keep in touch, some of these people have even gone on to make other projects together. Filming lasted 9 days total, It was a beautiful whirlwind of actors and crew working together to make this passion project of Trey's come to life. It seemed effortless, I watched as Trey's inner child came out again, he would let the actors "play" and improv and come up with scenes and character interactions. It was a beautiful place to spend 9 days. I remember feeling a little sad on our last day of shooting, as if recreating those feelings over the past week was going to be impossible anywhere else. And it has been. When we wrapped we had an epic backyard wrap party filled with a bonfire, beer, and smores...true Texas style. We all hugged and laughed and told stories of certain days on set and told each other how awesome we all were. Come to find out this wouldn't be the last great times we had together.
This past March Krisha had been accepted into SXSW as a feature film this time. I was moved with excitement. I flew down to Austin to meet with my "family" and see this movie through to the end. No matter what happened I was grateful to be there with these, win or lose. After a few days a couple days of screenings, tragedy struck. Trey's best friend and producer Justin Chan's mom lost her life in a car accident. We had all just gotten out of another successful screening of the movie when I see Trey break down in tears. Krisha, his aunt, comes over and tells the group what had happened. Justin and his brother had left mid screening and drove back to Houston to be with their mom. Talk about highs and lows, as a group we had only known success amongst one another, and up until that moment I only knew each face as a celebratory one. Now our group had to get through tragedy.
That night was the award ceremony, I remember us all being crammed somewhere in the back of the theater unmoved by all the other awards being given out. I had no idea when or if our movie would be recognized, I imagine everyone was thinking about the same thing, Justin and his family, so there we sat, quietly taking it all in. The last category is announced, grand jury prize winner, I knew little of the other projects being nominated but had heard many different things such as, some had notable actors or others had massive budgets. A well dressed woman approaches the podium and starts talking about how she sees thousands of films and only a handful of times she starts watching one and in the first 5 minutes she says "where the fuck did this come from, that's what I thought when I saw Krisha for the first time." It seems like slow motion now but I looked back over at Trey and our entire cast and crew, stuffed in the back like misfits, erupted in cheer. As the woman went on to tell us what she loved about it we all high fived and hugged. We all head towards the stage one after the other, there must have been 20 of us up there. Trey takes the mic and tries to explain to the audience his "family" standing behind him and how much it meant to him, but only people that were on the stage could understand what he meant. It was a whirlwind of pictures and congratulations from others in the room, a feeling that couldn't possibly be recreated.
After the buzz died down, I was back in California starting over essentially, missing the Krisha team. In May I traveled up to Sacramento to do a landscaping job for my parents because as some of you starving actors know, we will do anything for a buck. In the middle of the heat and the dirt and rock, almost forgetting about the success of the film all together my phone vibrates, it's a text from Trey saying we got accepted into Cannes...the only American film being shown during critics week. Now I thought SXSW was it for us, how could it possibly get better than a grand jury award? Like many other times with this little film that could, it did get better, it got a whole lot better in fact, we got into Cannes. Just to bring everyone back down to earth here, our film was now in the most prestigious festival you can imagine, but I couldn't go...I didn't have enough money and our production wasn't big enough to float the entire bill. Most went, but some of us stayed behind but were very much there in spirit. Sometimes, no matter how big the project, as actors we have to keep moving forward, keep reminding ourselves that we can't stop trying after the success of one project. So, I stayed behind and finished my parents backyard and got myself back to LA as soon as I could.
Any advice I can give to others out there, we all have to keep at it everyday, even if your film goes to Cannes. Stay inspired, but don't fret when you feel like you aren't. This is a marathon, not a sprint. It's a rollercoaster of emotion, goods and bads and as you go through it all you have to remember that there's no rule book to this thing. Some days you'll love it, others you'll question your very existence.
I wanna say thank you to the people that worked on Krisha, it changed my life, enriched it in a way, filled a void that had seemed to had been missing. I hope to have a long career with these same people as this roller coaster continues.
And, just remember, you could be swinging a pick ax somewhere and that little project you worked on a year ago could get into Cannes! Ah, the journey of us creatives.
---
Like this blog post? Please share it on social media (Facebook, Twitter, LinkedIn, email etc) by using social media buttons at the top of the blog. Or post to your personal blog and anywhere else you feel appropriate. Thank you.
As always, Bryan is available for thoughts and remarks in the Comments section below...