In the February 2015 broadcast of On Stage With RB we were able to increase the number of viewers with our new system, and what a difference it made - there were some great questions! For over 2-1/2 hours RB had on 2 special guests, Tiffany Boyle, VP of Packaging & Sales at Ramo Law, and actor David Banks, who's appeared in numerous features and over 100 commercials. Once the floor opened up for questions, RB hit on everything from filmmaking, acting, distribution and more, and then finished with rapid-fire questions.

Tiffany Boyle went over what a distributer does for a company like Ramo Law, and what they are looking at in terms of the marketability of a property from budgets ranging between $50,000 to $40 million. She talked about the chicken and egg scenario for a project - do you attach talent first, or do you need money first? Tiffany touched on what to expect from both domestic vs. foreign territories. And, importantly, she talked about why "wearing multiple hats" for all people involved with an independent production is needed to contribute to the success of a film. Most shockingly, Tiffany shared her very concrete opinions about theatrical release, and it's probably not what you think. She went over the film festival strategy a good option for a film.

Actor David Banks talked a little bit about if it benefits a writer to take acting classes, or an actor taking writing classes. He lent advice for actors who are just starting out that you should work for free to start to build up your reel, but once you start to get established you should be compensated for what you are worth. He talked about how can you build up a cache by being reliable, showing up, and that you should never be a no-show. He talked about the importance of consuming yourself in the material and don't put it to the last minute. He talked about why it's good to get in good with 5-10 casting directors. He shared Bryan Cranston's best audition advice and how do you "work the room" so to speak, to make a Casting Director remember you.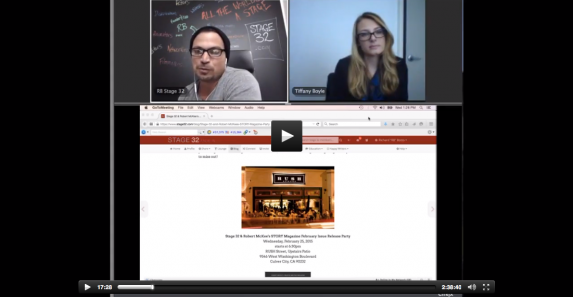 Some of the dozens of questions in the Q&A covered are:
Any Oscar surprises?
What festivals are worth entering?
What is the best resource for film festivals?
What do you think of going to firms that facilitate private capital raises as a strategy to get financing for feature films in the $5-$10 million range?
My feature film is coming in a $1.5 million raise, would you recommend Indiegogo?
Do you believe the group, as part of, crowd funding could ultimately determine most of the films brought to theaters in the year?
What the motivated you started Stage32?
Are old credits irrelevant?
Can you recommend a writing coach you would recommend for an actor that is interested in starting writing?
Is it smart as an actor to pay $1,000 for a workshop that might get me in front of a casting director?
I'm a composer who promoted a score before final approval of a director. Did I dilute the value?
What was it about CUT that attracted Stage 32 to distribute it as their first exclusive release? Is this indie film distribution option going to be permanent?
What are the keys to writing comedy for an international audience?
I'm an actor 2 years in and I still struggle with my reactions. If you don't have a partner how can I practice this?
When I send my headshots to a casting director how many should I send?
I just had a 4-episode principle roll on EMPIRE. I'd like to expand my roll, how do I go about doing that?
Where did you get your start?
Netflix / HBO what is your opinion on their programming?
What are the major features on how to use Stage 32?
How do I make my film about a niche audience? How do I crowdsource?
How can I make my feature less complex - producer from NZ, director from LA, lead actor is from the UK. Location is set in London. Post in Germany, and German sales agent. Is the EP the key piece to put this together?
I'm from Vancouver should apply to jobs elsewhere that I see on Stage 32?
I don't have a demo reel what can I do?
And so much more! The best part, all this knowledge, all this advice is FREE. Enjoy!
---
Like this blog post? Please share it on social media (Facebook, Twitter, LinkedIn, email etc) by using our shiny new social media buttons at the top of the blog. Or post to your personal blog and anywhere else you feel appropriate. Thank you.
As always, we welcome thoughts and remarks on ANY of the content above in the Comments section below...