"Wow, you work in the film industry, that must be amazing!!" I've lost count of the amount of times I've heard people say that when they find out what I do for a living.
Well, I have to admit in a lot of respects working in the film industry is indeed amazing. The numerous benefits & rewards can, without doubt, be life changing, but working on a Hollywood movie isn't always a glamorous affair. For starters, it's hard work and can at times be very stressful. It's not uncommon for long days to be followed by even longer nights. Your family life and health can suffer, in some cases irreparably, but that said, it's not all doom & gloom! If you can deal with the pitfalls, working in the movie business can provide you with a very creative, rewarding and fulfilling career. As you would expect, the film business has never been an easy industry to get into, but you shouldn't let that stop you trying! If you have the skills, determination, and talent you CAN make it happen.
On the back of its recent cinema release, I thought I would share my experience working on World War Z with theStage 32 community. Hopefully it will give you an insight into what it's really like to work on a major Hollywood blockbuster.
Sadly for contractual reasons I'm unable at this point to go into too much detail about my other role on the movie, but I can at least share my experience of one aspect of the movie's production.
Firstly, a little personal history. Over my 25+ years in the film & TV business I have worked as a cameraman, editor, production designer, prop maker, cinematographer and jobbing actor/extra. The universe has been very kind to me and I've been lucky enough to meet and work with a large number of incredible actors, directors and crew members on numerous films, TV shows and commercial productions, including Bond, Harry Potter, Star Wars, and WWZ to name but a few. Can I point out that I'm not in the slightest blasé about working in the film industry, and I fully appreciate how privileged I am. I've been lucky enough to meet some wonderfully talented, creative, spiritual and inspirational people over the years, a number of which have become very close friends.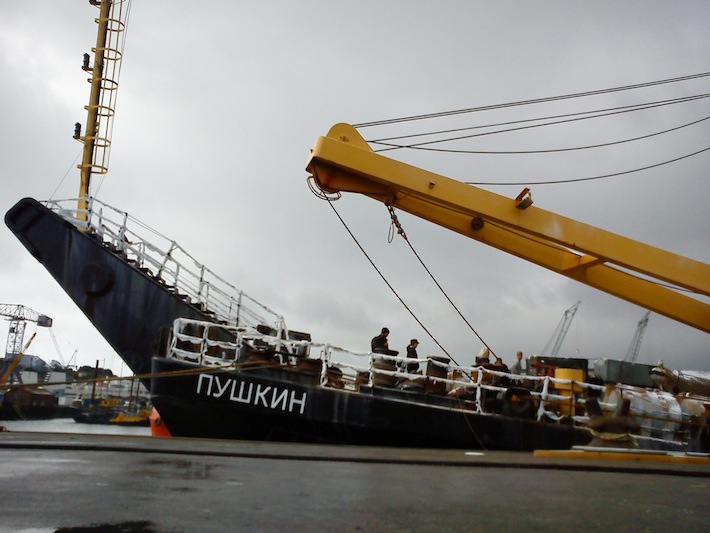 You may or may not be surprised to hear that even after all this time in the business, I still have my fan boy moments. Being a lifelong Star Wars fan, I'm embarrassed to admit that I completely fell to pieces when I had the opportunity to have a face to face chat with George Lucas, at Ealing Studios in London, while he was shooting additional scenes for Star Wars: Episode II. To say I was embarrassed by my inability to string several words together into a coherent sentence is an understatement! It didn't help that my timing wasn't exactly ideal, thanks in part to one of GL's most trusted and longstanding collaborators egging me on to seize my opportunity to have a chat with George. I have to say George was very good-humoured about my verbal meltdown. In all honesty I think he found my reaction to meeting him rather amusing.
I adore every aspect of the movie making process. In my normal day job as a film industry freelancer, I can normally be found working either on location behind a camera, or alternatively in front of a monitor at one of the UK's many post-production houses. Thanks to the experience I gained many moons ago while working at Jim Henson's Creature Shop, I'm also regularly offered gigs creating props, set dressing pieces and animatronic creatures for movies, TV dramas and commercials.
In addition to my day job, I occasionally get offered, and jump at the chance to appear in front of the camera, as either an extra, specialist extra or stunt performer. It's something I've always enjoyed doing, and enables me to see things from a different perspective. Stunt performance is a different subject altogether, and as you would imagine requires a lot of intensive training, but if you've never tried extra work before, I can highly recommend it. It's fun, relatively easy to get into and will give you an insight into what goes into making a movie.
In July 2011 I received an email from my agent asking if I would like to take part in the Brad Pitt movie adaptation of the 2006 Max Brooks novel World War Z.
To most this would be a no brainer, but at the time I was rushed off my feet with other projects, I therefore had to think long and hard about accepting the gig.
For a number of reasons, which will become clear later, I'm extremely pleased I accepted the job.
My initial involvement with World War Z was as a specialist extra. I spent 3 days at the bustling port of Falmouth on the west coast of the UK. Being a specialist extra meant that I would be used in some of the more complex and intensive scenes in the movie. As a bonus I was fortunate enough to be given a shared dressing room, which made a pleasant and welcome change. I soon found out that my dressing room was directly opposite Brad's. As I mentioned earlier, I've met and worked with a lots of actors over the years, and some can be difficult to work with. I met Brad Pitt on day 1 of filming and I have to say he is one of the most approachable, genuine and down to earth people I have ever met. He is not your typical Hollywood 'A' lister, who refuses to interact with other cast and crew members, far from it!! Brad spent a large majority of his spare time 'shooting the breeze' with the cast, crew and extras, which made the whole process a lot more pleasurable.
As with most large-scale productions, the crew, extras and stunt performers were based some distance away from the main shooting locations. Base camp, as it's commonly called, is always a hive of activity and the WWZ base camp was no exception. Dressers and make-up artists worked from 5am till 10pm most days getting the myriad of extras, cast and stunt performers ready for the day's shoot. Costume & make-up wise, shabby chic was almost without exception the order of the day. Transportation to & from the location was a logistical nightmare due to the large number of cast, crew and extras involved in the production. As a result mini buses were constantly travelling to and fro between base camp and Falmouth dockyard, where the principle shooting was taking place.
At Falmouth docks the extras were greeted by a number of press photographers and TV news crews, who were waiting outside the dock gates. Before leaving base camp every extra was given strict instructions not to speak to the waiting press and to cover their faces and costumes.
If you've never been on a film set or location shoot before, the on set hustle & bustle can at first be a bit overwhelming. Most film sets teeter between organized chaos and complete nuclear meltdown. Akin to a small bohemian village, a location shoot has every amenity and facility within walking distance. On WWZ, in addition to the normal catering facilities, Paramount had very kindly provided a candy stall, which had been erected on the dockside. As a guy with a very sweet tooth, it was a really nice touch.
After a short journey through the dockyard we were escorted to our ship, which would be our floating home for the next 3 days. Upon boarding the boat it became clear that no expense had been spared preparing the vessel for the movie. Fake snow covered the decks. Resin icicles were strategically hung from every handrail and the ship's distinctive admiralty markings had been replaced with Cyrillic lettering.
After a short delay we left Falmouth harbour and headed out to sea. The true scale of the movie very soon became apparent. As we reached deep-water, camera boats with Technocranes mounted on their decks raced to rendezvous with us. Helicopters with gyroscopic mounted cameras hovered overhead and safety boats circled our ship. Small pleasure craft constantly shadowed us, which on occasion caused safety concerns amongst the crew, but thankfully there were no incidents and the safety boat crews did a sterling job keeping everyone in the vicinity safe and sound
I don't want to be a party pooper and spoil the fun, so I won't go into detail about the scenes we actually shot while we were out at sea.
The shoot was smooth as silk, and director Marc Forster was very happy with the footage he got over the 3 days in Falmouth. Having said that everything didn't quite go completely to plan. Due to the large numbers of crew and extras involved in the production and the rather awkward nature of a floating set, the catering company were unable to get enough food to the boat we were filming on, on Day 1, so a few intrepid crew members got organised and grilled the local extras – for ideas on quick, transportable and filling local cuisine. They returned on Day 2 with boxes and boxes of Cornish pasties, which to the uninitiated is a traditional Cornish hand crimped flat pie.
Day 3 of filming was abruptly halted in mid flow by an aerial acrobatic display courtesy of the 'Red Arrows', who performed the display as part of Falmouth Week, which is an annual sailing event. The Red Arrows are the UK equivalent of the USAF 'Thunderbirds'.
Cast, crew and high ranking studio execs who were visiting the set paused and looked up in awe as we were all treated to an amazing, albeit slightly surreal spectacle. The movie-making machine ground to a sudden halt and the magic of Hollywood was temporarily overshadowed by the spectacle being played out above us.
From my perspective I was a little upset to discover that a large percentage of the scenes we shot on the first 2 days of the Falmouth shoot never made the final cut, but hey, you know what they say, that's show biz!
WWZ was shot in numerous locations around the globe over a 14 month period, with the majority of shooting taking place in the UK. Production budget estimates range from an eye watering $170,000,000 to an astronomical $400,000,000. The true cost of production is believed to be around the $200,000,000 mark.
World War Z has so far received mixed, but on the whole positive reviews, and seems to be doing well at the box office. Some people have bemoaned the fact that the film doesn't follow the book word for word, I consider this to be a null argument, due to the book being made up of a multitude of vignettes that frankly would have made the movie almost impossible to shoot.
In the current financial climate, an awful lot rests on the success of WWZ. If it isn't financially successful the knock-on effect could be very damaging and in my opinion could jeopardise the chances of future high budget Hollywood blockbusters getting green lit.
I found the whole experience very enjoyable, and came away from the World War Z shoot with a lot more than I had initially bargained for. Not only did I make a number of new friends, I was also lucky enough to meet my partner Natasha who was also working as an extra. 22 months on we have a 6 month old son called Oscar, (yes, he is indeed named after the Academy Award and no, we weren't at all tempted to call our son Brad!!), so as you can see amazing and life changing things can happen on the set of a major motion picture, all thanks to the magic of Hollywood!
---
Dave is available and welcomes remarks and questions in the Comments section below.