Happy Friday Creative Army!
As you know, back in March, we announced and launched Stage 32 Screenings to help filmmakers who were impacted by the cancellation of their live screenings at film festivals all over the world. Stage 32 Screenings is a unique platform that allows filmmakers to get their films seen to a concentrated audience including thousands of distributors, sales agents, producers, financiers, development execs, and more decision-makers here on Stage 32. We are currently screening films from SXSW, Tribeca, Telluride Mountainfilm Documentary Film Festival, BFI: Flare London LGBTIQ+, and Vail Film Festival.
Since the official launch of
Stage 32 Screenings
was announced in
Deadline Hollywood
, and with the help of our friends at Fintage House, we've invited over
6,000
of these decision-makers to create Stage 32 Screenings professional accounts. As a result, I'm thrilled to announce that
three registered films have already secured distribution, five more films are in distribution negotiations and over 100 feature and short film filmmakers have been set up on meetings with industry professionals including managers, agents, and producers all as a result of screening privately with Stage 32 Screenings
. We are currently screening over
140 feature films, short films, documentaries, and episodic pilots from the aforementioned festivals.
Now, we are beyond thrilled to add TV pilots and web series from our esteemed networking partner SeriesFest to Stage 32 Screenings!
These deserving content creators will now be privately screened to top industry decision-makers on Stage 32 Screenings. Some of these talented creators have elected to screen their shows publicly for the Stage 32 community to enjoy! Please support them by watching their shows
here
.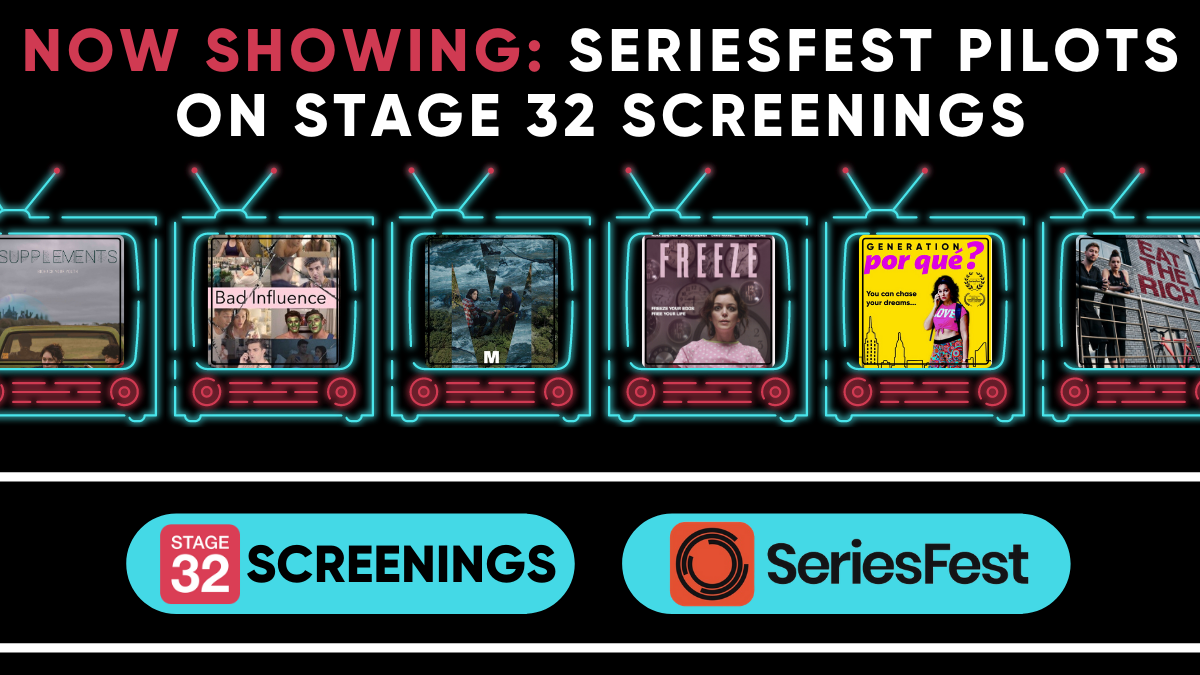 SeriesFest is a non-profit organization that champions and empowers artists at the forefront of episodic storytelling by providing year-round opportunities for creators and industry experts to connect, collaborate, and share stories, which inspire and impact global audiences.
For the past five years, SeriesFest has culminated each June in a highly-curated and celebrated Denver-based episodic festival and marketplace. This year, they hosted a truly innovative virtual festival over the course of seven days in June. Their #FestDifferently experience included panel discussions, workshops, competition screenings, television premieres, and exclusive sneak peeks. The 2020 Season Six SeriesFest lineup included appearances from Adrian Grenier, Jeffrey Katzenberg, Chiké Okonkwo, Chris Parnell, Dylan Baker, Ilana Glazer, Joel McHale, Kel Mitchell, Michael Michelle, Adam Ray, Mindy Sterling, Paul Scheer, Thomas Lennon, Rhea Seehorn, Rick Overton, and more.
"M", "Generation Por qué?", and "Freeze" 3 of the Amazing SeriesFest Pilots that are on Stage 32 Screenings
In addition to the amazing SeriesFest selections, there are a number of films from SXSW, Tribeca, Vail Film Festival, and Telluride Mountainfilm Documentary Film Festival selections available to watch publicly on Stage 32 Screenings. Support indie film and get inspired by watching these talented filmmakers work here.
This is only the beginning. We'll be announcing more films and festivals in the coming weeks. As always, if you know of any festivals which had to cancel their live screenings, please do have their connections reach out to us at screenings@stage32.com. We want to make sure all these filmmakers have their voices heard! Also, if you know any 2020 SeriesFest content creators, please share our Stage 32 Screenings initiative with them as well!
Finally, please do share this news with your creative friends and on your social media channels. Thanks for your support!
---
Let's hear your thoughts in the comments below!
Got an idea for a post? Or have you collaborated with Stage 32 members to create a project? We'd love to hear about it. Email Taylor at taylor@stage32.com and let's get your post published!

Please help support your fellow Stage 32ers by sharing this on social. Check out the social media buttons at the top to share on Instagram @stage32online , Twitter @stage32 , Facebook @stage32 , and LinkedIn @stage-32 .