It's that time again! Time for the February 2015 edition of
On Stage with RB
. Every month our Founder & CEO, RB, in a webinar setting goes over the best way to use Stage 32 to help your career. He brings on special guests who work in the industry, such as literary managers and development executives to offer advice to our community. Afterwards, he opens up the floor to you for a live Q&A session about anything and everything in the industry. Best of all, this is FREE, exclusively for Stage 32 members.
Last month's
On Stage with RB
was a nearly 3-hour affair and one for the record-books with special guests Rachel Chervin, Development Executive at Broadway Video (
Saturday Night Live, Portlandia
) and Conrad Sun, TV Literary Manager and Development Executive for Meridian Artists. Registration was in high demand, smashing all previous records. As you know, we normally open registration to the first 1,000 members. We almost always hit capacity, but in January we were well above, so this month we're opening up to the first 2,000 members.
---
Some On Stage with RB testimonials:
"With each webinar I find more and more useful information!" – J. Lee
"RB and the guests are very authentic in sharing their experience as to what does and what does not work in the industry." – L. Irwin
"FABULOUS!" – C. Gilbert
"I've listened every month since I joined Stage 32 and I find these On Stage webinars exceptionally informative and helpful." – G. Davis
"Informative and fun!" – M. Miller
"This was one of the best, if not THE BEST Webinar I have ever attended. Great People, Great Knowledge and extremely useful..... In the words of Arnold Schwartzneggar: I'll be back!!!" – N. Marocola
"Listening to your guests who have been doing it is invaluable and inspiring!" – J. Margo
"I love the information." – R. Kleinschmidt
"It was an amazing good time. Great energy. Lots of great questions and indispensable feedback. I can't wait for the next one." – M. Sky
---
We love bringing you the latest and greatest news, updates and discussions about the industry, and this month's
On Stage with RB
is no exception!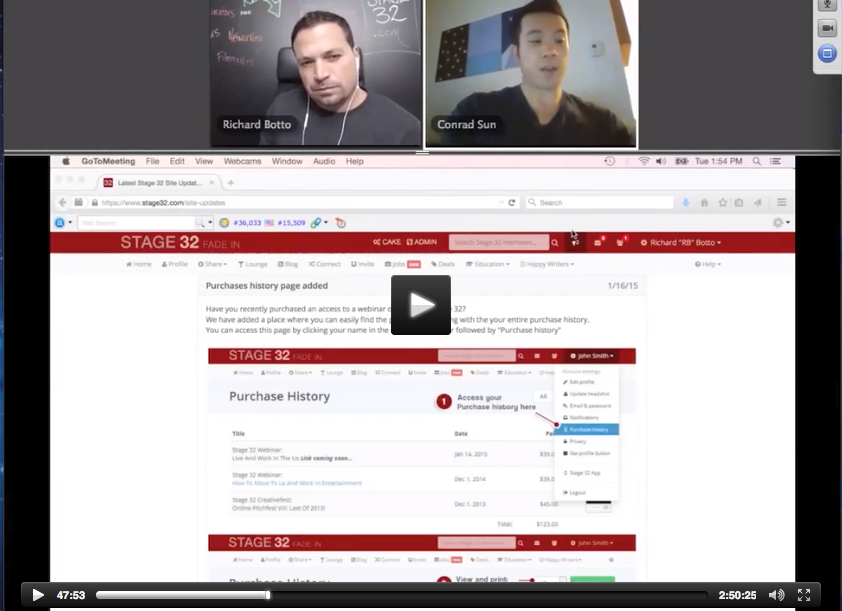 We encourage you to join this LIVE webinar, which takes place next Wednesday, February 25 at 1:00pm PST.
The first 2,000 members who register will have FREE access to the live webinar. If you cannot make it, don't worry, you'll still be able to see the webinar for free On Demand in our
EDUCATION
section, or you can always go back and view previous
On Stage with RB
broadcasts there too.
The first special guest will be announced shortly!
---
Like this blog post? Please share it on social media (Facebook, Twitter, LinkedIn, email etc) by using our social media buttons at the top of the blog. Or post to your personal blog and anywhere else you feel appropriate. Thank you.
As always, we welcome thoughts and remarks on ANY of the content above in the Comments section below...