In November's On Stage with RB, Stage 32 Founder & CEO, RB, had 1,000 Stage 32 members join him and special guests, 6-time Emmy winner Chris Boardman and VP of Development and Production at Rumble Films, Stephanie Wilcox.
For over 2-1/2 hours RB went over site features, talked about the industry and opened up the floor for questions from our community in our most epic On Stage with RB yet!
Our first guest up was Stage 32 member Chris Boardman, who is an Academy-nominated and Emmy winning composer/arranger. Chris received an Academy Award nomination for The Color Purple, 6 Emmy Awards and 13 Emmy nominations for work with such iconic artists as Quincy Jones, David Foster, Steven Speilberg, Julie Andrews, Shirley MacLaine, Barbara Streisand, Marvin Hamlisch and Josh Groban.
Chris Boardman, 6-time Emmy winner, Academy Award Nominee
Chris took time to talk about the evolution of the industry online and how creating and maintaining your personal brand on the web is crucial, especially with the global nature of the business. He discussed why it's important for creatives to understand one another's role and how it fits into the overall whole of a film, tv show or play. He and RB chatted about the old model of studios front-loading the financial risk of a film, which has evolved to a safer independent-friendly platform. In his words, it's opposite of "if you build it they will come". He talked about being clear about your direction, so you will know if you're achieving your goals. And, he summed up working with Steven Spielberg in one sentence.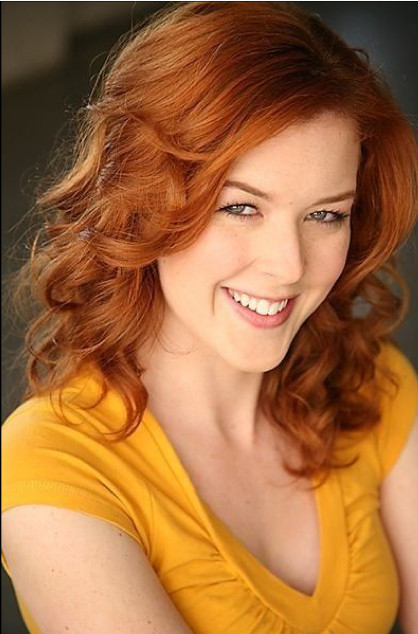 Stephanie Wilcox, VP of Production and Development at Rumble Films
Then, we heard from Stage 32 member Stephanie Wilcox who helped produce Whiplash (which won Sundance and speculation is that it may receive multiple Oscar nods) and Nightcrawler (one of the most successful indie films of 2014 which has garnered rave reviews.)

Stephanie spoke about her role in the developing Whiplash and the incredible behind-the-scenes look at how the film got made. She shared why making a short film to "test your chops" is really important for an executive to test a filmmaker's proof of concept. She broke down the foreign pre-sales model and how that works when a company like hers develops films. To that end, with global funding and audiences available, RB and Stephanie talked about what an exciting time it is for indie film and TV right now. She offered insight for writers and storytellers on how to take a specific idea and translate it into a bigger world. She discussed why you should find a story the audience can relate to and understand characters and the depth of human experience. And, most importanly, she talked about how crucial it is to be aware of the marketplace.
Then, RB opened it up the floor for questions, including:
What does Karma mean?
What separates Stage 32 from other companies offering actor's services?
Why is the connection search engine limited in its search abilities?
Is You Tube the best way to promote your work?
How can I benefit from Stage 32 as an actor, model, dancer, and singer?
I'm an actor looking to move from a small city to New York. What advice do you have for me before I move there?
What are the major differences between IMBD and Stage 32?
When a production company requests your script, how long does it take an exec to read the script and then consider or pass it?
How did you (RB) get started in the industry?
After 3 re-writes I just finished my first screenplay. What is your opinion on the abundance of contests out there? Is it a good way to get noticed/representation? Any specifics on which to enter?
I'm an Aussie producer and a lot of the content coming to me is oz centric, and a lot of the characters are Aussie. I'm concerned this will limit the audience significantly. How can I source projects that transcend this block?
How important do you think an agent is if you're not an actor, but in production (ie. costume designer, grip, director etc.?)
Why are post cards so important? Do casting directors actually look at them or toss them?
How do you run a crowdfunding campaign?
Does stage 32 work with crowdfunding or does stage 32 recommend various crowdfunding web sites?
How will the coming us demographic shift change the composition of tv programming in the future?
I've written a tv pilot that's gotten some industry interest, but no firm offer yet. What's a good next step to better my chances of getting a deal?
As a creative trying to break in, I also have to work a full time job outside of the industry to pay the bills. What is your advice to someone trying to balance both and break in to the industry?
What is your favorite movie quote of all time?
For an indie film, what times of funds do you need for festivals, P and A, and marketing?
Best trade way to find producers looking for our specific genre?
Do you think confidence comes with experience?
Can you talk about the pros and cons of having a mentor?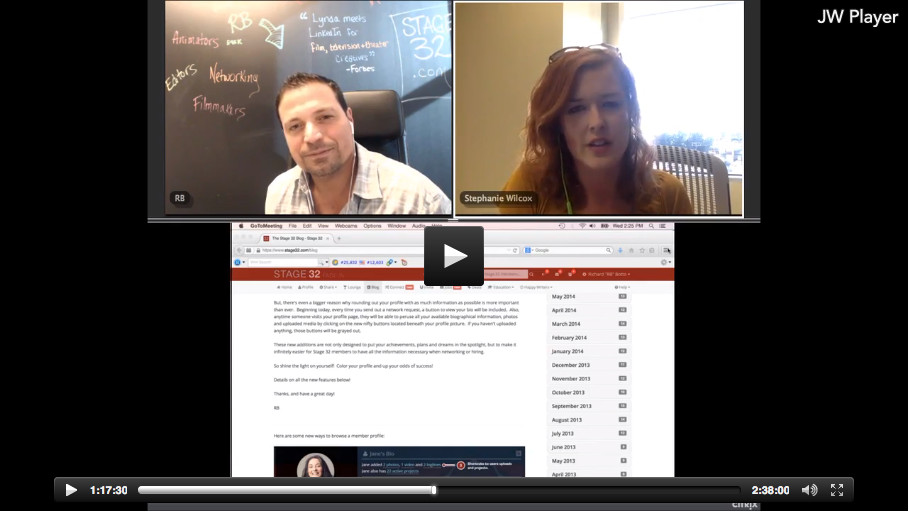 To watch On Stage with RB (November 2014) click here!
Remember, you can watch the webinar as often as you'd like. It's FREE! All we ask is that you remember to pay it forward and spread the word! Please share on Facebook, Twitter, LinkedIn, Pinterest, etc.
---
Like this blog post? Please share it on social media (Facebook, Twitter, LinkedIn, email etc) by using our social media buttons at the top of the blog. Or post to your personal blog and anywhere else you feel appropriate. Thank you.

As always, we welcome your remarks and questions in the Comments section below!