We are excited to let you know that the special Stage 32 3 Year Anniversary On Stage with RB is now available On Demand for FREE!
In a live and interective online webinar, Stage 32 Founder and CEO, RB spent 3 (yes, 3!) hours going over site features and answering your questions. In honor of Stage 32's 3 year anniversary, we had on
special guests Doug Richardson (screenwriter Die Hard 2, Bad Boys, Hostage) and Rex Pickett (writer, Sideways)
. RB opened up for Q&A with the community and talked about the following questions:
Where do you see Stage 32 5 years from now?
What is your least favorite movie? (list from members came from there!)
How can you connect with other genre creatives on Stage 32, or how can you connect with a specific discipline (ie. Producers)?
Advice on handling less-than-enthusastic representaion
How do I find a manger or agent?
What makes Stage 32 different from other sites?
Crowdfunding advice and examples
What steps do you take to become a location scout?
After working on network TV for 5 years, how do you transition to independent film?
How do you get your script in front of an actor?
How do you use Stage 32 to source job needs for global locations?
And much, much more...
Remember, you can watch the webinar as often as you'd like. It's FREE! All we ask is that you remember to pay it forward and spread the word! Please share on Facebook, Twitter, LinkedIn, Pinterest, etc.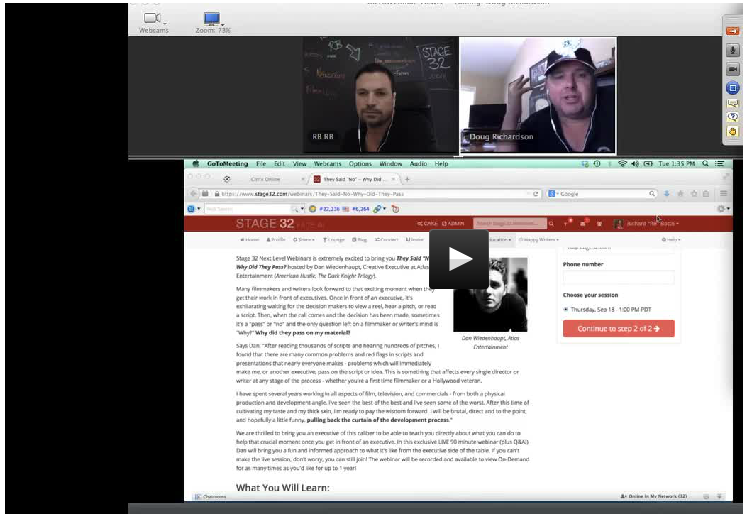 ---
Like this blog post? Please share it on social media (Facebook, Twitter, LinkedIn, email etc) by using our shiny new social media buttons at the top of the blog. Or post to your personal blog and anywhere else you feel appropriate. Thank you.
As always, we welcome your thoughts in the Comments section below...