How does a screenwriter keep his or her momentum after they've completed a script? What do they do next as they wait to hear from potential investors or executives?
RB answered this very question for Nicholas, a Stage 32 member and semifinalist in the Nicholl Screenwriting Fellowship Contest. Nicholas garnered attention after his win, and wanted to know what he should do with the handful of inquiries and read requests he got as a result.
RB gives it to him straight. And his response is true for all creatives who find themselves in the "waiting" period.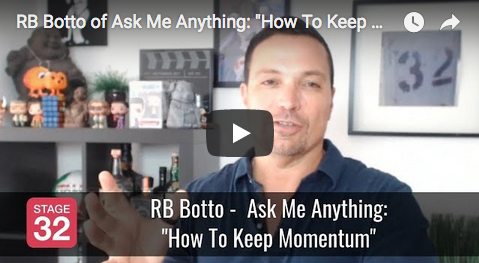 Remember, if you haven't subscribed to our YouTube page,
make sure you do so you don't miss any of our announcements.
---
Like this blog post? Please share it on social media (Facebook, Twitter, LinkedIn, email etc) by using social media buttons at the top of the blog. Or post to your personal blog and anywhere else you feel appropriate. Thank you.
As always, we welcome thoughts and remarks on ANY of the content above in the Comments section below...