I'm thrilled and honored to announce that Stage 32 has been chosen by Directors Guild of America Documentary Host Committee co-chairs, James Moll (Stage 32 member and Oscar, Emmy and Grammy Award winner) and Freida Mock (Oscar winner) to extend an invitation exclusively for Stage 32 members to attend the 67th Annual DGA Awards "Meet the Nominees" documentary filmmaker event on Friday, February 6, 2015 at 7pm PST. All the DGA Awards nominated documentary filmmakers will be in attendance and will take part in a panel discussing their terrific films and the art of documentary filmmaking.

The DGA Awards nominated filmmakers are as follows:
Dan Krauss (The Kill Team)
John Maloof, Charlie Siskel (Finding Vivian Maier)
Jesse Moss (The Overnighters)
Laura Poitras (Citizenfour)
Orlando von Einsiedel (Virunga)
Our extreme thanks to James and Freida for granting us and our community this exclusive opportunity.

Remember, there are a limited number of seats available for Stage 32 members. Availability is on a first-come first-serve basis.

Look forward to seeing you there!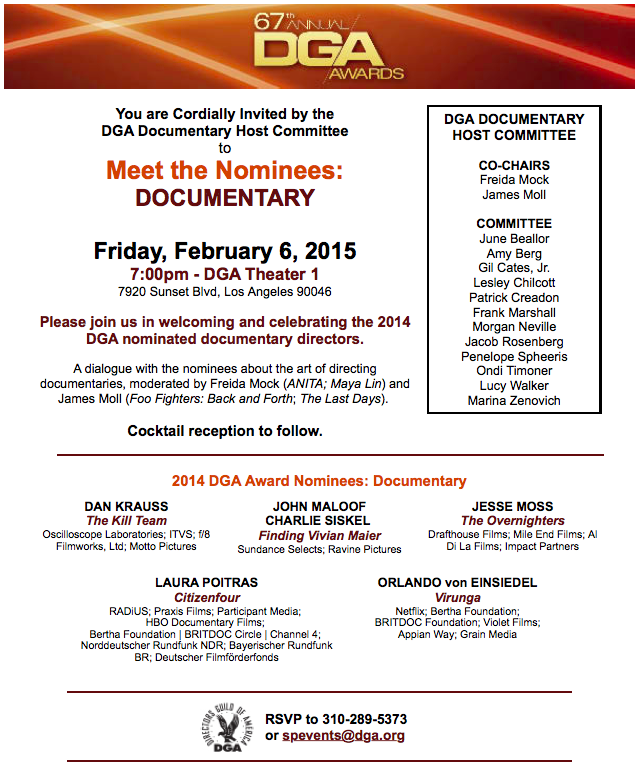 ---

Like this blog post? Please share it on social media (Facebook, Twitter, LinkedIn, email etc) by using our social media buttons at the top of the blog. Or post to your personal blog and anywhere else you feel appropriate. Thank you.
As always, please share your remarks and questions in the Comments section below!