Good morning Stage 32 family! Happy Monday! I hope you are all ready to kick off another exciting and action-packed week in creative greatness! To help get us rolling and inspired, I want to share an update from a dear friend in the Stage 32 community.
Late last year, I shared the story of Greg Mania, the winner of our 4th Annual Comedy Writing Contest, who wowed the judges with his hilarious semi-autobiographical pilot, "Mania". Greg is a very talented writer who has written an independently produced feature film and for publications including Vanity Fair and The Huffington Post, but had yet to break into Hollywood or the television market.
Stage 32 flew Greg out to LA for meetings with literary managers, producers, and television development executives. And as Greg said, " I'm meeting with eleven people whose combined IMDb credits could circumnavigate the moon. Not only that, they actually wanted to meet me, get to know me, and talk about my future…"
Prior to the meetings, Greg and the Stage 32 team strategized about how to make the most of the industry meetings. So, of course, when the inevitable question came up in every meeting - "So, what else are you working on?" - Greg had a fantastic answer.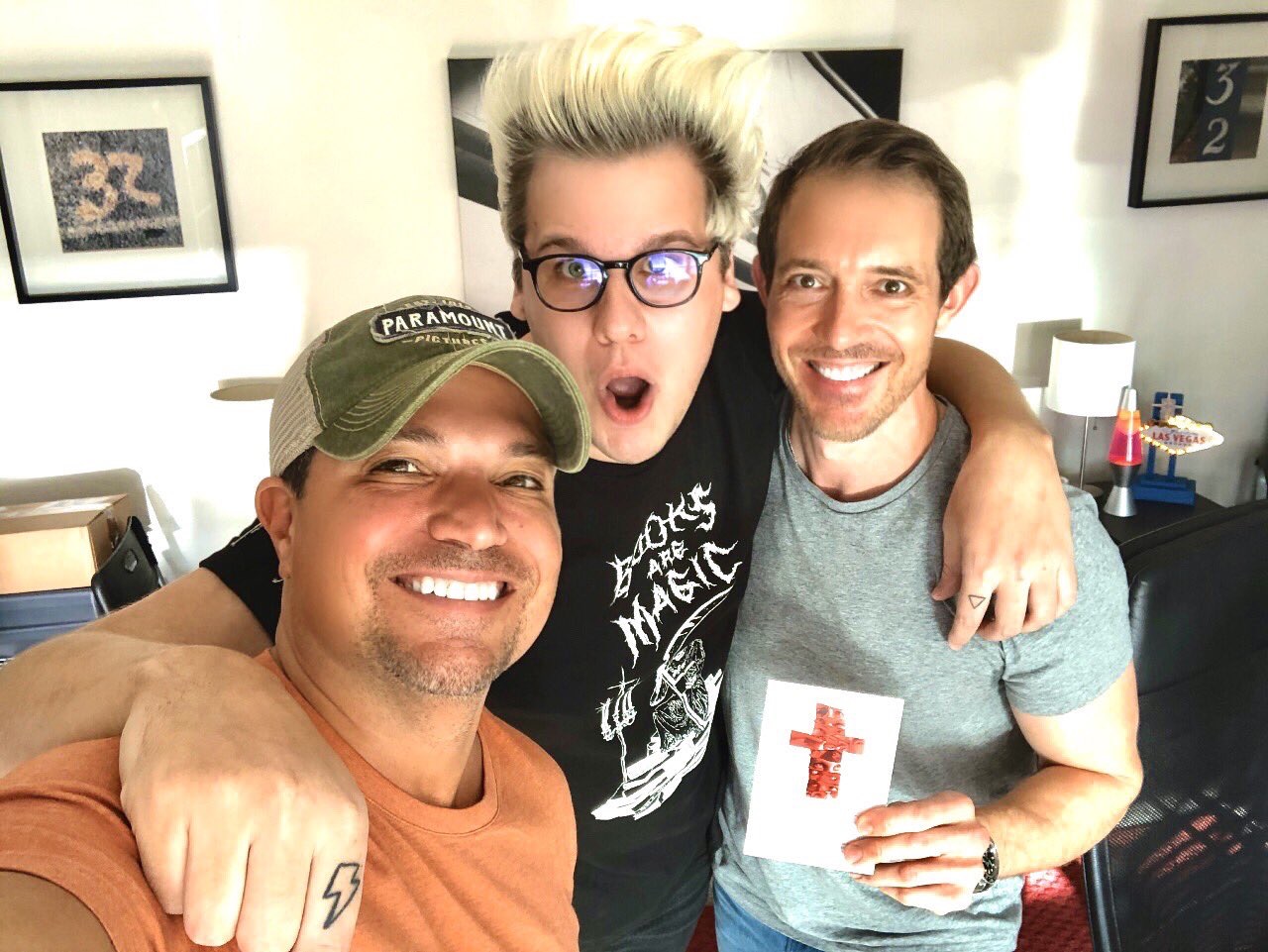 Greg Mania with Stage 32 CEO Rich "RB" Botto & Director of Script Services Jason Mirch
At the time, Greg was in the middle of revisions of a memoir, Born to be Public, which was to be published by Clash Books in Summer 2020. The story raised eyebrows and interest in every meeting and left everyone from lit managers to agents asking for an advance copy of the book. I loved hearing this from Greg, because it demonstrates a few valuable lessons about the industry and the craft.
The first is "ABC" - Always Be Creating. Greg constantly writes, contributes, and creates. He did not simply rest on his prize-winning television pilot, he had a book in the works and ideas for other series in his back pocket. As a writer, he is a factory not a warehouse.
Which brings us to the second lesson - while someone might help you get your foot in the door, it is your job to keep that door open. Greg is great in a room and was able to talk about his other projects and continue to generate interest in the work he is creating. That is a skill set that every writer and filmmaker must have in order to succeed in an incredibly competitive industry. Use your present opportunities to generate interest in future work.
"After meeting with people like Audrey Knox (The Cartel) and Molly Hurwitz and Joe Riley (Zero Gravity Management) and Spencer Robinson (Art/Work Entertainment), all of whom are known for championing comedic voices, each was able to map out a trajectory for me. Of course, everyone's approach was a little different, but the value of these insights were just the same."
Today, I am so pleased to report that Greg's book is officially available for pre-order through Clash Books. And as Greg promised, each one of the managers, producers, and executives he met while in LA will receive the copies of the book they requested.
We couldn't be more proud of Greg and the professional leaps he is taking. Stage 32 opened up the door for Greg to expose his next major work to an entirely new and different audience. It is exactly the way in which we love to support our members and their career ambitions. We're excited for this next chapter in Greg's life and look forward to supporting his creative goals, just as we support the creative endeavors of all our hard working members.
If you would like to support your fellow Stage 32 member, you can find the link to order a signed copy of Born to be Public by Greg Mania, by clicking here.
In the meantime, please join me in congratulating Greg again on taking the next big leap in his career!
---
Let's hear your thoughts in the comments below!
Got an idea for a post? Or have you collaborated with Stage 32 members to create a project? We'd love to hear about it. Email Taylor at taylor@stage32.com and let's get your post published!

Please help support your fellow Stage 32ers by sharing this on social. Check out the social media buttons at the top to share on Instagram @stage32online , Twitter @stage32 , Facebook @stage32 , and LinkedIn @stage-32 .