Next week Stage 32 descends upon Austin, Texas for the Austin Film Festival. We are proud to be involved with the 2018 Austin Film Festival for the 6th year in a row! We invite our Stage 32ers to come join us!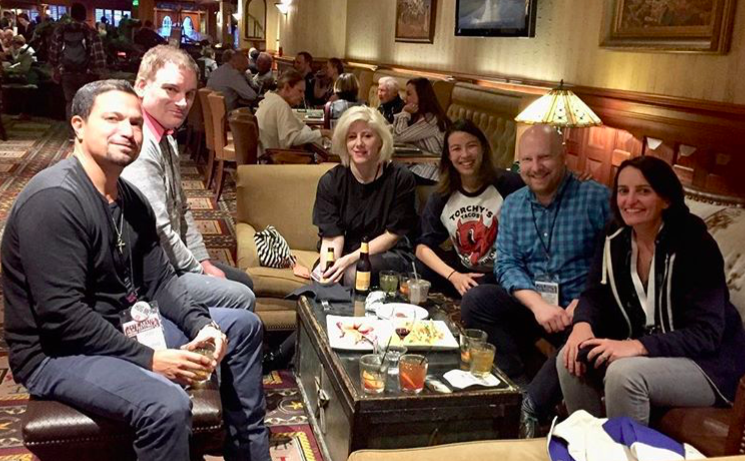 Screenwriters Richard Botto & Shane Black (both managed by David Greenblatt) chat with fellow Stage 32ers at the 2017 Austin Film Festival
Screenwriter's Meetup @ Austin Film Festival
We invite all our Stage 32 members for a fun night to celebrate the most creative community on the planet at the Handlebar Austin Rooftop Patio. This is a 21 and over event. This will be our 6th year hosting the Austin Film Festival's favorite event! Last year's event had hundreds of attendees and was the most talked about event during the Austin Film Festival. This year will be no different! Come meet Stage 32 Founder and CEO, Richard "RB" Botto and the Stage 32 Script Services team, Allen Roughton & Nick Assunto. You must RSVP - space is limited, so don't miss out!
Friday, October 26, 2018
7:00pm - 10:00pm
Handlebar Austin Rooftop
121 E. 5th St., Austin, Texas
Click here for more details and to RSVP to the Stage 32 Meetup!
Austin Film Festival Exhibit Hall: The Stage 32 Booth

Come meet Stage 32 Script Services team, Allen Roughton and Nick Assunto live and in person at the Stage 32 booth in the conference hall. We'll have plenty of fun prizes and giveaways for our Stage 32 members that come visit. You don't want to miss out!
Thursday, October 25, 2017
12:00pm - 5:30pm
Friday, October 26, 2017
8:30am - 5:30pm
Saturday, October 27, 2017
8:30am - 5:30pm
The Driskill Hotel, Exhibit Hall
604 Brazos St., Austin, Texas
Books Available at the Booth - Richard Botto's Crowdsourcing for Filmmakers (60+ 5 Star Reviews on Amazon)
We're excited that we will have copies of RB's best-selling book Crowdsourcing For Filmmakers at our booth! If you'd like some valuable information and case studies on how you can identify, engage and move an audience to help your career, this is the book for you! RB will be in Austin so this is a great way to pick up a copy of his book and get it signed by him.
So...who's going to join us in Austin!?
---
Like this blog post? Please share it on social media (Facebook, Twitter, LinkedIn, email etc) by using social media buttons at the top of the blog. Or post to your personal blog and anywhere else you feel appropriate. Thank you.
As always, we welcome thoughts and remarks on ANY of the content above in the Comments section below...