When we launched our screenwriting contest series, our goal wasn't just to give away some shiny prizes, it was to make sure our winners were given access to some of the top decision makers in Hollywood - the managers, agents and producers who could make a difference in their career.

The Stage 32 | The Blood List Search for New Blood Screenwriting Contest garnered major attention around Hollywood first with coverage in trade publications such as Deadline Hollywood, The Hollywood Reporter, and The Wrap. Our industry judges repeatedly told us the scripts that made the finals were some of the best they've ever read. Additionally, at a party held for our top 3 finalists in Hollywood, many industry insiders couldn't wait to speak to speak to the writers. Meetings were set for all three and now we're thrilled to announce that winner, Glenn Forbes, has signed with Infinity Management International.

Mission accomplished.

I couldn't be more thrilled for Glenn, a great guy and writer who puts an enormous amount of time and pride into his craft. It's a well deserved achievement and one that's cause for celebration. We're all pulling to see Glenn's script, The Wreckage, on the silver screen soon.

Here are some quotes and videos from all those involved in making this happen! Please feel free to offer Glenn congratulations in the Comments section below.

Go get em, Glenn!

RB
---

Glenn Forbes, Screenwriter

"As of yesterday I have signed with a management company in LA, Infinity Management Intl. I met them when Stage 32 flew me down to LA, and now the deal is done. This could be a game-changer for my career...and I'm so thrilled to have Stage 32/Happy Writers and The Blood List in my corner for this ride. I've been plugging away for more than 10 years to secure representation. So I guess my message is never give up on your dream, and surround yourself with people who can help you get there. For that, Stage 32 has become my lynchpin." -- Glenn Forbes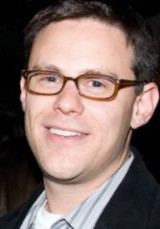 Seth Nagel, Manager/Producer at Infinity Management International

"We loved Glenn's suspenseful and tight script The Wreckage. Glenn's script twists and turns and in a unique and clever way, mixing classic genre tropes to create something fresh. Stage 32 Happy Writers has provided a way to connect with writers all over the world and I continue to find talent through their pitch sessions and contests. I have so far signed two writers from them!" – Seth Nagel, is a Manager/Producer at Infinity Management International. IMI reps established to up and coming filmmakers. Their clients have projects set up at places like MGM, The Weinstein Company and New Line Cinema.


Kailey Marsh, Manager | Producer, Creator of The Blood List

"I'm extremely happy for Glenn, who managed to write an incredible script that our judges and I loved. Getting signed is the first of many great things in his future!" - Kailey Marsh, Manager/Producer, Creator of the Blood List


As a reminder to all our screenwriter writers, our Stage 32 Happy Writers TV Writing Contest is still open for submissions, but the FINAL DEADLINE is December 15th. This is yet another contest which also offers access and exposure to industry bigs. All final judges work within the television realm and the winner will be flown to Hollywood for meetings with industry insiders. To learn more and to register, please click here: Stage 32 Happy Writers TV Contest

---
Like this blog post? Please share it on social media (Facebook, Twitter, LinkedIn, email etc) by using our social media buttons at the top of the blog. Or post to your personal blog and anywhere else you feel appropriate. Thank you.

As always, we welcome any of your remarks or questions in the Comments section below!