For me, filmmaking has always been about bringing people of different backgrounds and skill sets together to tell a story, to bring together a team of talented and driven individuals to create something far greater than and single person could alone. By bringing so many different talents together, from the acting ability of a performer to the visual eye of a cinematographer, and from the technical finesse of an editor to the creative mind of the director, one opens a door for true magic to happen.
In creating After the Fall, I faced several challenges as a director and screenwriter. When the idea for the film was just words on paper in my freshman year of high school, I knew that it would one day be something great. I could vividly see the film festival laurels, the beautiful cinematography, and the breathtaking performances. But at that time I felt that it was far above me, and that if I tried to make it right then, it wouldn't be the best it could be. So I shelved it until my senior year, never losing sight of the spectacular vision that had rooted itself into my mind.
To give some context, in the cinematic arts department at my high school - Douglas Anderson School of the Arts - the seniors face the task of pitching their ideas to the faculty and staff, where 3-4 are selected to receive department booster money and have one of the faculty members sign on as an executive producer to make the film. It was during this time that I pulled the script that would go on to become After the Fall down from its shelf, and pitch it. As I stood before the department chairs and pitched this big-budget blockbuster-level concept to a high school film program, I could feel something greater pushing me forward. That something big was going to come out of this.
After the Fall was chosen as one of the 4 to be made by the full backing of the department, and I hit the ground running. Never before had I felt more motivated or inspired to make a project the best that it could be. I spent many early mornings and late nights developing plans, finding the cast, assembling the right crew, and doing everything I possibly could to turn this vision into reality.
It was during this time that Stage 32 became an integral part of making this film come to life. I called on some connections I had made through the site several months prior to help out. One of my closest friends, Sarah McKinnon, whom I met via Stage 32, helped out in critiquing the script and helped to polish it to its finest state. I also searched for new talent and sent messages out to multiple individuals to see who may have had an interest in helping out. It was through this process that I met Cole Murray, who at the time was an actor attending the University of North Florida. We met at a Starbucks (as people starting up in this industry often do) to discuss the project and our respective goals as filmmakers. While we were waiting in line for our coffee, the man in front of us overheard some of our conversation, his name is Jeremiah Garza. Both of them would later go on to play roles in the creation of the film. Cole as a supporting actor and cinematographer, and Jeremiah as a Lost One.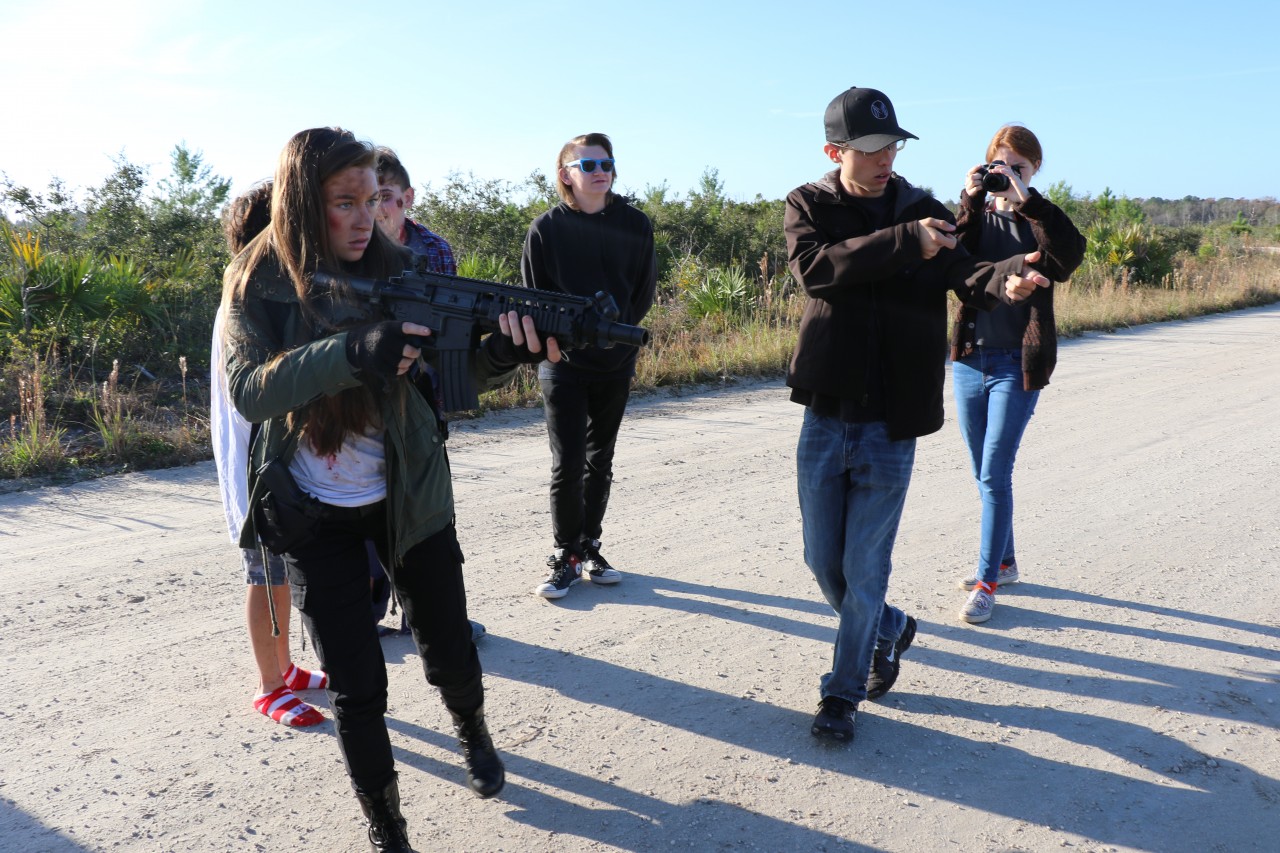 The night before we were set to commence production, I remember standing in the garage looking over all the equipment we had put together. I thought to myself for a moment, fully comprehending that I was about to shoot the biggest production of my 5 year career. But for the first time, I noticed that the looming fear of something going wrong was absent. Every film shoot that I had headed up prior to that night, for the full 24 hours before the shoot was set to begin I would be haunted by the fear of something going wrong. This time, I was calm. My mind was at peace.
Over the course of the next three days, my team and I, which consisted of nearly 25 cast and crew members on any given day, brought the zombie apocalypse to Jacksonville, Florida. From long before the sun rose to long after it had set, we made this film. Students, enthusiasts, volunteers, and even some professionals from across the city joined in to turn this vision into a reality. For the few days we were all on set, regardless of what someone's background was, regardless of their race, age, gender, political views, or favorite kind of pizza, everyone became family. We ate, drank (water and sodas), slept, sweat, and at times even bled (thanks to the makeup team) together. To this day, nearly a year after shooting the film, my experiences on that set remain as not just the best filmmaking experience, but as an experience that just felt right.
As we moved into post-production, Stage 32 kept proving to be a more-than-valuable asset. After the Fall's composer Zachary Phillips happened to be on Stage 32. Though we had known each other a little bit prior to finding the site, Stage 32 helped to make our creative and collaborative bond even stronger, as he would later ask me to direct a music video for his newest EP, which I would happily accept. Through Stage 32 I had become a frequent collaborator with Kevin Leon Martin Jr., a director who is now based in New York. He assisted me in answering some key post-production questions and continuously provided much-needed moral support during the post-production phase.
Fast forward a few months, to the final weeks of my senior year. I was watching the film on my laptop for what was probably the 100th time, after months and months that was the digital meat grinder of post-production, and I felt somewhere inside me that this was meant for something greater. I acquired the extra money, and shot it off to some pretty large film festivals, thinking to myself "Let's see how this fares with the big dogs."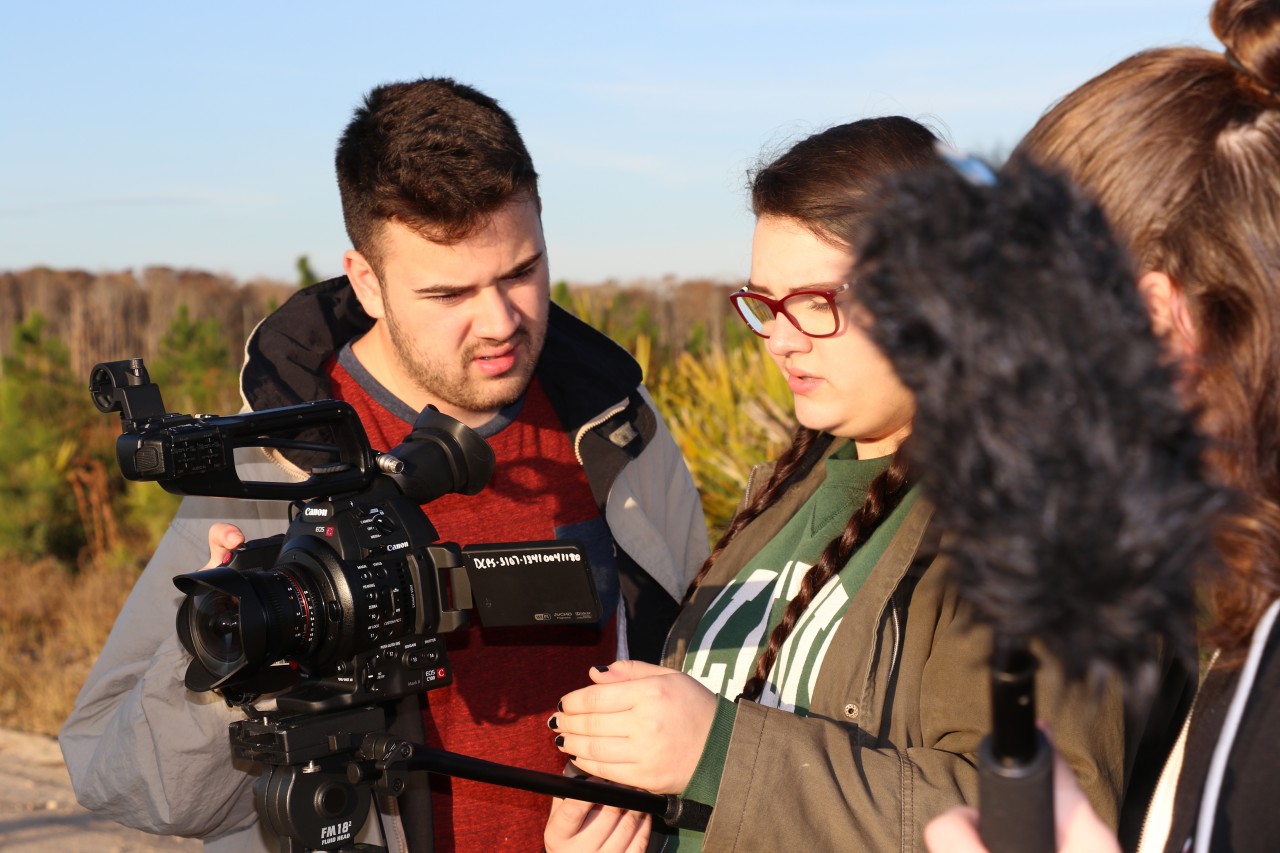 Before long, I was getting official notice selections left and right, and with every official selection, my confidence not just in the project, but in myself, grew. Then one morning I received an email saying that After the Fall was going to screen at the TCL Chinese theater in Los Angeles. You can ask my sister, who was the only one other than me in the house at the time, how loud I screamed. I was cooking my breakfast at the time and nearly ended up burning myself because I was so excited. I called all the lead people from the film to share the good news. Of course, in a world where everyone texts everything, a 9:00am phone call warrants some confused expressions. But when the big announcement made itself known, there was laughter and excitement all around.
Within a few minutes of getting done with the last phone call, I decided I would regret not going out to represent the film, and missing out on this golden opportunity. So now the challenge remained, "Where do we get the money?"
With no time to waste, I called together a meeting between those who were interested, and were willing to go the extra mile to make this trip a reality. Initially, the figures were daunting, to say the least. Our trip was expected to cost about $2000 per person, factoring in hotel, airfare, food, transportation, and all the other critical expenses that accompany cross-country travel. With two of the four of us about to go off to college, and get hit with that bill, and the others doing their best to make ends meet in their own lives, the image wasn't too bright. But there was a fire within all of us that would not be put out.
Immediately, many of us signed on to put in extra hours at work, and we put together a GoFundMe campaign to help make this happen. The four of us were determined, and we were not about to let something like money get in our way. The GoFundMe quickly gained momentum, as we put it out there on social media, sharing it with friends and family, who helped out by sharing it in return. It was truly a humbling experience and an honor to watch as donations trickled in both on the GoFundMe page and in the mail.
With only a week before our cross-country flight, we had amassed all the money we needed to make it happen. Through extra hours at work, support from over 15 donors, miraculous timing of a few scholarships, and the determination and drive to pursue our dreams, a trip to Hollywood was going to happen.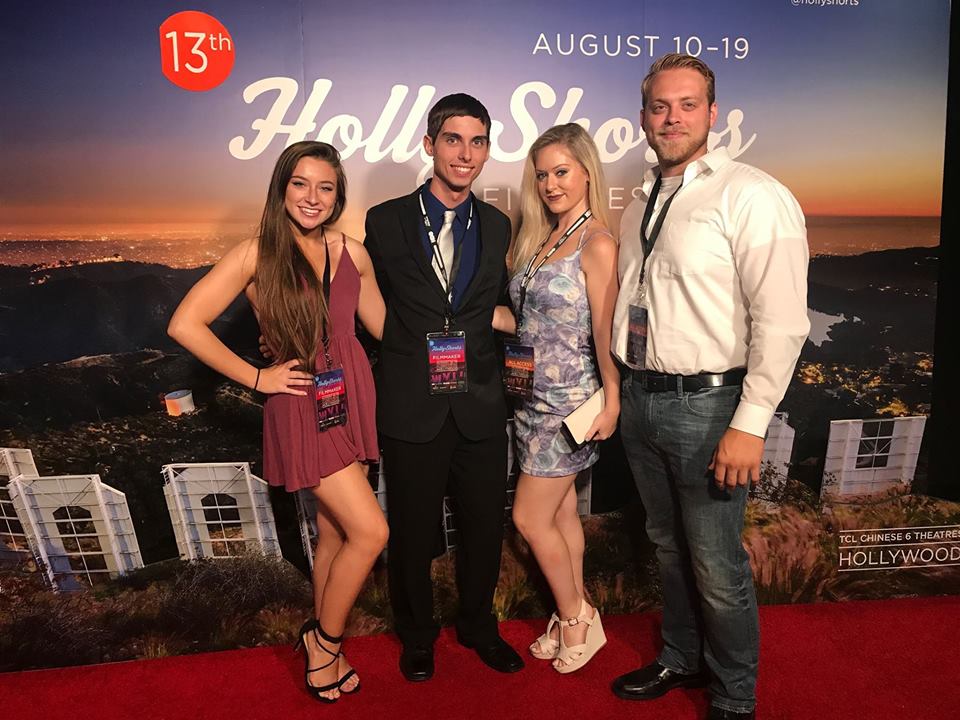 Our experience at the HollyShorts film festival was surreal, to say the least. To occupy the same space as some of Hollywood's greatest talent, and to not just share the screen, but talk to and meet with the many other talented and extraordinary filmmakers from across the world at the festival, continues to be both an honor and a dream come true for all of us. From the press events we were able to attend, to the panels we learned so much from, to the films we saw that further inspired us to pursue our craft, and to the amazing opportunity to meet Stage 32's own Richard Botto and Amanda Toney, the festival was truly the experience of a lifetime. I believe that I speak for everyone who represented After the Fall at HollyShorts when I say that the gratitude we have towards each and every one of our supporters is beyond words. This trip would not have happened had it not been for them. I am greatly honored by both the faculty and staff of HollyShorts for granting the film a place on screen. I am beyond thankful to the cast and crew who braved the forces of nature and brought the film to life, and I am immensely honored by Douglas Anderson School of the Arts for granting me the opportunity to build this film with them, and for their support in seeing the vision through to the end.
For the four of us that attended the festival, representing a film that serves as a testament to big dreams from small towns, we will hold the memories made out west in our hearts forever.
Thank you.
-Matthew Manyak
-Brittney Paul
-Breanna Shuman
-Jordan Jett
See After the Fall Here!
---
Please support the Stage 32 Blog and our guest bloggers by paying it forward and sharing their work through your other social media channels (see the share buttons above) or via email with those who you believe may benefit from the content.
Remember, everyone loves feedback! Please leave some thoughts, questions or musings in the Comments section below!