I'm thrilled to announce that we have partnered with Kailey Marsh, producer, literary manager, and founder and publisher of THE BLOOD LIST for the 1st annual Search For New Blood Screenwriting Contest.
Together, Stage 32 and The Blood List will present three unrepresented writers a chance to be featured in a section on The Blood List called "New Blood." In addition, the winner of the contest will be flown to Los Angeles to have a one-on-one meeting with Richard Potter, executive VP of production and development at Relativity Media, as well as chat with select judges.
The contest aims to have submitted screenplays read not only by industry professionals who are genre fans, but whose companies are actually involved in making genre films.
In addition to the unique opportunities for the top three undiscovered writers, The Search for New Blood brings an impressive array of judges including Adrienne Biddle (Unbroken Pictures), Nick Phillips (Revolver Picture Co.), Richard Potter (Relativity), Beth Bruckner (Millennium Films), Dave Neustadter (New Line Cinema), Trevor Macy (Intrepid Pictures), Adam Stone (Vertigo Entertainment), Ben Shields Catlin (IM Global), Ainsley Davies (Chris Morgan Prods.), Garrick Dion (Bold Films), Carly Norris (The Allegiance Theater), Adi Shankar (1984 Private Defense Contractors) and Bailey Conway (Automatik).
You've heard me say many times that Stage 32 is about networking, education, opportunity and access. By giving our remarkably talented writers the chance to be read by and our winners the guarantee of working directly with some of the biggest executives in the suspense, thriller, and horror genres, we are fulfilling our mission.
I'm thrilled to have the opportunity to work directly with Kailey, who I consider not only to be one of the most innovative minds working in the space, but also a person who has provided screenwriters a unique opportunity to be discovered by industry execs with THE BLOOD LIST.
My thanks to Jeff Sneider of The Wrap – the leading online industry trade – for his coverage. To read Jeff's article on The Wrap, please click here: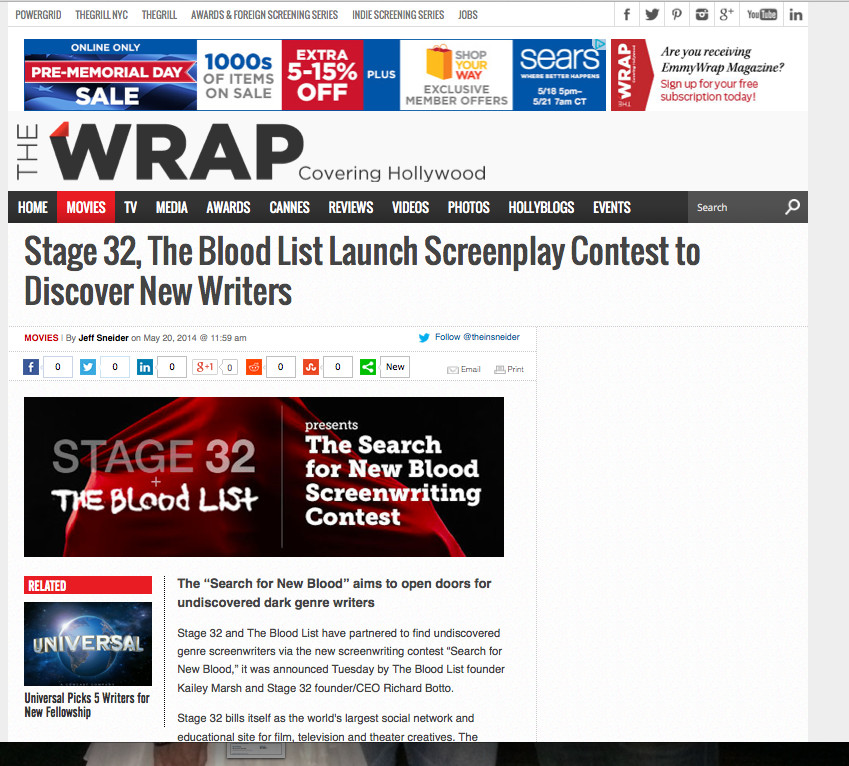 And to learn more about the contest, the judges, and the unique prizes, please click here.
Happy Writing!
RB
---
Please share this on social media (Facebook, Twitter, LinkedIn, etc), your personal blog, or anywhere else you feel appropriate.