Running this site has afforded me the opportunity to speak in front of creatives from all over the world about the power of networking, particularly online networking. Often, questions I'm asked during these teaching moments inform some of the blogs, resources, and classes we feature here on Stage 32. There's one question I'm asked most often which sparked some changes and new features we're introducing today.

That question is: What's the biggest mistake creatives make when it comes to social media?

Those of you who have been long-time members, perhaps heard me speak at a conference, or know me personally might assume that the answer to this question is being a passive participant. And, yes, that is a enormous mistake. But I'd list it as 1a on the Biggest Social Media Mistake list. For even if you are as active as possible, dedicate all your time to being as selfless as you can be, and promote yourself in a productive fashion, if have not handled the number 1 mistake on the list, you're doing yourself a disservice and handicapping yourself.
So what is this inexcusable blunder? It's something so simple...
Completing your profile.
You can be as charming as can be, post great material, ask all the right questions, but if a curious party goes to your profile and doesn't have any idea of where you've been and where you desire to go, the door shuts.

In fact, in a recent poll of 323 people who hired Stage 32 members for a project, over 91% listed "Full Profile" as the most important aspect when reviewing a prospect for a position. When asked "Would you contact someone who didn't provide basic information (bio, reel, loglines, resume, etc) in regard to a position you have available?), 3% answered "Yes".

Look at it another way...Would you go to a job interview or meeting in the "real" world without a resume, reel, or headshots? Of course not. And with more and more interviewing and hiring being done online than ever - and that percentage will only increase - it's imperative to color your profile with as much information as possible.

But, there's even a bigger reason why rounding out your profile with as much information as possible is more important than ever. Beginning today, every time you send out a network request, a button to view your bio will be included. Also, anytime someone visits your profile page, they will be able to peruse all your available biographical information, photos and uploaded media by clicking on the new nifty buttons located beneath your profile picture. If you haven't uploaded anything, those buttons will be grayed out.

These new additions are not only designed to put your achievements, plans and dreams in the spotlight, but to make it infinitely easier for Stage 32 members to have all the information necessary when networking or hiring.

So shine the light on yourself! Color your profile and up your odds of success!

Details on all the new features below!

Thanks, and have a great day!
RB
---
Here are some new ways to browse a member profile: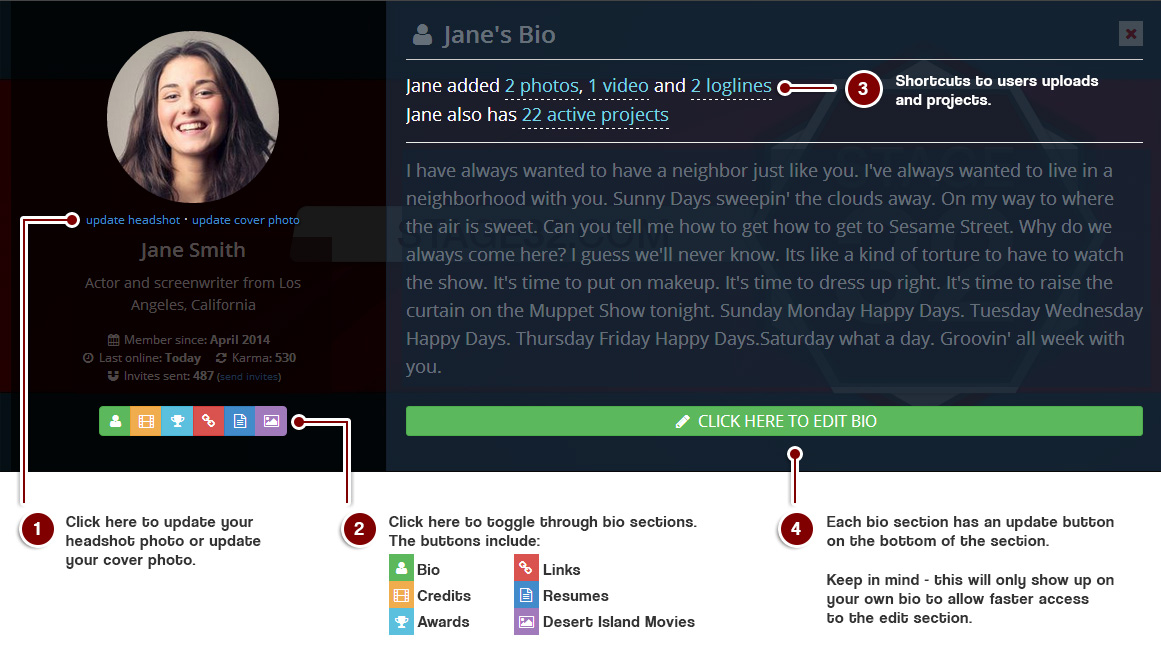 ---
Below we highlighted additions to the
Network Requests
page:

---
Like this blog post? Please share it on social media (Facebook, Twitter, LinkedIn, email etc) by using our social media buttons at the top of the blog. Or post to your personal blog and anywhere else you feel appropriate. Thank you.
As always, we welcome thoughts and remarks in the Comments section below...