In the winter of 2009, I drove down a desolate freeway in the middle of the Mojave Desert, and watched the sun slowly rise above the golden hills in the distance. I was overwhelmed with emotion.
It had been over three years since my first audition in Hollywood, and I had just finished shooting my first feature film. I made $100 a day to play a jerk/jock who gets brutally slaughtered in the funhouse of a carnival…and it was one of the best experiences of my life…hands down. And as I drove away from the set, or rather, the cheap motel they put us up in, I cried tears of joy. I laughed that giddy, wild, joyful laugh that makes one feel a bit loopy, a bit crazy. I smiled and cried and laughed and shook my head back and forth like a crazy person. (It's okay, I'm not crazy—I'm an actor!) I will never forget the cast and crew I met on that set and the incredible moments we shared.
Not only that, but…I was in a movie! A real movie!
After over three years of doing non-paid student films, I was in the big leagues. I was getting paid to act. I had made it! In fact, the producer and director really let us know we were on our way to the top. They said the film would be in theaters all over the nation, that we would be on the cover of magazines, that there would be interviews and red carpets—that we were part of something special. It was the typical: "I'm gonna make you a star, kid" type of thing.
But the next day, I vividly remember sitting in my small Echo Park apartment, eating a $2 chicken pot pie and wondering what was next.
That's show biz, I guess. One minute, you're getting a pickaxe to the head at a carnival in the middle of the desert, and the next minute you're alone on the couch eating Sodium Tripolyphosphate in a crusty pie (it's actually pretty good).
Tyler on set of Jack the Reaper
Fast-forward a bit and as life went on, the truth revealed itself. My first feature film wasn't in theaters; there were no magazine covers, or red carpets, or sipping champagne with Scorsese. But there were three more years of post-production or looking for distribution or whatever it is they were doing—three more years of waiting. As many of you actors know, the waiting game that is post-production can be especially tough because it is preceded by the exhilaration of being on set.
So what do you do while you wait?
You survive. You eat. You pay your bills. You stay in the game. Translation: hold on to that flexible actor side job and audition whenever you get the chance.
And in the meantime…
Submit yourself for auditions, find an agent, find a manager, change your agent, change your manager, get new headshots, update your reel, go to networking events, stay in class, hone your craft, join a script reading group, join a theater company, intern at a casting office, intern at an agency, find yourself, love yourself, find someone else, love someone else, question your existence, get a dog, read, go on a hike, volunteer, watch TV and films (research), people-watch (more research), phone a friend, try harder, stop trying so hard, meditate, drink a beer, pray, go insane, find God, follow Buddha, trust your Higher Power, fail, fail, fail, audition, audition, audition, write, create your own material, audition, audition, audition, fall, fall, fall, get up, get up, get up, complain a little, celebrate a lot…do something!!!
And when the film or show or web series is released, don't be surprised if it is just OK. I mean, I loved that horror film in the desert—Jack the Reaper. But, in reality, it was just OK. It was really fun to watch and show to my family and friends, and some of them liked it. And I liked it. But the end result was what you would expect from a low budget horror film. It was average.
I'm not complaining though, because it wasn't about the result. I got to act! I got to live in an amazing, fun, imaginary world with all these other artists and collaborators and create a story!
I especially remember one specific moment. We were doing a scene in a school bus, and I remember doing it again and again and again. It was 4am. I should have been tired and frustrated because there were so many shooting difficulties and we just couldn't get it right. But there was a distinct moment during one of the takes when everything felt perfect. It was as if time ceased to exist, and the future and past disappeared. I was just there and in it. I was exactly where I wanted to be.
In that moment, I realized what a challenge it had been to get to this point. I had made sacrifices and structured my life around getting to this moment. I had pursued side jobs with audition-flexibility instead of secure careers with higher pay; I had pissed off bosses and received bad looks from girls when answering the "what do you do" question with "I'm trying to be an actor". But at that very moment, I had never been so sure of anything in my entire life. I knew that after this was over, I would keep going. I would keep auditioning no matter how many times they said no; I would keep working to become a better actor; I would keep making sacrifices; I would keep risking failure—I would dedicate my life to being back here…here in this profound, fulfilling moment that made me feel so alive. I was happy.
I was in another film about a year later. I made the same $100 a day, but this time, I was the lead. Once again, it was one of the best experiences of my life. It was amazing! Twelve-hour days on set for a month—it was a dream come true! And I had that same type of indescribable moment. Actually, I had several of them.
But once again, after the martini shot, I was back on the couch, contemplating my next move. Once again, it was tough going from that on-set high to that on-couch low. Once again, I waited a long, long time for the film to go through post-production. In fact, I'm still waiting…we're looking at four years of post. And when this film is released, I have no idea how the outcome will be perceived. It could be amazing or it could be the opposite, or could be very average.
Last October, after eight years of being in the game, I shot my first TV role. I got to be the bad guy and fly a plane and blow myself up. Once again, it was one of the most amazing experiences of my life. My day on set was incredible and this time, the result was incredible as well! I loved it, and my family and friends loved it, and viewers all over the country loved it! But it's art, and art is subjective, so I guarantee some people didn't love it. NCIS is a top rated show that a lot of people enjoy, but a lot of people dislike it as well. But who cares, I got to have that special moment and no one can ever take that away from me.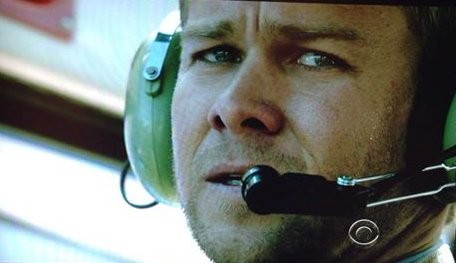 Tyler as Terence Keith on NCIS
I believe it is that indefinable moment that bonds all of us together as actors and artists and even humans. Art provides a magical moment that opens us up. It is that moment that allows us to feel the value of our own existence and our interconnectedness. If people are able to view that moment on screen or on stage and be vulnerable to that moment, they may be able to experience something profound. That moment may inspire them to feel, to question, to live, to love…or maybe it will just make them laugh. Maybe they will just have a lot of fun!
As an actor, it's easy to get caught up in what you don't have yet or obsess about when post-production will be over. It's easy to get caught up in the reviews and the comments. It's easy to catch yourself focusing solely on the outward results. I definitely find myself going down that road from time to time. But to remind yourself why it's all worth it, celebrate those moments that make you feel alive while immersed in your art.
It takes courage to be an actor. We risk failure and embarrassment and vulnerability and pain and lots of rejection but we do it for those special moments—those moments that we get to share with others! Don't get me wrong, I really want to be on a TV series and be a movie star and make tons of money—I won't apologize for wanting that! But even if that does happen, I have a feeling the money and fame will be secondary to something much more—something you can experience in a tiny stage in a tiny theater or on an ultra-low budget film set or in an acting class or anywhere there are other people willing to share and create and give something of themselves.
Thanks for reading my ramblings. I look forward to connecting, collaborating and creating with you. Let's make some awesome moments!
Tyler is available for remakrs and questions in the Comments section below.
---
About Tyler Wolfe
Tyler Wolfe is a California-born actor who began his career at University of Michigan, where he was involved with his first student film. In Los Angeles, Tyler has studied at several acting schools and credits his success to his amazing teachers including Cindy Hogan, Ken Garcia, Jeffery Brooks, Anthony Meindl, Lindsay Frame and Gary Imhoff.
Tyler's noteworthy film and television credits include the role of Terence Keith on the hit CBS show NCIS, and lead roles in the horror film Jack the Reaper and the romantic thriller Symphoria. He recently took the stage to play Del in Cowboy Versus Samurai for the Artists at Play theatre collective, and had a supporting role in the short film, I See. Tyler enjoys writing and producing short films with his brother, Ryan Wolfe. Their latest project was a short film entitled Headshot.