Some of you might know me as the president of Stage 32 Happy Writers. And some of you know me as a confidante, mentor and (most importantly) a friend. Being a part of Stage 32 for the past couple of years has been an amazing experience. The global reach Stage 32 has is obviously impressive. But the love and care that each staff member has for the community is even more impressive. We have seen literally hundreds of success stories for filmmakers from all over the world and it's so inspiring seeing creatives making art.

Through the years at Stage 32 Happy Writers, I have befriended writers and have even hired some to write a project or come on to produce their already scripted projects. My specialty would be to attach more established producers or top level directors to a script to give it traction.



Seven months ago, I connected with a writer / producer through Stage 32, Alex Zoppa. I passed his play, Pied Pipers Of The Lower East Side along to an executive friend, Stephanie Wilcox at Rumble Films, to get her opinion on it. Almost immediately, she told me she loved it and that I had to produce this play (I recently confided in her that I was anxious to get involved in theater, a passion we both share). All these thoughts ran through my head. "I'm too busy", "I could never find the time", and "maybe I'll think about it and do it later this year."
But then I realized that I was giving the same excuses I've called out so many writers for doing in the past. I decided to stop it and practice what I preach. I agreed to produce Pied Pipers Of The Lower East Side. From development meetings, casting, scouting theaters, to promoting the show, I've confirmed once again that creating art is one of the most fulfilling experiences in life. And most importantly, that "being too busy" is never an option.
"Being too busy is never an option." - Joey Tuccio

My producing partners and I started the process by going over scheduling and budget. This would be the foundation of our journey and almost every decision we made went back to these two things. This is a very complex, high energy show, so casting was super important. We posted on Stage 32 and started selecting our candidates. We only had a couple of weekends to cast this baby and we had actors flying in from New York and Canada to audition. We needed actors comfortable with their body and sexuality. The play takes place in New York City on one of the hottest days so these characters wore little to no clothes. Not only that but…well, let's just say the play pushes the envelope in every way. We struggled filling one role and, the day before rehearsals started, we found the perfect actress! We literally only had 30 minutes left in our audition room and she walked in and brought down the house (or small audition room).

Rehearsals commenced and the train was moving! That left my producer partners and I only 4 weeks to get the set, form an LLC, hire a crew, build the set, make press releases and promote. This is when you make yourself a martini and go through your iPhone and Facebook friends and start calling in/redeeming favors. One thing I was quickly reminded of is how important it is to make relationships with people in every field (not just entertainment). Don't burn bridges. You never know when you'll need a manager at a restaurant to help with promotion! We found our flats for the set in a far away land called Vernon. The only way to get there was to sit in traffic for 2 hours (each way). We had our expert crew waiting for the flats. Our transporter said they would be there at promptly 5 PM.

At 8 PM (!!!), the flats finally arrived, but the clock was ticking! We needed to build and paint the set quickly so the actors could start using the space to rehearse. Luckily, we had two of the best set designers working with us and the set was quickly built. On Easter Sunday, we were in the process of putting final touches on the painting.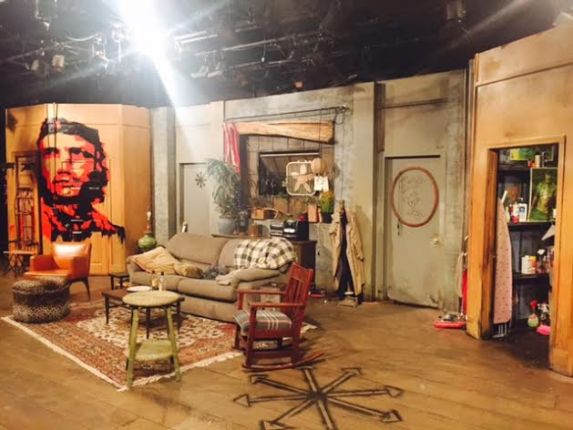 Producing a play is like writing a script. Every leg of the journey must be tight and well structured. Otherwise it could all fall apart.

I'm so thrilled to be producing Pied Pipers Of The Lower East Side and bringing it to Los Angeles. During an earlier run in NYC, the play was critically hailed by Variety, The New York Times, The New Yorker, Time Out and BackStage to name a few. "Hilarious", "Endlessly admirable" and a "Rollercoaster-ride, in-your-face, freewheeling theatrical experience" are just a few excerpts from some of the top publications. And we are honored to have the original director directing this run.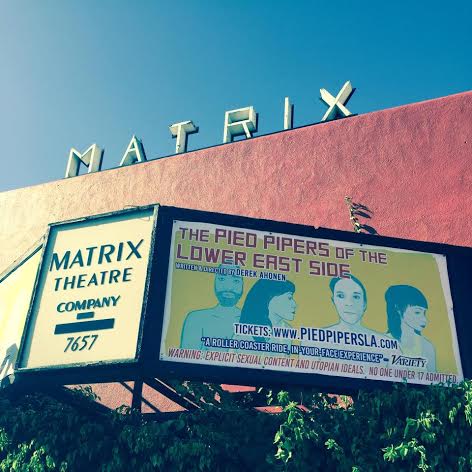 It's time to share this show with a new audience. This is an experience all about never conforming and always embracing your passion and truth, and I can't help but feel I was always meant to produce it. I hope everyone comes away from the show feeling more comfortable embracing their own oddities.

"A roller coaster ride, in-your-face theatrical experience!" - Variety

I would love to have you come to the opening performances on April 24th and 25th. Some of our favorite executives will be attending, so after each performance, stay around and mingle with other Stage 32 members and executives at our after parties. And I promise, this is a show you will never forget! There's a reason why people have seen this show multiple times…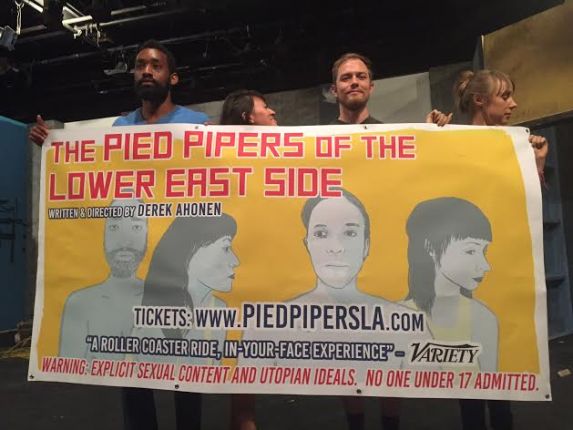 ---
Please visit our site and I can't wait to see you all opening night! Pied Pipers Of The Lower East Side opens Friday, April 17th, and runs through Sunday, May 24th. The regular performance schedule will be Thursday, Friday and Saturday at 8:00 PM and Sunday at 7:00 PM.

Stage 32 meetups take place April 24 (RSVP here), and April 25 (RSVP here).

Seats may be purchased online at www.PiedPipersLA.com. The Matrix Theatre is located at 7657 Melrose Ave, Los Angeles, CA 90046.

---
Like this blog post? Please share it on social media (Facebook, Twitter, LinkedIn, email etc) by using our shiny new social media buttons at the top of the blog. Or post to your personal blog and anywhere else you feel appropriate. Thank you.
As always, Joey is available for questions and remarks in the Comments section below...