The moment has arrived and we couldn't be more excited. It's time to announce the winners of the 2017 Stage 32 Feature Contest! We had a record number of submissions and the remarkable writing this year did not make the job of our judges easy. In short, the competition was fierce and many scripts were in competition until the very end. Ultimately, 3 fantastic scripts have made it to the top....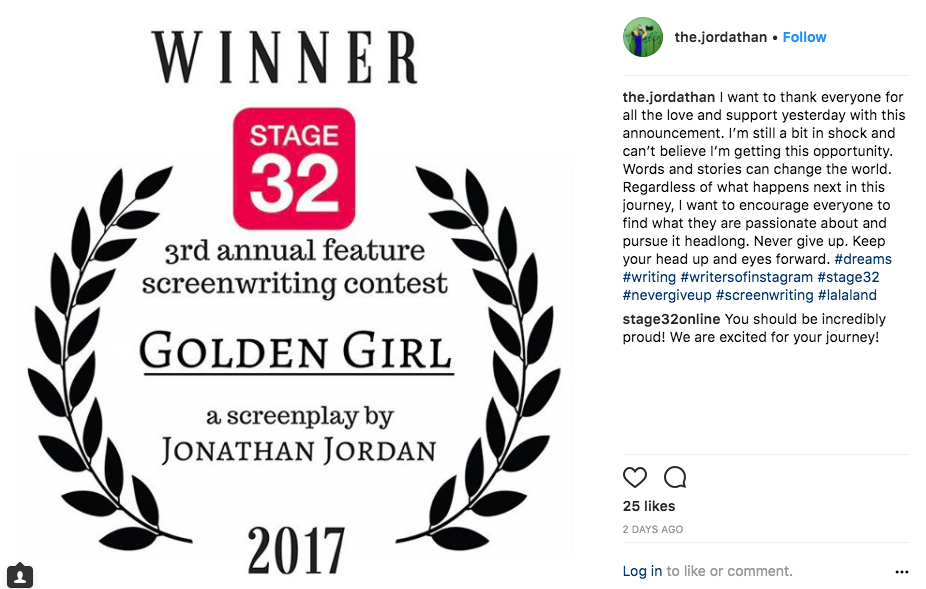 Congratulations to our 2017 Feature Screenwriting Contest Winners!
Grand Prize Winner
GOLDEN GIRL
A collegiate track coach has her world upended when her former teammate admits to using performance-enhancing drugs. As she fights to keep her Olympic gold medal and professional reputation, her life is further complicated by the discovery of a troubled teenage girl with uncanny natural talent.
2nd Place
THE CON ARTIST'S DAUGHTER
A teen hacker tracks down her long-lost mom, hoping to rebuild their relationship, but instead uncovers dark truths and gets drawn into the dangerous world of confidence work.
3rd Place
DEVIL TO PAY
A mysterious music box leads to a terrifying situation for a couple going through a divorce and their increasingly disturbed young daughter, who insists she has a new "friend" no one else can see….
Congratulations to our 2017 Feature Screenwriting Contest Finalists!
THE RECLAMATION OF JIM CLEVE
A resourceful young woman pursues her wayward lover only to become entangled with notorious outlaws in a wild gold-mining territory of Idaho.
RAVENOUS
A man brings his new girlfriend on a camping trip with all his best friends, not knowing she's a cannibal.
DARKNESS AWAITS
A naturopathic doctor moves his mentally ill wife away from the city and they get lost in the wild. Trapped in the dark woods the couple is forced to survive against a posse of decaying freaks.
BRISTOL
David A. Flores
A broken young woman takes her dying grandfather on a roadtrip through an apocalyptic wasteland, in order to reach his childhood home before he passes.
BREAKAWAY HEART
A Vietnamese refugee barely escapes Vietnam after the fall of Saigon and embarks on a life-long journey to find her father. Based on true events, her story is one of hope and survival.
THE VALEDICTORIAN
NEMESIS
When a black-ops mercenary squad raids an ancient Sumerian temple, a routine hostage rescue becomes a battle for survival as terrorist explosives unleash a demonic creature. Now, the soldiers must join forces with a rescued archaeologist to defeat the creature before it can escape the temple and endanger the world.
---
Like this blog post? Please share it on social media (Facebook, Twitter, LinkedIn, email etc) by using social media buttons at the top of the blog. Or post to your personal blog and anywhere else you feel appropriate. Thank you.
As always, we welcome thoughts and remarks on ANY of the content above in the Comments section below...