TIFF has come and gone. Masses of Canadians attend the festival which is what gives it such a special atmosphere. In Cannes, only the industry attends the festival; the public sets up chairs and ladders to watch the red carpet galas and take pictures. But here the public is as much a part of the festival as the industry.
The industry action which consists of buying and selling of film rights takes place at the Hyatt Hotel on King Street West. The screenings for both public and industry are down the street at the TIFF Bell Lighthouse and around the corner at the Scotia Multiplex. The dense mingling of public and industry at these venues and on the street itself which is closed to traffic for the first weekend but is open to pedestrians, photo-op spots, food trucks creates a festive bevvy of activity to the city.
The Audience Award winning film is usually a prediction for an Oscar Award. And this year it went to Three Billboards Outside Ebbing, Missouri. Directed by Martin McDonagh, it stars Frances McDormand as a woman who takes a stand against the police after her daughter is murdered and months later no arrests have been made. The rest of the cast includes Woody Harrelson, Sam Rockwell (who, along with McDormand, is already receiving awards season buzz), John Hawkes, and Peter Dinklage.
When I went to the Press & Industry screening of a fascinating dark comedy from Germany called The Captain (Der Hauptmann) by director Robert Schwentke (The Time Traveler's Wife, RED, Insurgent) who returned to his native Germany to make this stunning black-and-white war movie following a young German deserter as he tries to survive in the deadly final days of the Third Reich, I sat next to a Torontonian, a "civilian" as we industryites call them. Our conversation began, as most do, with what were our favorite films, and we both agreed on Guillermo del Toro's The Shape of Water (which won the Golden Lion at the Venice Film Festival before coming to Toronto) as the film that completely transported us into an alternative universe. She described the proud experience of the North American premiere at the Elgin Theater telling me that the had been shot in Toronto and that the heroine's apartment was above the very movie theater in which the audience was watching the film. The surreal juxtaposition supplemented this awe-inspiring and other-worldly fairy tale, set against the backdrop of Cold War era America circa 1962 where, in the hidden high-security government laboratory where she works, lonely Elisa (Sally Hawkins) is trapped in a life of isolation until she and co-worker Zelda (Octavia Spencer) discover a secret classified experiment. This is surely be winning another Oscar for del Toro whose film Pan's Labyrinth won three Oscars in 2007. As he says, "…what I love about fairy tales: they tell the truth, not organized politics, religion or economics. Those things destroy the soul. That is the idea from Pan's Labyrinth and it surfaces in Hellboy (2004) and, to some degree, in all my films…I think that 50 percent of the narrative is in the audio/visual storytelling. I happen to think the screenplay is the basis of it all, but definitely doesn't tell the movie. It tells the story, but doesn't tell the whole movie. A lot of the narrative is in the details."
Fox Searchlight will release the film worldwide between late September and early December as it will two other films at Toronto, Three Billboards Outside Ebbing, Missouri which everyone raved about and Battle of the Sexes, which, if it plays wells at the box-office next week could just make it to the Oscars as well.
Film Stars Don't Die In Liverpool
Speaking of the public audience, my friend Andrea who is VP of Development at Steven Spielberg's Amblin' Entertainment was at TIFF taking notes on films, scripts and directors discussed how when she watched Film Stars Don't Die in Liverpool starring Annette Bening as the actress Gloria Grahame and Jamie Bell as her young lover, the woman next to her could not stop crying. Though I am not a sentimental type myself in the movies, I had to admit to her that I too teared up on that one. Perhaps Annette Bening will finally win an Oscar for this (as did Gloria Grahame in 1952 for The Bad and the Beautiful). Bening has already been nominated twice, first for American Beauty and then for Being Julia. Sony Pictures Classics will release theatrically in the U.S. It already has theatrical distribution in Canada, Switzerland, Portugal, Spain, and South Korea but will have more in the coming days.
One of the big surprises, because it got so little advance publicity, was The Wife, adapted from the best-selling novel by Meg Wolitzer. The Wife follows a woman who decides to leave her husband on the night of his Nobel Prize presentation in order to pursue her own writing aspirations. Star Glenn Close who has never won an Oscar, though the 70-year-old actor has accrued six nominations during her illustrious career gives a stellar performance as does Jonathan Pryce playing her husband, with support from Christian Slater, Harry Lloyd and Max Irons as well as her real-life daughter, Annie Stark.
Rachel Weitz
The last film I could see before leaving was Chilean director Sebastian Lelio's Disobedience starring Rachel McAdams and Rachel Weitz as two Jewish women, one returning to her Orthodox Jewish home in London after the death of her rabbi father and the other as her childhood friend who has married the third childhood friend who is to replace the deceased as the community's rabbi. This film shook me to the core in its depiction of choice and freedom as found within the confines of this narrow community. Coming out of the film, I was able to say hi to my festival director friends, Ivan Giroud of the Havana International Film Festival and Pituka Ortega-Heilbron of the Panama Film Festival which parenthetically was founded by one of the three founders of the Toronto Film Festival in 1976 (Henk van der Kolk along with Dusty Cohl and Bill Marshall whose recent death was noted on the screen opener for every film at this year's festival).
The main cultural trend this year was women – films by and films about them – though the awards do not reflect this. Of the 86 feature films (34%) by women directors that screened in Toronto, I saw many, but three have kept me thinking about how the feminine, or even how "Woman" itself is defined by all societies. With the usual disclaimer "I am not a feminist but…", I am becoming increasingly convinced that men are overly covetous of wealth and resources (speaking generally of "those men" in power) and included in their materialistic extremes is a push backward in time to define women "as they were" in the days, not so long ago, when they did not have much to say about their status.
Women in the movies in Toronto take daring leaps to change the circumstances of their lives. The Shape of Water, Audience Winner Three Billboards, the first runner up for the Audience Award I, Tanya, Battle of the Sexes about Billie Jean King, another high performing sports competition film, actor Greta Gerwig's debut film Lady Bird, Molly's Game, Woman Walks Ahead, Disobediance, Disappearance, The Wife, Princesita and the Berlinale Golden Bear Winner On Body and Soul are all about women breaking out of the molds which society has borne them into and against which they must act to realize themselves as authentic human beings.
Also trending at TIFF were films about the Arab and Middle Eastern world. There were 26 films by or about the Middle East and North Africa, more than any other group outside of U.S. and Europe. Foxtrot and The Insult both dealt with the absurdities of thoughtlessly harmful words and actions. In addition, the crazy portrait of a fanatic cleric in Sheik Jackson and Iraqi-Dutch filmmaker Mohamed Al-Daradji's return to the Festival with The Journey, a tense and provocative political meditation about a would-be suicide bomber and the fast-talking train station attendant she takes hostage, Looking for Oum Kulthum, a film-within-a film about one of the most famous singers of the Middle East, and Wajib about a father and his estranged son coming together to hand deliver his daughter's wedding invitations to each guest as per local Palestinian custom, all together covered completely different aspects of the Middle Eastern world.
The Insult
However, the films drawing most of the attention were those which look to be headed to the Academy Awards and these tended to be more entertainment-oriented. Perhaps audiences today crave escape rather than prolonging the seriousness of our on-the-edge-of-destruction of environment, peace and well-being, though the Audience Winner did center around a woman's quest for justice and Stronger, with David Gordon Green (George Washington, All the Real Girls) directing Jake Gyllenhaal and Tatiana Maslany in the adaptation of the memoir by Jeff Bauman, recounting his struggles to adjust after losing his legs in the Boston Marathon bombing; and Breathe, with actor Andy Serkis' making his directorial debut telling the inspiring true love story of Robin and Diana Cavendish (Andrew Garfield and Claire Foy), an adventurous couple who refuse to give up in the face of a devastating disease, both slated for theatrical releases soon are also Oscar material.
Call Me By Your Name
Other festival favorites looking like Academy Award nominees if not winners were Aaron Sorkin's "zippy, full-bodied poker thriller" Molly's Game, the much lauded I, Tonya in which low-class if also world-class ice skater Tonya Harding fascinates, especially as portrayed by a "gripping and forceful" Margot Robbie. (Quotes are from Vanity Fair). Call Me by Your Name, my absolute favorite at Sundance, was given life anew in Toronto and claimed the second runner up status as the audience favorite.
I, Tonya
Darren Aronofsky's Mother! had a mixed reception, and its box-office fate when it opened wide this weekend might diminish more about its prospects though Aronofsky's past surprise hit a la Black Swan did go a long way in its time.
And the winners are:
People's Choice Awards
Three Billboards Outside Ebbing, Missouri is now in prime position to compete at the Academy Awards. Directed by Martin McDonagh, Three Billboard, it stars Frances McDormand as a woman who takes a stand against the police after her daughter is murdered and months later no arrests have been made. The rest of the cast includes Woody Harrelson, Sam Rockwell (who, along with McDormand, is already receiving awards season buzz), John Hawkes, and Peter Dinklage.
The first runner-up at the awards was Craig Gillespie's Tonya Harding biopic I, Tonya starring Margo Robbie as the figure skater who was banned for life from the U.S. Figure Skating Association for her association with a violent attack on fellow Olympian Nancy Kerrigan.
The second runner-up is Call Me By Your Name, Luca Guadagnino's adaptation of André Aciman's novel about a summer romance between a young man (Timothée Chalamet) and an academic (Armie Hammer) who comes to stay at his parents' villa in Italy.
People's Choice Midnight Madness Award
Winner: Joseph Kahn's Bodied
First runner-up: James Franco's The Disaster Artist
Second runner-up: Craig Zahler's Brawl in Cell Block 99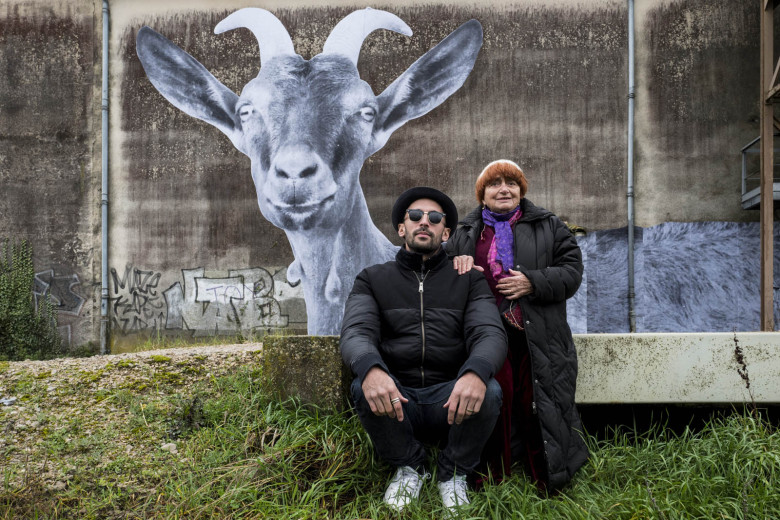 Faces Places
People's Choice Documentary Award
Winner: Agnès Varda and JR's Faces Places
First runner-up: Jennifer Baichwal and Nicholas De Pencier's Long Time Running
Second runner-up: Morgan Spurlock's Super Size Me 2: Holy Chicken!
Best Canadian First Feature Film
Winner: Wayne Wapeemukwa's Luk' Luk'l
Honorable mention: Sadaf Foroughi's Ava
Best Canadian Feature Film
Winner: Robin Aubert's Les Affamés
Honorable mention: Simon Lavoie's The Little Girl Who Was Too Fond of Matches
Short Cuts Award for Best Canadian Film
Marc-Antoine Lemire's Pre-Drink
Short Cuts Award for Best Short Film
Winner: Niki Lindroth von Bahr's The Burden (Min Börda)
Honorable mentions: Matthew Rankin's (Tesla: Lumière Mondiale) and Qiu Yang's Xiao Cheng Er Yue (A Gentle Night).
International Critics' Prize (FIPRESCI Prize) - Special Presentations
Manuel Martín Cuenca's The Motive (El Autor)
International Critics' Prize (FIPRESCI Prize) – Discovery
Sadaf Foroughi's Ava
NETPAC
Huang Hsin-Yao's The Great Buddha+
Jury remarks: "…for depicting the interface between the haves and have-nots, with black humor and style, innovating with noir in representing the social reality of Taiwan today."
Sweet Country
Toronto Platform Prize
For its third year of the Platform program of director's cinema, the Festival welcomed an international jury comprised of Chen Kaige, Malgorzata Szumowska, and Wim Wenders.
Warwick Thornton's Sweet Country
About Sydney Levine
Sydney Levine is an executive of longstanding in the international film business. She is a writer of the popular blog on international film business, SydneysBuzz which also has run on Indiewire, IMDbPro and IMDb since 2008 when Amazon acquired her twenty-five year old company FilmFinders. In 1988 Sydney created FilmFinders, the industry's first database of worldwide features used by distributors, sales agents and festival programmers acquiring features. It became industry standard for organizing and tracking the rights-buying activities of the film business and was adopted by the Cannes Marché and developed into what today is called Cinando.com. She and her partner, Peter Belsito continue to provide consulting and strategic planning for producers, national film organizations and other educational initiatives in international film business at Cannes, Toronto, Sundance, Germany's Deutsche Welle Akademie, Talents in Berlin, Sarajevo, and Guadalajara, EICTV the international film school in Los Banos, Cuba, Chapman University, UCLA Extension, Vilnius University, et. al. She organizes, moderates and participates in panel discussions on the international film business, as well as producing white paper research and reports on SydneysBuzz.com. Sydney works with the markets in Cannes and Berlin in administering buyers' data for North America, Latin America and Asia and gives tours of the market to newcomers. She opens the Cannes Shorts Corner with a presentation on The International Film Circuit for shorts. She has currently completed a book about Latin American Film Financing published in Spanish by the Guadalajara University Press. The English version on the Iberoamerican Film Business will be published in the fall of 2016.
---
Like this blog post? Please share it on social media (Facebook, Twitter, LinkedIn, email etc) by using social media buttons at the top of the blog. Or post to your personal blog and anywhere else you feel appropriate. Thank you.
As always, we welcome thoughts and remarks on ANY of the content above in the Comments section below...