The average filmmaker would not put any thought into their CV or Resume design. Some of you reading this might even believe that having a CV as a filmmaker is a waste of time. Regardless of your film industry job role, it's likely at the start of your career you will be asked to provide a CV when applying to jobs. The majority of jobs advertised online (and on Stage 32) ask to provide a CV and cover letter attachment.

My name is Amy Clarke and I previously worked in the UK film industry as a Script Supervisor. I also have a blog Amy Clarke Films where I post weekly advice on film careers. This following post will break down the Film Crew CV design. Going through the design, layout order, and frequently asked questions. These rules apply to all film crew job roles worldwide. Having a tidy, correctly organized CV will help tremendously when applying to film jobs.




Your Name and Job Title
At the top of your CV write your name and job title. Your name should be clear and stand out amongst the other text. Your job title should be the same job title that you are applying for. This is where filmmakers make their first big CV mistake – they list multiple job roles on their CV.

For example, if you are applying for a job as a Production Assistant, you should not have the job titles Director, Writer, Editor on the top of your CV.

Even if you aspire to Write and Direct, your current job role should be the same as the job you are applying for. Placing the incorrect job title at the top of your CV could confuse the producer hiring you, it can also make you look unprofessional. If you have a specific job you role you are applying to within film, then use this one job role at the top of your CV.

Alternatively, keep all of your job titles within the same department (e.g. Camera Assistant and Steadicam Operator). If you have two completely different job titles it is best to create two separate CVs. Often filmmakers have a professional job title and work within a higher crew position on lower budgets.

(e.g. a Camera Assistant might work as a DOP on lower budgets to practice stepping up into this role - in this scenario, it would be best to create two CVs).

Videographer – Some filmmakers fall under the job title videographer. This is a general freelance role, shooting and editing a variety of footage and is not a role used within a film crew. If you are a general filmmaker like this, use the title Videographer or self-shooter and make sure to focus your film crew job role if applying to professional film set productions.

Student – If you are a student or newcomer to the industry make this clear via the profile description and cover letter. Apply for jobs suitable to your current skill level and place this entry-level job title at the top of your CV.




Your Contact Details
Next on your CV should be your contact details (ideally a phone number and email address). You can also place your base location on this line. Depending on your job role you may include a showreel or website portfolio link. Consider if your job role requires a link. Visual job roles such as DOP, Art Director or CGI Artist would heavily benefit from a link to a personal website or showreel.

Often student filmmakers make the mistake of thinking that they need a showreel too. If you are applying to a nonvisual job role then you don't need a showreel link on your CV. For example, a Runner does not need a showreel link on their CV, neither does a Camera Assistant.

Try to always keep everything relevant to the job role you are applying for.


Your Personal Brief
Below your name, job title and contact details write your personal brief. Keep this short and simple, three – five lines max. This is a short paragraph letting whom ever is hiring you know a little more about you. Mention your experience, your expertise, and goals. Here is an example of a simple profile brief from a former student applying for a Runner job role -

" I have had an interest in filmmaking from an early age. I studied film production at university and I am hoping to gain more experience working on professional film sets. I have a full clean driving license and I am able to start work immediately."

Your Film Credits
Your credits should be listed neatly down your CV. Ideally the most recent at the top however it is also good practice to put your most relevant and impressive credits at the top too. For example, if applying for a DOP job role (but you previously have a range of Camera Assistant credits) place your DOP job credits first and the Camera Assistant credits after.
Sections – if needed you can divide your credits up by sections for example - feature film credits in one line, Commercial credits in another.

Student Credits – You can place student / your own credits on your CV but place these under a title e.g. 'student productions' its also good practice to avoid labelling your job role as a Director if you are applying for a PA job role. Only include student credits if you have no other credits to place onto your CV.

Day Jobs – If you have enough film credits you can remove jobs that are not related to film from your CV. If you don't have enough credits list day jobs under another title e.g. 'work experience or previous work' try to mention skills that can cross over from this job to the film job you are applying for.

Too Many Credits – Some filmmakers have a problem with too many credits. When this happens you need to start culling your experience down, remove any work that is not film related, remove any work that is not directly related to your job role, remove any work that is not specially the job role you are applying for. You can create the title 'selected credits' and only mention your most impressive and recent work.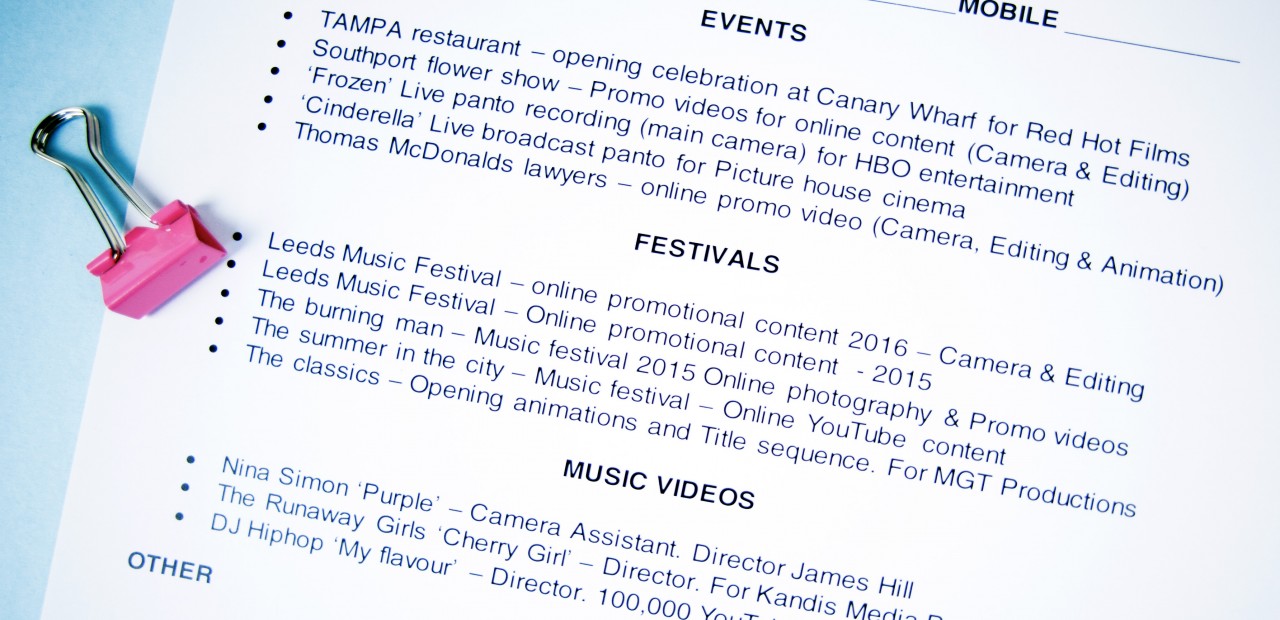 Skills Section
Under your credits should be a list, line or bullet points of related skills. Ideally, these skills should be related to your desired job role. If your applying for a Camera Assistant role, you should not have the skill storyboarding or editing software skill on your CV. Consider if your skills are related to and helpful to your chosen film department.

Education
Include any higher education such as Degrees, masters, PhDs. Avoid high school education. Include any workshops or qualifications in the film industry that will give you an advantage e.g. – having first aid training is advantageous for AD job roles.

Additional Notes
Your Film CV should be one page long -This will make some people panic, but producers prefer a clean, simple CV over two pages of unclarity. Cut out anything that isn't relevant, tighten up your credits with bullet points. Include any further details in your website link if needed.

Keep It Clear, neat and tidy – Don't use images, avoid distracting font, there is no need for a profile photo (only asked for on some European job sites but even then it is mainly for full-time work as opposed to freelance film crew work). Someone should be able to just glance over your CV and understand what your job role is.

Make sure your job role is clear – Lastly remember to keep your job role the same as the one you are applying for. As Artists we can be a little proud. We like to let people know about our past accomplishments, we like in include links to our own projects. It might damage your pride to make a simple CV like this but this is the style that professional crew members use, it is what producers expect.

Remember you might not be applying for your dream job role but your current job will help you get there. Double check over your CV to make sure that it is clear to any producer hiring you what job title you applying for.

If you are looking for more information and examples of filmmaker CV and Cover Letters I have created an E-book which goes into more detail. If you have any questions on how this design can be applied to your own job situation feel free to ask me questions in the section below.
Amy Clarke is a freelance writer based in the UK.
I started making short films when I was 15 years old as well as working on indie film sets as a production runner. I studied film production at university and then focused my job role to Script Supervisor. I worked on over 50 film sets in a 5 year window (10 feature films, many shorts and a few commercials).
I left working on film sets as I disliked the long work hours and the lack of creativity I had within my job role. I am now focusing on blogging and making my own films. I wrote a detailed post on Why I decided to be a Filmmaker here. I'm unsure what future film making holds for me but I will be blogging my journey. I hope you can join me and learn something new along the way. Me on IMDb.
---
Like this blog post? Please share it on social media (Facebook, Twitter, LinkedIn, email etc) by using social media buttons at the top of the blog. Or post to your personal blog and anywhere else you feel appropriate. Thank you.
As always, we welcome thoughts and remarks on ANY of the content above in the Comments section below.
Got an idea for a post? Or have you collaborated with Stage 32 members to create a film?
We'd love to hear about it. Email Joleene at joleene@stage32.com and let's get your post published!