First of all, they don't come from other people's movies!
IN THE BEGINNING
Let's start at the top. Back when most of the really enduring film scores were written, directors were expected to have cross-training in a wide range of entertainment disciplines. Moreover, composers were expected to be masters of music theory. Today, the tight focus of a film school education on the tools we need to get working has eroded the vocabulary and habits that come with a classical performance education.
What I'm saying here is that the first thing you need to do if you want your film composing to elevate your craft as a filmmaker is to take some "music theory" classes. Literally go to your local community college, spend a few hundred bucks, enroll in "Introduction to Music Theory" or whatever they're calling it, and learn the vocabulary that composers use when writing music. Without that training, all you can really say to a composer is "please make it sound like Pirates of the Caribbean."
Was the score for Pirates of the Caribbean iconic? Yes. Is the score that sounds like the score for Pirates of the Caribbean iconic? No, it is not.
But why, though? How is reusing iconic music going to be any less iconic the second time around?
MUSIC IS NOT ABOUT TONE
What I'm about to say will directly contradict everything that most of today's film directors know about music… and dear readers, this is exactly why I'm begging you to learn how music works. Fundamentally, music isn't about establishing a tone. Music is about establishing themes. Literally, themes are just little groups of notes that take on meaning in the context of the larger composition. How those themes play with or against one another, how those themes change over the course of a larger piece, and when those themes are set aside to make room for new themes become the story of a composition. Themes can mean literally anything. In film, themes can be tied to any character, relationship, concept, or idea.
MUSIC IS JUXTAPOSITION
In film composition, the score isn't there to tell the audience how to feel or when to feel. Instead, the score is there to excavate emotionally charged elements of a scene or action and present them for the consideration of the audience. Music is there to unearth the hidden meaning of what's on the screen.
Put another way, a composer's biggest job is to make the audience aware of the things that aren't on camera. If a character is specifically avoiding a topic of conversation with another character, that topic of conversation should be exactly what the music is about. Audiences don't need to be reminded of what their senses are already telling them. Scenes don't need to "amp the emotions" that are already being presented to an audience - unless the scene was badly performed, of course! In a case like that, the concept a composer brings to a scene that isn't on camera... is quality! Zing!
Look for the things that are absent from the screen time of your film, and focus the score on those elements of your story. Bring those themes to the audience through their ears, and they'll never notice that they weren't a part of what's on the screen in front of them.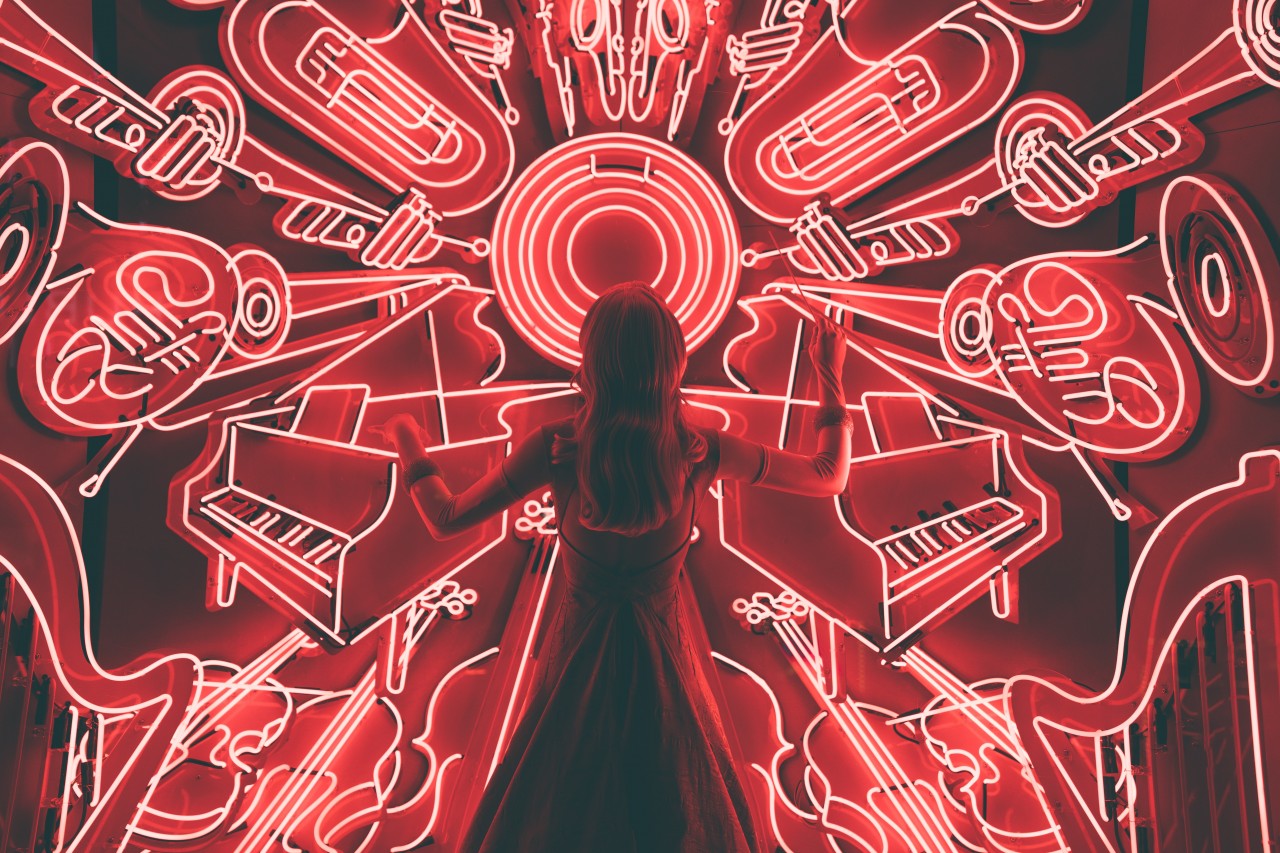 Have you ever watched Star Wars with the sound off? Shot with $10 million dollars, on limited sound stages, with technology that was never up to the vision of the director, Star Wars was actually a very small movie. If the camera had been moved an inch backward in any single shot of that film, you would have seen the edge of the set. Why does it feel so fricking huge? Scope was the thing that composer John Williams brought to that movie. To this day, the impact that the scope of that score had on the finished film makes Star Wars among the most enduring film scores of all time.
Music is about theme. Juxtaposing musical themes against the work you've got on camera is what will give your score depth and relevance. Surprising and informing the audience through their ears will keep them invested in your story.
THE IMPORTANCE OF MUSICAL THEORY
In the musical community, the importance of music theory gets debated in much the same way that some directors believe acting is best performed by people who have never trained for it. Some musicians will claim that music flows organically, and that learning how music works will only pollute the creative process. When it comes to film composing, I'm telling you now that learning music theory is no less important than learning how to play an actual musical instrument.
If a musician isn't even willing to learn how their favorite instruments connect to the instruments around them, they're definitely not going to learn how their music connects to your film. Bear in mind that some composers don't have access to formal music training. Going to music school is a privilege, and not everybody has access to it. What I'm saying here is to be wary of anyone who refuses to learn these tools as a matter of principle. If someone is learning their theory by non-traditional means, that does nothing to dilute the power of those tools in the hands of a skilled composer.
Find a composer you love, and find one who has a firm command of their craft and a strong musical community around them. Make very sure you're able to hold down a professional conversation about music with this person. That's who you work with.
THE SAD TRUTH ABOUT TEMP SCORES
Most contemporary films build a score by pulling sound files from other films and other music, plugging them into the edit for the sake of a viewable cut, and then handing the completed temp score to a composer so they can essentially tie it all together musically. Even on big-budget movies, temp scores are often only changed enough to avoid the legal problems of copyright violation.
Nobody's writing new music for film, anymore. All we're hearing is remastered and slightly altered versions of themes from previous movies. Our scores aren't built on a process of theme and variation, so we don't get to hear a theme develop and change over the course of a film. Instead, we're hearing a bunch of themes from different movies mashed together like a digital music collage.
Without the structure of theme and variation, our music has lost its meaning. Literally, all we're writing is hype music. If you see composers confidently writing film music on spec and selling it on their websites, that's because so few filmmakers are asking for anything more than that!
TALKING TO COMPOSERS
Don't even show a composer your temp score. While getting rid of temp scores altogether would certainly make it harder to talk to our investors and producers in the post process, it would also make our movies better. If you use a temp score, please keep it in the edit bay. If anything will pollute your composer's creative process, it's hearing someone else's music attached to your film.
Talk to your composer about the themes in your film that need to literally ring in the audience's ears. Are there any ideas (even if those ideas are purely aesthetic), relationships, or characters that you think represent the core of your movie? Are any of these things likely to be overlooked by the audience, and should they be highlighted in the score? What is your movie really about?
DIRECTING COMPOSERS
Build a list of the most important principles, relationships, and characters in your film. Then, when you start getting into the beats of the movie, empower your composer to keep the music focused on themes that aren't already plastered all over the screen. For example, let's say you have two characters talking (or deliberately not talking) about a third character. Placing the theme of that third character in the scene is going to make that character's presence very palpable.
If you're showing a hero fight their way through a faceless army, don't focus on the hero's theme. Focus on the themes that make the villain stronger and more frightening, and vary those themes according to how the hero is faring in their battle… because what you're missing in that scene is the presence of the villain's identity. Focus the score on the thing that's missing from the scene, and your scenes will grow richer and more engaging.
SCOPE
Your very first conversation with your composer is probably going to be about the scope of the film and of the score. One of the biggest mistakes that new directors make is to try and make their movie feel bigger than it is. Keep your score proportionate to the film you're making.
Specifically, you want to judge the scope of your film in terms of the stakes of the story and in terms of the size of the cast. If you're making a movie about saving the universe, but the whole thing takes place inside some kind of "universe bomb" that two people are trying to diffuse, that movie is going to sound very different from the movie where heroes are building an army to fight off invaders. Both of these movies will sound radically different from an intimate movie about a non-binary teenager who's trying to build a bright future based on their passions and interests without lying about their identity.
Is the teenager movie smaller in scope than the "universe bomb" movie? Actually, it's hard to say! While the universe bomb movie is about big ideas, there are only two people in it. My guess is that the universe bomb movie has a smaller score, but that the themes are more intense and probably a lot more loud.
When it comes to the scope of the score itself, all you're really looking at is the instrumentation - or the literal number of musical instruments, their type, and how they're grouped together. Of these three films, the only movie that needs or supports an orchestra is the invasion film. Both of the other two films should probably feel pretty intimate… and it's hard to feel intimate when there's a whole flute section telling you how to feel.
Which themes a composer develops will depend to some degree on the instruments they can use, so instrumentation is a big part of your early score development. Asking your composer for recommendations is a fine - even great - way to start this conversation! Just be ready to have that conversation in the first place.
BE CONVERSANT
Once you know the scope of what you need, you and your composer will start working on the major themes of the project. Having hammered out the simple, musical ideas that define your film, you'll start digging into specific musical cues and the film's sound will flow and evolve. When having these conversations, you lose a lot of detail by forcing your composer to translate their ideas into layman's terms.
Instead of talking about music like one of your audience members, you need to learn the vocabulary - and you need to train your ear. Learn what all the different instruments sound like, so you can talk with your composer about what it means when they ask about bringing in a new sound. Learn to detect changes in musical key, and learn how to tell what key you're actually in. (This is a particular weakness of mine, and I promise you it does me no favors.) Learn how to discuss tempo, and how to hear it. Most of all, learn how to hear and recognize a theme as it gets repeated and changed over the course of a musical composition.
EMBRACE THE FUNDAMENTALS OF MUSIC
If you want music to be a powerful part of your filmmaking, then take some music theory classes. Refuse to develop music a temp score, and learn how music gets made in the first place. In today's Hollywood, the practice of using temp scores is so prolific that they actually teach composers how to copy music in film school. Give composers a better support network for their craft than that!
Music and composition is not an afterthought. Music is literally what made Star Wars big. If we don't invest ourselves in this work as directors, then the musical themes by which we tell our stories will never become a vital part of the worlds we're building. Mastering these principles can make your filmmaking mistakes totally forgivable... and it can make an excellent film feel utterly transcendental.
In a Hollywood where nobody else has this information, you get to be the person who reinvented film composition. When everyone else is working with temp scores and downloaded music, making this investment will give your films a sense of splendor that the rest of our community won't even be able to explain. Ideally, the credit for that work will still go to your composer… as it should!
As it should.
About Tennyson E. Stead
Writer, director, and producer Tennyson E. Stead is an emerging leader in New Hollywood with a lifetime of stagework, a successful film development and finance career, and a body of screenwriting encompassing more than 30 projects - recently including the upcoming Emagine Content sci-fi tentpole Atlas Uprising, as well as a scathing film industry satire called Making the GAMP with director and newfound colleague Michael Wohl. In collaboration with producer Lucinda Bruce, Stead is writing and directing a sci-fi heist feature with his company 8 Sided Films entitled Quantum Theory. When Stead is not writing and directing feature films, he's working in the theater, he's developing content for gaming and transmedia, or he's volunteering work and experience to help strengthen the content and community defining indie Hollywood.
More Stage 32 Articles by Tennyson:
REALITY CHECKS FROM AN INSPIRATIONAL CRIPPLE: Part I
REALITY CHECKS FROM AN INSPIRATIONAL CRIPPLE: Part II
HOW WE SCREWED THE SHOWBIZ CULTURE UP - AND HOW WE CAN FIX IT
WHAT IS SPECTACLE IN FILMMAKING - AND HOW CAN INDIE FILMMAKERS USE IT?
WHY I PASSED ON THAT SCREENPLAY
CASHING IN YOUR MILLION DOLLAR IDEA
HOW I SURVIVED THE HOLLYWOOD CRASH
THE GHOSTS OF SHOWBUSINESS PAST
HOW TO GET LEGENDARY PERFORMANCES FROM ACTORS
CRAFTING A FILM COMMUNITY BUILT ON SUPPORT
HOW TO FIND MONEY FOR MOVIES: FUNDRAISING
HOW TO FIND MONEY FOR MOVIES: FINANCING
HOW TO WRITE STRONG, DIVERSE CHARACTERS
LET'S TALK ABOUT AUTEUR THEORY
---
Let's hear your thoughts in the comments below!
Got an idea for a post? Or have you collaborated with Stage 32 members to create a project? We'd love to hear about it. Email Taylor at taylor@stage32.com and let's get your post published!

Please help support your fellow Stage 32ers by sharing this on social. Check out the social media buttons at the top to share on Instagram @stage32online , Twitter @stage32 , Facebook @stage32 , and LinkedIn @stage-32 .